It's time again for Victoria's annual Fringe Festival—the 29th annual Fringe Fest, actually, making it the second-oldest Canadian Fringe (next to the mighty Edmonton Fringe). With over 50 shows from across Canada, around the world and all over Victoria, Fringers are primed for 11 days of indie theatre from August 27 to September 6. Remember, the Fringe only comes once a year, so take in as much as you can! Grab a program, get a button and start seeing whatever strikes your fancy.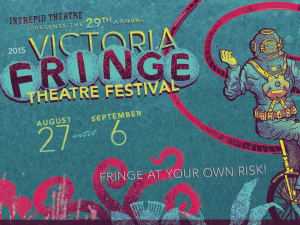 As always, Fine Arts is well represented in this year's Fringe, with a plethora of Phoenix Theatre alumni & students on deck—but there are also a number of Department of Writing alumni active this year too. In no particular order, here's a quick guide to who's doing what and when. Just click on the show title and a link will take you to their Fringe page to find out more. Note: any names listed are Fine Arts students or alumni.)
The Dangers of Daphne – Downtown Activity Centre (Venue 2) • Written by Robbie Huebner (Writing MFA), Directed by Melissa Taylor. Projection Design by Max Johnson. Featuring Sarah Cashin, Ian Simms, and Kevin Eade.
The damsel: kidnapped, hogtied, blindfolded, helpless — the old Hollywood standard. Daphne, an aspiring silent film actress, plays the part every day. Sure, she's getting famous, but what good is fame when you're always the victim? Nobody loves a woman roped to railroad tracks. If only Daphne could flip the script… A tale of music, celluloid and bigscreen hubris.
Almost a Stepmom – Wood Hall (Venue 4) • Created by Keara Barnes
A true story:Keara moved to Ireland. She fell in love. Then she became a stepmom…almost. A darkly comic tale about the ups and downs of becoming a stepmother. Multiple characters and a murder attempt round off this tumultuous and touching solo show.
Rumpelstiltskin . . . and Other Tales – Metro Studio Theatre (Venue 3) • Created by & featuring Jeff Leard
Classic children's stories re-imagined by Fringe Festival favourite Jeff Leard—son of Story Theatre founder & fellow Phoenix alumnus Jim Leard. An exciting solo show of family favourites created for kids, their families and everyone else, too.  "…a young Robin Williams" – LONDON FREE PRESS. "Do yourself a favour and let Jeff Leard spin you his story…" – BEAT MAGAZINE.

Sperm Wars – Victoria Event Centre (Venue 1) • The other Fringe show created by & featuring Jeff Leard!
Sperm Wars takes place in a brutal, futuristic, utterly absurd universe. As sperm and eggs collide in the battle for Uteran supremacy tales emerge of love, loss, betrayal, spaceships, sword fights, life, and death before birth. The result is gametocidal tragedy, sci-fi hilarity, and one surviving oddly placed robot. "5 stars: an epic masterpiece" – Edmonton Journal
The Workingclass Cafe – Fairfield Hall (Venue 7) • Produced by Emma Hughes and Tristan Bacon. Featuring Nicholas Yee, Alexa Carriere, Logan Mitev, Sean Brossard.
The Workingclass Café is a last-minute Fringe show featuring a different performance lineup every night, providing the opportunity to showcase many different artists and their amazing performance talents. Join this celebrate live theatre, local artists and the last minute chances that are always hoped for!
The Untitled Sam Mullins Project – VCM Wood Hall (Venue 4)  • Created by & featuring Sam S. Mullins
Canadian Comedy Award-winner Sam Mullins (This American Life, The Moth, CBC's The Irrelevant Show) tells the four stories of his four "truths". "****1/2 God he's good. Sam Mullins is a master storyteller." –WINNIPEG FREE PRESS. "****1/2 Equal parts excruciating and hilarious. Mullins knocks it out of the park." – EDMONTON JOURNAL
The Problem with Facebook – Downtown Activity Centre (Venue 2) • Created by & featuring Ian Simms
Five teenagers struggle to make the best of the awkwardest time of their life. But thanks to the magic of the internet, they are put in touch with an Iranian rebel with some sage, although offbeat, advice. A show about honesty, the subtext that flows through every social media message, and our perspective through the lens of technology.
Lieutenant Nun – Macaulay Point Park (Venue A) • Directed by Mercedes Bátiz-Benét (Writing) & Kathleen Greenfield. Musical Coaching by Sarah Jane Pelzer. Mask Design by Ingrid Hansen, Bátiz-Benét & Greenfield. Puppet Design by Hansen. Mask & Puppet Construction by Hansen & Andrew Barrett. Stage Management by Delaney Tesch. Featuring Keshia Palm.
The creators of Little Orange Man team up with the makers of El Jinete (Summerworks 2014) to re-imagine this 2004 Theatre SKAM smash hit! In the 17th Century, Catalina escapes the convent and sails to the New World dressed as a conquistador. After years of being male, Catalina's secret sex is revealed. A true story about gender, identity, war and conquest.
The Daughter of Turpentine – Langham Court Theatre (Venue 6)
Written by Leah Callen (Writing MFA). Directed by Chase Hiebert. Featuring Graham Roebuck, Lindsay Curl, Renee Killough, Pascal Lamothe-Kipness, and Brett Hay.
Meet Pin: a fed up, sexually-frustrated tree nymph who just turned sixteen. Burning to get away from her painted sisters and her guardian Gabriel, she falls for turpentine and a passing arsonist. But will she ever break free from Gabriel's spell? A flammable fairytale for adults. Originally presented as a Phoenix SATCo production.
Two – Metro Studio Theatre (Fringe Venue 3) • Created by Kat Taddei. Directed by Colette Habel. Lighting/set design by Sean Brossard. Sound design by Colette Habel. Featuring Brett Hay, Nicholas Yee, Levi Schneider, Jack Hayes, Sam Lynch.
Ever wondered if out there, in a faraway universe, lives another you? This haunting new work presents two dramatically different versions of one life. Set in parallel worlds, both manipulated by a chorus of mysterious figures, Two blends the unsettling surreal with the familiar hyper-real.
Two – St Andrew's Gymnasium (Venue 5) • Created by Cameron Fraser
The second show in this Fringe so titled, this Two is an unbridled multidisciplinary show centered around a young couple's evolution from a budding romance through to an established relationship. Combining physical comedy, acrobatics, dance and object manipulation, Two offers a lighter side to the ups and downs of love, lust and peanut butter sandwiches.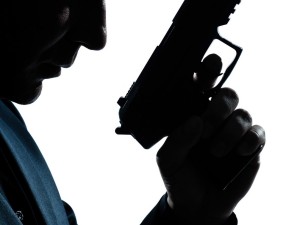 Ian Fleming's Casino Royale – St Andrew's Gymnasium (Venue 5) • Directed by Ian Case. Featuring Ellen Law.
Witness the world stage premiere of the first of Ian Fleming's James Bond novels. Agent 007 declares war on Le Chiffre, French Communist & paymaster of the Soviet murder organization: SMERSH. For incredible suspense, unexpected thrills, and extraordinary danger, nothing can beat James Bond in this, his inaugural adventure.
Band Geeks – St. Michaels University School (Venue 9) • Directed by Cam Culham
Faced with dwindling attendance and funds, a highschool's beloved marching band is desperate. When a troubled athlete is relegated to their ranks, Elliott, the band captain and Laura, his best friend, must find a way to unite the band, embrace their inner geek, and save the day.
The Wyrd Sisters – Metro Studio Theatre (Venue 3) • Created/Directed by Alannah Bloch. Featuring Colette Habel, Nicola Whitney-Griffiths, Victoria Simpson, Nicolas Yee, Jack Hayes, and Levi Schneider. Costume design by Michelle Bowes. Original sound composition by Carl Keys. Choreographed by Nicola Whitney-Griffiths.
Benevolence and malevolence. Evanescence of smoke whispering across a moor. The glint of a dagger behind a curtain. The Wyrd Sisters is a collective movement theatre piece interpreting the magic of Shakespeare through dance and original sound composition. "Something wicked this way comes…" the Wyrd Sisters are waiting for you.
Fallout – Roxy Theatre (Venue 8) • Written by Shane Campbell (Writing). Featuring Markus Spodzieja, Jenson Kerr.
At the end of the world, two men are trapped in their basement struggling to pull together a forgotten past. Al, who is suffering from amnesia, is stuck with Nate, his roommate. In this dark comedy the two have to come to terms with how to survive the future they find themselves in.
The Most Honest Man in the World – Wood Hall (Venue 4) • Created by & featuring Andrew Wade
A life-long love story about the pursuit of honesty over all happiness. Andrew Wade builds a working lie detector and straps himself in. Using stories, music, apps, and tap shoes, Wade looks at old relationships and insecurities as he tries to learn how to honestly let go. "A brave experiment in both theatre and life. 4 stars! – Saskatoon StarPhoenix
The Best Meal You Ever Ate – Congregation Emanu-El (Venue B) • Featuring Michael Armstrong (Writing MFA)
Avram and his wife are the last two Jews left alive in the ghetto fighting the Nazis and they are starving. To their astonishment a chef, Jean-Paul, brings a wonderful meal complete with wines. He applauds their courage and has persuaded the German commander to allow them one final, sublime meal before they are destroyed. But is it kosher…?