Looking for the finest in new music? Add a taste of SALT to your musical diet—with an international flair! This year's fifth annual SALT New Music Festival & Symposium focuses on "Voices Without Borders" and will present a diverse and exciting range of global talent. Running July 23 to 27, SALT will focus around the voice and will provide an opportunity to hear a variety of new and recently composed work for voice and vocal ensemble.
This fifth annual SALT festival will feature five concerts at Open Space, as well as a series of lectures, masterclasses and open rehearsals at the School of Music. The Festival's Hosted by the Tsilumos Ensemble—made up of School of Music professors Ajtony Csaba, Joanna Hood and Dániel Péter Biró, plus Kris Colvin—is pleased to collaborate with the internationally acclaimed German vocal ensemble Neue Vocalsolisten, Austrian flautist/ composer Sylvie Lacroix, School of Music technician Kirk McNally, and local vocalist & School of Music alumna Cathy Fern Lewis. Concerts will feature new works by Biró, plus Canadian and international composers Charles-Antoine Fréchette, Annesley Black, Justin Christensen, Georg Friedrich Haas, and Samir Odeh Tamimi.
All concerts will be performed at downtown's Open Space and the masterclasses will be here in UVic's School of Music. Tickets range from $11 to $20 and you can get a festival pass for $55 to $75. View the full schedule of events here.
The festival opens with a performance by the Tsilumos Ensemble on Thursday, July 23, followed by Sylvie Lacroix on July 24, Neue Vocalsolisten on July 25, Cathy Lewis on July 26 and the UVic Alumni Ensemble on July 27.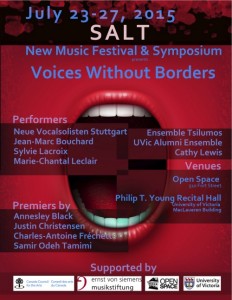 Since 2011, the Tsilumos Ensemble has been performing chamber music ranging from duos to large instrumental combinations. Its main objective is to give new and little-known Canadian and international works an optimal performance, regardless of technical and intellectual demands or compositional style. Since its inception the ensemble has brought high quality, challenging new music to the larger community of British Columbia.
The Neue Vocalsolisten established as an ensemble specializing in the interpretation of contemporary vocal music in 1984. Founded under the artistic management of Musik der Jahrhunderte, the vocal chamber ensemble has been artistically independent since the year 2000. Each of the seven concert and opera soloists, with a collective range reaching from coloratura soprano over countertenor to "basso profondo", shapes the work on chamber music and the co-operation with the composers and other interpreters through his/her distinguished artistic creativity.
Sylvie Lacroix is an accomplished flute soloist and chamber musician with a special emphasis on contemporary and new music. The freelance flutist lives in Vienna, Austria and works regularly with composers side-by-side, searching for new sounds and expressions all the way through until their first performances. This interest in working with living composers has accompanied Sylvie Lacroix since the beginnings of her career. A founding member of Klangforum Wien, she remained an active member until 1997.
School of Music alumna Cathy Fern Lewis is an ambassador and active exponent of the professional new music and art scene in Canada since 1974, versatile and experimental soprano/voice artist Catherine Fern Lewis graduated from UVic's School of Music, where she specialized in contemporary music. Lewis spent a further three years in Europe, predominantly in Paris, studying French song with the noted Peirre Bernac, Madame Chereau and Winifred Radford.