When it comes to stage design, the Prague Quadrennial is as good as it gets—and this year, a pair of Theatre alumni will help represent Canada. "It's the Venice Biennalie of stage design," says Department of Theatre professor Allan Stichbury. "It's the top in terms of recognizing stage design in the world."
With top stage designers from 80 countries, the Prague Quadrennial is the biggest theatre exhibition in the world. Canada will be represented by six different submissions at the June 18-28 event, selected from 33 entries by the three-person jury—which included Stichbury. Among those entries was the Belfry Theatre's 2008 production of Turn of the Screw, which featured the design work of Phoenix alumni Patrick DuWors (set & lighting) and Erin MacKlem (costumes), plus frequent Phoenix contributor Brian Lynds (sound).
Much like any major international competition, the Canadian teams will be competing for gold, silver or bronze awards. Stichbury—who, along with Theatre professor Mary Kerr, has exhibited at the Prague Quadrennial before—will also be taking 13 current Phoenix students to the event.
"Our students have exhibited in the student exhibition since 1995—and they will again this year—but it's not the same as being juried into the competition," he notes. "But it's still an amazing opportunity. The attendance is supposed to be about 80,000 people—and a huge percentage of that will be students, so our students get to meet colleagues from all over the world."
As for the competition itself, Stichbury said the jury was obviously impressed by the stunning Belfry design by DuWors and Macklem. "It really met the criteria of inserting itself into the heart of the production—not just paying it lip service or commenting on it."
Macklem, who graduated with a BFA in 1998, has been the Artistic Associate & Outreach Coordinator at the Belfry for nine years now and is "thrilled" at being selected. "The event itself is so inspiring—it gives you a sense of the national identity of the aesthetic of different places, and how the approaches to scenography vary according to geography."
While she has attended the Quadrennial in the past (in fact, her
Turn of the Screw design was inspired by a Latvian entry she saw there), Macklem won't be going this year due to family and production commitments. "I told Patrick that we'll just have to work together on something exciting in the future so we get invited again," she laughs.
Regarding the acclaimed design for Turn of the Screw, Macklem credits fellow Phoenix grad DuWors with the initial concept. "Patrick really took the lead on it with the idea of it being all black and white with a crazy modern red staircase," she recalls.
"When I heard that he wanted a contemporary take on the Gothic period, I realized I wanted the costumes to key into the script and be true to period, so we didn't go too far afield. The pieces themselves were very much from the period but they all had a satin contrast fabric sewn onto them so it would outline them and catch the lights in a certain way—the floor was also very high gloss, so we tried to incorporate the idea of light playing off the darkness."
The very fact that the Belfry was mounting a Henry James piece originally written in 1898 also made the
production memorable for her. "The Belfry specializes in contemporary shows, so doing a Henry James piece was weird and outside of the mandate, even though it was a modern adaptation of the script," she says. "To approach it with a very contemporary eye to the design made it feel like it was more a part of the world the Belfry's audience was accustomed to. People still say, 'what was that one with the crazy red staircase?' It's fun that it left that much of an impression on people's imagination."
Macklem is also quick to credit her UVic training for her current success. "I had a great experience with the design department," she says, citing Mary Kerr, past instructor Debra Hansen and Stichbury himself. "Allan is very much a director's designer, which put me in good standing and helped me understand how bodies move through space, how you really need to analyze a play's text to understand the traffic patterns—what the positions of power are and how to optimize those in the design."
She also notes how the variety of design experience at UVic better prepared her for future employment. "I did more set design in school but there were more opportunities in costume design out of school, so I switched to that," she explains. "But I had the advantage of both Mary Kerr and Debra Hansen alternating in the teaching position, so it was great to have different perspectives from different teachers."
When asked for a standout production from her student years, Macklem points to the 1997 Phoenix show Eleemosynary. "It was all-student design, and we were all undergrads, which was quite rare," she explains. "It was really quite a utopian experience—we were all on the same page—and that really came though in the design. It showed all of us how you can transform a theatre, take the set off the stage and into the audience and how much that can change things."
Stichbury notes that it's the Department of Theatre's unique hands-on approach that makes it outstanding in a crowded university field. "Unlike many Canadian universities, our students actually get to design something and put it on a stage," he explains. "At the undergrad level, most universities have faculty members exclusively designing, but we allow our best undergraduates to do it—so when they get out into the profession they're much more capable of stepping up at an earlier date than many others. They learn by doing—don't get me wrong: learning by theory is great, but you also have to practice. Our students get more opportunity to do that on a significant scale than most do."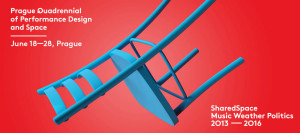 Ultimately, Stichbury already sees both Turn of the Screw and UVic as winners in this year's Prague Quadrennial. "It's fantastic that UVic is represented in at least one of the six shows," he says. "It's already a big victory, because there's a lot of pretty amazing stuff out there across Canada."