Love films? Love music? If you're interested in learning more about the world of music scoring for film, television or gaming, you're in luck—three-time Emmy Award-winning film composer Larry Groupé will be hosting a three-day workshop here at UVic's School of Music, culminating in a recording session of active participant compositions. But the best part is you don't have to be a UVic student to enroll—it's open to anyone in the community.
"Larry is a Hollywood professional in a unique position to offer an in-depth examination on the art and practice of writing music to picture at the highest level," says workshop organizer and School of Music instructor Kirk McNally.
Running April 23 to 25, Film Composition Workshop with Larry Groupé will offer lectures, masterclasses and recording/mixing sessions on two different levels: active participants (10-12 students) will work closely with Groupé and engage in all events, ultimately doing hands-on mixing of one original cue featuring live musicians; passive participants (10-20 students) will also have access to all events, but won't be doing any presentation of works or mixing—their role will primarily be limited to observation and questions.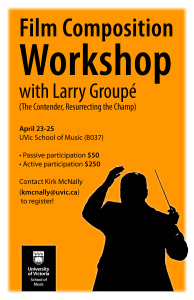 The fee for active participants is $250, while passive participants is only $50. All classes happen at the School of Music's room B037 of the MacLaurin building B-wing. For more details, contact Kirk McNally at kmcnally@uvic.ca.
"For anyone who's interested in film and TV scoring, this workshop will be a stellar introduction to the field," says McNally. "Whether you're a beginner, a student or a budding music professional, you'll learn an abundance of valuable information, from artistic considerations, to orchestration techniques, to the more business side of things."
Groupé, who last visited campus in November 2013 to present the lecture, "Film Music: An in depth look and discussion on the current state of composing in Hollywood today," is one of the most talented and versatile composers working in the entertainment industry today. With an impressive musical résumé in film, television, concerts, gaming, documentaries, popular music and cultural events, his achievements have received both critical praise and popular acclaim.

His recent movie projects include the likes of The Contender with Joan Allen, Gary Oldman and Jeff Bridges, Straw Dogs with James Marsden, Nothing but the Truth with Kate Beckinsale and Resurrecting the Champ starring Samuel L. Jackson, as well as TV shows like Commander in Chief and Line of Fire. Among his gaming credits are NFL Gameday, Major League Baseball and NCAA Basketball, all for SONY PlayStation.
A graduate of the Conservatory of Music at the University of the Pacific, Groupé went on to earn his Masters of Music in Composition at the University of California at San Diego. He just received his fourth Emmy nomination, this time for Best Original Score for the feature film Under the Boardwalk: The Monopoly Story. And Canadian skater Kevin Reynolds earned his silver medal at the 2014 Sochi Olympics in February 2014 skating to Groupé's title score for Excelsius.