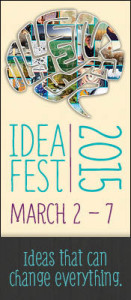 Back for its fourth year, UVic's IdeaFest is celebrating ideas that can change everything. Organized by the Office of the Vice President Research, IdeaFest runs March 2 to 7 at various venues across campus and offers over 50 panels, workshops, exhibits, lectures and tours presented by UVic thinkers, innovators and artists. Join us as we explore dozens of world changing ideas!
Fine Arts is heavily involved IdeaFest once again, with five separate presentations as well as participation in two exhibits and the annual Jamie Cassels Undergraduate Research Award fair. (See our full-lineup below.) But with over 50 events at IdeaFest as a whole, the hardest part will be choosing which to attend. Keep in mind, all events are free (unless indicated) and no advance registration is required.

Graphic ideas @UVic
12:30-3pm Monday, March 2 • UVic Bookstore
If you love graphic novels, comics, or cartoons, don't miss this comic book fair with presentations from students, profs and visitors! Writing professor Lee Henderson will be on hand to discuss his new comic strip-focused novel, The Road Narrows As You Go.  Come with your favourite graphic work for a discussion between readers and creators about graphic art. Organized by the departments of French, Curriculum & Instruction, Indigenous Law Research Unit, Hispanic & Italian Studies, Germanic & Slavic Studies, and Pacific & Asian Studies, with support from the Bookstore and Libraries.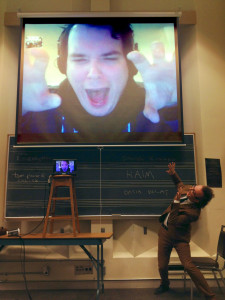 Testing 1, 2, 3: New approaches to music courses in the 21st century
6-8pm Monday, March 2 • MacLaurin B037
From Beyoncé and the Beatles to jazz legends and rock divas, our School of Music is always looking for new approaches to its music courses. Through a look at course content, shifting tastes and audience demands in popular music, this illustrated lecture will demonstrate the need for innovative course design. Featuring Music professor Patrick Boyle and instructors Melissa Avdeeff and Colleen Eccleston.
Medieval Minutes
12:30-1:30pm Tuesday, March 3 • McPherson Library A003
Marking an evocative time in history, the medieval period lasted from the 5th to 15th century. Fast-forward to modern day and imagine a large circle of people coming from diverse areas of the campus and the community, some even dressed in medieval attire. All have a medieval story, memory or performance to share. Join the Medieval Studies Program and Art History & Visual Studies professors Jamie Kemp and Catherine Harding for this open-mic event—everyone wishing to step into the circle is welcome and has three minutes to be "medieval".
The mythology of the mad genius: Five myths about creativity
4-6pm Tuesday, March 3 • MacLaurin D110
Where do ideas come from? Do you have to suffer for your art? And are all artists really that eccentric? Find out when moderator and Acting Dean of Fine Arts Lynne Van Luven deconstructs the myths of creativity in this zesty and informative panel discussion featuring one faculty member from each Fine Arts department: Christopher Butterfield (Music), Kevin Kerr (Writing), Brian Richmond (Theatre), Paul Walde (Visual Arts) and Erin Campbell (Art History & Visual Studies).
Jamie Cassels Undergraduate Research Awards symposium
11:30am-3pm Wednesday, March 4 • the SUB's Michele Pujol room
Join us in celebrating the outstanding research produced by 110 Jamie Cassels Undergraduate Research Awards scholars. Fine Arts will be ably represented by Holly Cecil, Aimee Hawker & Laurie White (Art History & Visual Studies), Jerry Flexer & Cody Gles (Writing), Elizabeth Charters, Hovey Eyres & Olivia Prior (Visual Arts) and Chase Hiebert & Emma Leck (Theatre).

The best liar wins: Hidden information and role-playing
1-3pm Wednesday, March 4 • Phoenix Theatre Lobby
What happens when the audience becomes the performer? Join Theatre professor Anthony Vickery for a fun and dynamic role-playing event where audience members must make a decision with limited information—your figurative life is on the line as you engage in lies, acts of deception and leaps of faith. Members will engage in a battle of wits where they role play a villager in the midst of a crisis and ultimately try to out-perform their peers. This event involves participating in the performance as a villager with guided direction from a leader, followed by a discussion of the performative aspects of role playing.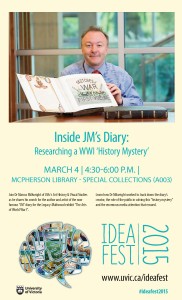 Inside JM's Diary: Researching a WWI "History Mystery"
4:30-6pm Wednesday, March 4 • McPherson Library Special Collections A003
Join Art History & Visual Studies professor Marcus Millwright as he shares clues and tips from around the world that may help him solve a long-standing UVic historical mystery—the search for the true identity of the now-famous "JM," the author and artist of a World War I diary. The two-volume diary, currently on display at his Legacy-Maltwood exhibit The Arts of World War I, will be on hand so participants can view first-hand over 130 watercolour illustrations and pen and ink drawings detailing the author's life during the war.

Can computers and art produce aesthetic work?
10-11:30am Friday, March 6 • Room 150 of the Visual Arts building
Visual Arts professor Lynda Gammon is joined by colleagues and students from the departments of Computer Science and Visual Arts to discuss projects using computation to produce artwork difficult to make with traditional media. This includes a Flowsnake algorithm that creates detailed single-line drawing with a digital pen, and a composition motivated lighting algorithm that renders animated light patterns from a single sketch. Feel inspired as artists and scientists discuss the symbiosis between the groups and give a demonstration of the creation process.
Light and Colour
Running March 2-7 • Audain Gallery, Visual Arts Building
Visual Arts instructor and exhibit organizer David Gifford invites you to discover a broader understanding of light and colour through a diverse showcase of student-led exhibits. The exhibit includes a presentation by James Tyrwhitt-Drake on particle wavelength duality, a demonstration on synaesthesia by Music student Gowan McQuarrie, and a workshop on LEDs by Olivia Prior. Interactive elements include a camera obscura tent, a rainbow competition and a device that tells the time through colour.
In Session – ONE
Running 10am – 4pm March 4-7 • Legacy Art Gallery
Step out of digital overload and explore the significance and power of photo-based art. Come explore a showcase of  new works by Visual Arts sessional instructors Megan Dickie, Laura Dutton, d. bradley muir and Tara Nicholson. Note: this event takes place off campus at the Legacy Art Gallery Downtown, 630 Yates St.
Please come out and support our Fine Arts faculty and students. And be sure to check out the rest of the fascinating options on view at IdeaFest 2015.  What's your idea that will change the world?