If proof of a rich life is the cultural treasures by which you surround yourself, then Iona Hubner is wealthy beyond measure. As the Visual Resources Curator for the recently renamed Department of Art History & Visual Studies, Hubner has been immersed in the vast and bountiful cultural riches of the entire world for the past 19 years. Her daily task? Assisting the Art History faculty with the visual resources essential to their research and teaching.
On this particular day, Hubner's desk is cluttered with art books encompassing 15th century Burgundy, the camera lucida, Renaissance tapestries, world architecture and British artist David Hockney. One of her computer screens is always open to DIDO (the Digital Image Database Online she manages for the Faculty of Fine Arts), and the numerous cabinets in her visual resource collection hold over 150,000 photographic slides—outdated technology, perhaps, but many of which still offer unparalleled images ranging from neolithic cave art to rare Qu'ran pages that cannot be found online.
"I sincerely love what I do," Hubner croons. "It's always changing, and I love the history in the art. That's what our department gives people: that extra added visual literacy of looking at the world and seeing it in different ways."
changing with the times
That ability to see the world differently is what drew the Victoria born-and-raised Hubner away from an intended Classics degree and into Art History after taking a single undergrad elective back in 1990. "One thing I liked—and still like—about our department is the cultural diversity," she says. "It's not just the European canon: we're one of the only places in Canada that specializes in Islamic art, for example. That's important for visual literacy, because we're not always referencing European traditions."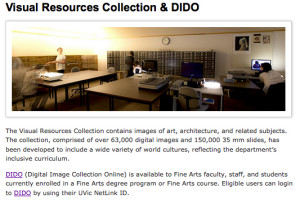 An initial student workstudy position led to being hired after graduation as the Assistant Curator of the Slide Library in 1996—a title that changed to Visual Resources with the transition to digital in 2004 and the development of DIDO in 2005. But with over three millennia of global art, architecture and material culture at her fingertips, much of Hubner's time this past decade has been spent converting some 64,000 of those slides to digital images.
Indeed, the former History in Art department's 2014 name change to Art History & Visual Studies reflects the changes in both society and pedagogy. "It's essential for people to increase their visual literacy," Hubner insists. "We need to understand the meaning behind an image—why it was chosen, what it means, what it represents—as well as the past cultures it references."
From video games and album covers to costumes, fabrics, stamps, coins, ceramics, architecture, films—the list is endless, really—she reminds us of the importance of an artist's choices. "If you just see an image as a pretty picture or an interesting design, you're missing so much. Looking at contemporary artists like Ai Wei Wei and being able to reference back to the Rennaissance or Russian Construcitivism enriches everything."
Not surprisingly, if you bump into Hubner off-campus, she's likely to be doing the same thing she does at work: looking at art. Haunting galleries and museums is still a passion, even after 20 years of art management. But rather than be stymied by the changes and challenges of digitalization ("Talk about lost art forms—I know how to mount a slide behind glass," she quips), the eminently good-natured Hubner sees shifting technology as a means of making resources more accessible. "Because art history is based so much on the visual, and visual literacy so important, it's essential to have a functional visual database. It's what our faculty use in their teaching all the time."
digital scholarship
Shifting digital frontiers in both society and academia is what the Art History & Visual Studies department's annual Faculty Research Symposium will be focusing on come February 27. "New Directions in Digital Scholarship" offers a look at how scholarship is being challenged, transformed and expanded. Featuring a keynote by the University of Exeter's Dr. Fabrizio Nevola, all are welcome to hear a range of speakers and guests exploring these questions and more in the Haro Room of Cadboro Commons.
For Hubner, digitalization is primarily about future preservation. "Technology always changes," she says. "In the past 10 years, we've gone from slides to digital; I can't even imagine what we'll be using in 10 more. But for people studying at UVic, how else would you be able to see these particular images and sites? You can't just pop to the museum in Dijon on the weekend—but you can look at their images in DIDO."
Art History's Visual Resource Collection remains unique on campus for both its size and scope. "Some of our slides are so valuable they can actually be thought of as primary resources," she explains. "One of our professors, Dr. Marcus Millwright, does a lot of research in Syria and he has images in our collection are of things that no longer exist, due to the conflict."
Ironically, for someone who spends her days digitalizing images for online use, Hubner's final thought is particularly poignant. "A local collection is an essential academic tool—much like a solid campus library—as it specifically reflects the faculty's research and teaching here," she says with a sly chuckle. "And, despite what people think, not everything is available on Google."
This piece was originally published in the February 2015 issue of UVic's Ring newspaper