She's the artistic director of Puente Theatre, the cinematographer for Look At What the Light Did Now—the Juno Award-winning documentary about Canadian singing sensation Feist—and recently won the Canadian Stage Award for Direction at the SummerWorks Festival with her acclaimed play El Jinete: A Mariachi Opera. By day, she's the poetry, fiction and non-fiction editor at the publishing house Bayeux Arts, and her first children's book Lunar is forthcoming later this year. Now, Department of Writing graduate Mercedes Bátiz-Benét can add UVic's Distinguished Alumni Award to her impressive list of credits.
"Personally and professionally, it means the world to be named one of this year's Distinguished Alumni. I am deeply honoured," says Bátiz-Benét from her family home in Mexico. "There were so many people who told me I wouldn't last a semester at UVic and in Canada, that I would never be able to do a writing degree in another language, that I had no business doing so and that I wouldn't have the courage, discipline, and tenacity to endure a life in the arts."
"And when I think of the girl I was on my first day of university—frightened, overwhelmed, alone, and completely out of place—I don't know why I didn't believe all of that myself. But receiving this award has given me the opportunity to look back and realize how much and how hard I've worked to be where I am today, of how privileged I am to have an academic background in the arts and in philosophy, and to have a life, a fulfilling career and job in the arts."
the sum of her achievements
Truly a renaissance woman, Bátiz-Benét—who speaks several languages—is an ideal choice as this year's Distinguished Alumni for the Faculty of Fine Arts. Beyond her role with Puente Theatre, productions of her own plays include Faust: Ignis Fatuus (part of 2005's international Faustfest), Cruel Tears/Lágrimas Crueles for Blue Bridge Repertory Theatre, the roundly lauded El Jinete: A Mariachi Opera, which she wrote and directed, and, as co-writer, The Secret Sorrow of Hatchet Jack MacPhee for Caravan Farm Theatre, The Erotic Anguish of Don Juan for the Old Trout Puppet Workshop, as well as both The Umbrella and Gruff for the Kaleidoscope Family Theatre Festival.
Alumni Week 2015—the eighth annual spotlight on the positive impact of more than 100,000 UVic grads—runs from February 1-7. In addition to the Distinguished Alumni Awards, there are over a dozen other events including lectures, workshops, reunions and a featured evening with Chancellor Shelagh Rogers. "Some of our most meaningful connections happen through education—and this is true for both students and professors," says Dr. Lynne Van Luven, Acting Dean of Fine Arts. "To be alumnus is to be part of something vital:  memories, friendships, awakenings, ideas. Alumni Week captures all such excitement."
Bátiz-Benét now joins the likes of previous Fine Arts Distinguished Alumni Esi Edugyan (BA '99), Michael J. Whitfield (BA '67), Carla Funk (BFA '97), Paul Beauchesne (BMus '88), Deborah Willis (BA '06), Valerie Murray (BA '78), author Eden Robinson (BFA '92) and Andrea Walsh (BA '91).
"It's an immense honour to be recognized by my faculty in my professional life, and in my life after university; I am truly humbled," says Bátiz-Benét. "The 10 years I spent at UVic were some of the most fruitful, fulfilling and difficult years of my life, and the most important years of my formation as a woman, an artist, and a human being. I absolutely loved every second of my life at UVic, and to be now named one of the Distinguished Alumni is like putting a giant bow on the immense gift of my academic and professional lives. I love what I do, and I wouldn't be able to do it had I not attended every class, read every book I read and engaged in every discussion I did.  It fills me with pleasure and joy to know that my faculty and my alma mater feel proud about who I've become through their help."
Joining Bátiz-Benét at the 2015 Distinguished Alumni Awards Night on Wednesday, February 4, at the Hotel Grand Pacific will be the other noted thinkers, changers and difference-makers being honoured: Victoria Wells (Continuing Studies), Anne Tenning (Education), Josh Blair (Engineering), Kim Henderson (Human & Social Development), Lucas Aykroyd (Humanities), Douglas S. White (Law), David Day (Libraries), Dr. Tom Rimmer (Medical Sciences), Robert Beecroft (Science) and Susan Cartwright (Social Sciences).
a Mexicanadian perspective
Born and raised in Mexico, Bátiz-Benét moved to Canada in 1997 to attend UVic, where she earned a BFA in Writing (both poetry and drama), as well as a BA (with honours) in Philosophy. She also completed a Diploma in Film Production from the Pacific Film & New Media Academy. Approaching expression from as many angles as possible, she has worked as writer, dramaturge, theatre director, translator, adapter, actor, puppeteer, multi-media artist, screenwriter, film and video editor, cinematographer and director. Not that any of that was the plan, of course.
"I never intended to live in Canada," she says. "But I chose UVic because of its writing program and because it was on an island in the Pacific. The prospect of studying and reading the great masters and thinkers, while being able to develop my own writing amidst a forest of pines by the ocean, was a dream come true."
"Moving to an entirely different culture, language, way of thinking, and country, did wonders for my growth as a person and as an artist," she continues. "I was able to find out who I was and what I was capable of doing away from the comfort and security of home, family, my culture, and my language.  I feel very grateful and lucky I was able to study as many things as I did, and to learn and experiment with as many things as I did."
As one of the many international students who contribute to UVic's rich tapestry of success, Bátiz-Benét never regrets choosing to come here to learn. "I think it's paramount for local audiences to learn from other cultures, especially in the multicultural experiment that is Canada. "We need to learn from each other so we have a greater and better understanding of what it means to be human," she says. "Every culture experiences life from a different angle, from a different point of view and, in my experience, the more points of view you have, the more your understanding expands and deepens.  I have a Mexican way of understanding and viewing the world, as well as a Canadian one, which enables me to develop a third point of view—a 'Mexicanadian' one, if you like."
Blue Bridge Artist Director and Department of Theatre professor Brian Richmond worked with Bátiz-Benét in 2014 on Cruel Tears/Lágrimas Crueles. "Mercedes is scary smart," he says. "I have not only had the great privilege of working with her in Mexico and Canada on two very different productions of the musical Cruel Tears/ Lágrimas Crueles, but have watched her remarkable work with Puente Theatre with admiration and respect. She is an amazing asset for the Victoria, British Columbian and Canadian theatre community."
exploring many paths
But how did she go from her original plans to specialize in poetry and journalism, to a career in theatre and film? "I actually found theatre and film during my time at UVic," she explains. "Writing 100 changed my life—not only did I have to write poems, but also a play for the very first time, and a short story. It opened my eyes to new worlds of possibility, learning and expression, and when the time came to choose my major, I couldn't let theatre go."
Deciding on a double-major (poetry and drama), Bátiz-Benét was able to direct a staged reading of one of her plays at the Phoenix. "I knew then and there that I wanted to write and, one day, direct plays. I was hooked; I wanted to do anything and everything that had to do with theatre. Similarly, it was in a writing for film class that I made my first 'film' and, for the very first time, had hands-on experience in that field."
Switching her minor from journalism to film studies, she then took as many literature and film classes as she could in other departments—including Germanic and Slavonic Studies, Latin-American Studies and French Studies. And, she says, her Philosophy degree provided her with the necessary tools and foundation needed to expand her own thinking, and creativity, as well as developing the capacity to doubt, question and find her way through her own thoughts, art and life.
"I am deeply grateful to UVic for allowing me to discover who I wanted to be and what I wanted to do," she says. "I developed as an artist beyond anything I could've imagined on my first day of university, and have grown to be the person that I am, with the life that I have, thanks to everything I learned and experienced in my 10 years of full-time studies at UVic.  Without my BFA, I never would've come to know these worlds, and I would've become a very different person."
following her bliss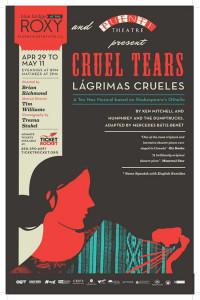 While Bátiz-Benét says it would be "impossible to list all the invaluable advice" she received from fellow students, staff and professors, when asked for one notable piece of advice she received while a student, she singles out two of her "greatest professors, mentors and friends:" Derk Wynand and the late Brian Hendricks, both of the Department of Writing. "Derk always told me to write about what I knew, and to always keep learning, so that I could in turn expand my writing," she recalls. "And Brian told me to follow my bliss—words to live by.  I try to follow their advice every day and with everything that I do."
On the flip side of that, what's one piece of advice she'd offer current Fine Arts students? "Never close yourself to learning, work hard every day and, in the words of Brian Hendricks, follow your bliss."
When asked what the key is to succeeding in the arts, Bátiz-Benét admits her own life continues to be a work in progress.
"I don't really know what the key to succeeding is . . . but I think the key to creating in the arts is to work hard and persevere, to always be open to new ideas, possibilities, and learning, and to follow an idea through to its logical conclusion," she says. "Our curiosity, our willingness to dive into the unknown, our love and our need to create, understand and express an idea—those are the things that make us artists. The blank page is a frightening thing, but if one pushes through with the aid of passion, and perseverance, one can discover infinite marvels and possibilities beyond our wildest dreams."
She advises current Fine Arts students to not be nervous about their chosen paths, but to instead follow their passion, work hard and persevere—and trust the rest will fall into place.
"There's no doubt about the 'risky' nature of a career in the arts—not only due to budgetary constraints and funding cutbacks, but also because of the saturation of the field, scarce job opportunities, and the huge importance of being in the right place at the right time," she cautions. "Money and security are not what artists should be after, but experimentation, creativity and the creation of meaning . . . . We should be worried about ideas, stories, images, feelings, concepts, thoughts and dreams, about the intangible. Money and stability are not what stories are made of. Don't be afraid; instead, invent, experiment, learn, be willing to fail and push through to the other side."
Looking back, Bátiz-Benét concludes with a simple but evocative thought befitting her latest honour as a Distinguished Alumni. "I graduated with a BFA because I fell in love with more than one field in the arts, and I wanted to begin a journey into the unknown," she says. "And what better way is there to create, than to thrust yourself into the unknown?