How do arts and visual culture affect surrounding location and communities? That's the question being asked at the 18th annual Visual Impetus Symposium. Organized by the graduate students of the Department of Art History & Visual Studies, this annual conference provides a venue for graduate students in Art History and related fields to present their research to fellow students, faculty and the greater community. Visual Impetus is open to graduate students at any university, and offers participants the ability to gain experience as presenters and receive the critical feedback that is so valuable to their research.
Visual Impetus XVIII will be held January 23 & 24 in room 103 of the Fine Arts Building. It opens at 4pm Friday, January 23, with opening remarks by Acting Dean of Fine Arts Dr. Lynne Van Luven, followed by the introduction of the first panel (Technology & Arts: Engineering the Future) by Art History grad student Regan Shrumm, with a charcuterie-and-cheese reception following at 6:40pm. On Saturday, January 24, sessions start at 9am and will end at 2:30pm and feature four more panels (Craft Communities: Rituals & Collective Memories; Devotion & Violence in Sacred Spaces; Identity in Space & Communities; Imagery Symbolism: Status & Legitimacy in Art).
You can read the full schedule of events and presenters here.
"The committee tried to feature an interdisciplinary symposium featuring UVic students, so this year's presentations are on diverse topics, including on textiles of Oak Bay's St. Mary the Virgin Anglican Church, understanding aerial images in historic cities and Jewish iconoclasm," says organizer Regan Shrumm. "Along with nine Art History and Visual Studies graduate students, we also have presenters from Visual Arts, the School of Music, the Department of Theatre and UVic's English department. Graduate students from as far away as Riverside, California, and Kingston, Ontario, will also be traveling to present."
For her part, Shrumm will be presenting the paper, "Knitting for Our Lives: The Appropriation of the Cowichan Sweaters by the Hudson's Bay Company during the 2010 Vancouver Olympics," on Friday.
This year's Visual Impetus keynote speaker will be Matthew Gusul, PhD candidate in the Department of Theatre. His 1pm Saturday  presentation will offer a survey of his recent Indian Field School, which created India's first intergenerational theatre company.
The department's graduate students and the Symposium Committee are also honouring Art History professors Dr. Anthony Welch and Dr. Christopher Thomas, for their long service with the department.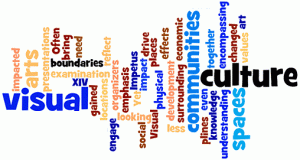 The subject matter of the presentations delivered at Visual Impetus reflects the department's dedication to a global art history. Students engage with a wide array of culturally diverse mediums, including architecture, painting, digital media and the ephemeral arts. Presenters from past symposiums have addressed topics ranging from medieval Persian illuminated manuscripts and contemporary First Nation textiles to Baroque Italian chapels. Due to the diverse nature of the topics discussed, students employ a multitude of theoretical approaches to augment their analyses.
Visual Impetus is free and open to the public. It is supported by the generosity of the Department of Art History & Visual Studies, the Dean of the Faculty of Fine Arts, and the University of Victoria Graduate Student Society.