We all know the colour of money and the colour of jealousy, but leave it to acclaimed Department of Theatre design professor Mary Kerr to bring us the colour of love.
Kerr's new play, Bella: The Colour of Love, debuts at the Toronto Centre for the Performing Arts' Greenwin Theatre on October 15. Better still, the run is over 85% sold out, with two extra performances added already.
Inspired by the life of Bella Chagall—the writer, actress, scholar and revolutionary who was also the great love and creative muse for her famous husband—Bella is an intricate poetic look at the nature of love and creativity told through words and song, against the backdrop of Marc Chagall's colourful paintings. Written by Kerr and Theresa Tova, who also stars in the production, Kerr also (not surprisingly) did the production design for both this and the original 2011 cabaret, commissioned by the Philadelphia International Festival of the Arts.
But the origins of Bella actually go back more than 30 years earlier, when a mutual Interest in Chagall led Kerr and choreographer Danny Grossman to create the show's first incarnation in 1976. Danced to the music of Puccini on a painted horse in a bower of lilacs, this early Bella was described as "a satisfying, haunting and poetic observation about love and death."
After standing ovations and four sold-out houses in 2011, Kerr and her artistic team began taking the production to its next stage. When approached to present a 30-minute segment at the Art Gallery of Ontario in conjunction with their 2011 exhibit Chagall and the Russian Avant-Garde, choreographer Grossman was asked to come back on board (and he's still the choreographer of this latest version of the show, also featuring music composed and performed by Matt Herskowitz). An expanded one-hour version then played at the Singer Festival in Warsaw Poland and the full two-act production appeared at Halifax's Dalhousie University in fall 2013. This current Toronto production, however, offers a revamped theatrical run, complete with new paintings, costumes and musical numbers.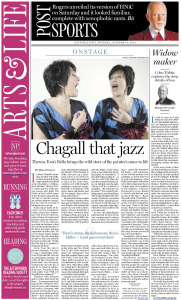 As Tova tells the National Post in this article, she and Kerr "researched the life of this 'unrealized artist' in part to tell 'the story of women, especially at that time, when Jews were not allowed to go to university'." You can also read more about Bella in this piece from the Canadian Jewish News. This also marks the second play written by lifelong friends Kerr and Tova, following the success of their Holocaust musical Still the Night.
In the last decade of her life, Bella Chagall—born Berta Rosenfeld (1889-1944)—wrote a series of memory stories in Yiddish, the poetic and visually rich language of her youth. Chagall said of her writing: "She wrote as she lived, as she loved, as she greeted her friends. Her words and phrases were a wash of colour over the canvas." These two published collections are the parallel poetic stories to Chagall's paintings and drawings; together they constitute what we believe to be an intricate poetic dance between two friends about the nature of love and creativity.
"We feel their love—steeped in Hasidic traditions and imagery of 1909, their time in revolutionary Moscow, their life in Paris, escape to America and her subsequent death there—to be a back drop to the real story: a poetic discussion of what it is to be creative artists in the 20th century," writes Kerr about the show. "Bella was a brilliant scholar, a privileged modern woman who went to university and also studied acting. The idea that she studied with Stanislavsky in Moscow while he studied design with Leon Bakst in St Petersburg, place these two young people at the epicenter of creative constructivism and cubism in the early years of the century."
(Interesting side-note: Kerr was originally introduced to Chagall when her painting teacher accused her of copying his style in the first oil painting she ever made. She was mortified, but went on to write her thesis on Chagall and his Hasidic influences.)
Kerr has forged a celebrated career as a production designer in Canadian and
International theatre, dance, opera, feature film, television, exhibition and special events design. Her stage design has been described as" kinetic sculpture on stage" and is characterized by experimentation with architectural concepts, scale, imaginative materials and colours, nonrealism and often satiric cultural commentary on the human condition through her unique sets and costumes.
She has created for the Canadian Opera Company, The Vancouver Opera, The Banff Opera of the Twentieth Century, Pacific Opera Victoria and The New Zealand Opera. In
1994, Kerr designed the internationally televised Opening and Closing Ceremonies of the Commonwealth Games in Victoria. For Expo 86 she designed the First Theatre and
production in the Canadian Pavilion.
Among her dance commissions are productions for the Paris Opera Ballet, NYC Dance Umbrella, The Royal Winnipeg Ballet, The National Ballet of Canada, The Florida Ballet and 28 pieces for The Danny Grossman Dance Theatre Company in Toronto, New York
and Europe. In 2008, she was the subject of Copper Thunderbird at UVic's Legacy Gallery, a groundbreaking exhibit which paired Ms. Kerr's costume plates, model, built costumes, process photographs and nationally broadcast video of the production with Norval Morrisseau's (Copper Thunderbird) paintings.
Named a Fellow of the Royal Society of Canada in 2010, Kerr is the only scenographer to be so elected. A member the Royal Canadian Academy of Arts, her work is housed in many collections including The Mary Kerr Collection at the Metro Toronto Library and The
Paris Opera Archival Museum. She was nominated for British Columbia Distinguished Academic of the Year Award in both 2003 and 2004.
Kerr is also one of 10 Canadian designers judged to be included in the 2012 publication World Scenography: 1975-1990, as well a featured designer in the first published book on Canadian stage design Scenography in Canada (2004). A Bravo Fact Film Mary Kerr: the Creative Process has been shown at the Museum of Modern Art in NYC and she is profiled in the 2008 Banff Centre publication Inspiring Creativity: 75 Years of Creation at the Banff Centre.
Kerr has taught at tUVic's Theatre department since 1998, teaching general, directed and graduate studies in the aesthetics, design, history of scenography and culture, costume design and costume history. She continues to create bold designs for the Phoenix stage.