It's a history mystery worthy of its own exhibition.
When Art History and Visual Studies professor Marcus Milwright began planning his upcoming exhibit The Arts of World War I, he knew there was one item in the university library that he just had to use: a beautiful two-volume leather diary set illustrated with watercolours and pen-and-ink drawings of life during wartime. There's only one problem: he has no idea to whom it actually belonged.
JM's World War I sketchbooks, housed within UVic Special Collections and University Archives for more than three decades, contain approximately 130 sketches and drawings ranging from caricatures to sombre images, by a British soldier based in France and Belgium in 1917 and 1918.
"The dedication on the first page says, 'To my daughter, Adele' and it's signed simply J.M.," says Milwright. "Other than that, there is only the emblem of the Royal Regiment of Artillery, with whom I assume he served. We do know that J.M. survived the war, as there's a painting dated 1920, and we know he saw active service in the areas of Ypres and Menin, as the paintings are dated and named. But that's about it."
Media attention to this story has been brisk, with most major news outlets giving Milwright's search for J.M. prominent play. Recent stories have appeared in the Globe and Mail, the Times Colonist, Vancouver's Metro news, the Saanich News and on CBC Radio's On The Island, CFAX radio, CTV-Vancouver Island, plus pieces on CBC Television, Global TV, Shaw TV and a Canadian Press story that was picked up by the National Post, Vancouver Sun and the Province newspapers.
Milwright was even interviewed for this article that  appeared in the famed French international publication Le Monde. And he was interviewed via Skype by Belgian blogger Rudi Rotthier, who runs the Knack—if your Flemish is good, you can read it here. Plus, France TV picked up the story, which you can read (in French) here.
In addition, a Postmedia website dedicated to stories about The Great War is now showcasing a special segment on the diary and UVic's hunt for the missing diarist. There are also pieces pending on Shaw television and the Saanich News.
Milwright has attempted to track J.M. down through brigade records—but those require at least one name to search, not just initials—and UVic Libraries has no record of where the diaries came from, just that they were purchased from a private seller in Victoria, likely between the early 1970s and mid-1980s.
The library has been trying for some time to solve this mystery as well and is hoping the centennial of the First World War this year will spark some new leads.
Milwright's theory is that the diary set was sold by a family member, possibly through an estate sale following the death of Adele herself, and he's hoping someone will recognize either the diaries or the artwork and be able to help solve the mystery. "They're fantastic images," he says.
The diaries and their illustrations will be a central feature of a new exhibition, The Arts of World War I, curated by Milwright and running November 7 to March 2 in the Legacy Maltwood (at the Mearns Centre – McPherson Library). The exhbiit will offer examples of books, prints and trench art from Europe and the Middle East drawn from the Legacy Art Galleries, the university's archives and private local collections. Milwright hopes J.M.'s identity will come to light either before or during the exhibition's four-month run.
"There is one preparatory sketch, which indicates these images weren't just spontaneously drawn but actually planned," says Milwright. "They look to me like book illustrations, so it's probable that J.M. was a trained painter or illustrator before going into the army."
If anyone has any information about either J.M., Adele M. or the diaries themselves, please contact Marcus Milwright at mmilwrig@uvic.ca.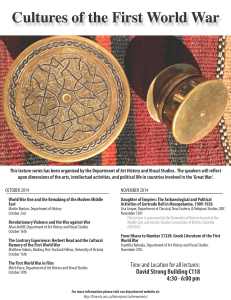 Milwright is also organizing a series of weekly lectures—Cultures of the First World War—which will run throughout October and November. Featuring a wide variety of speakers, the lectures will reflect upon dimensions of the arts, intellectual activities, and political life in countries involved in the "Great War."
• October 2—"World War One and the Remaking of the Modern Middle East," with Martin Bunton, Department of History
• October 16—"Revolutionary Violence and the War against War," with Allan Antliff & "The Contrary Experience: Herbert Read and the Cultural Memory of the First World War," with Matthew Adams, both of the Department of Art History and Visual Studies
• October 30—"The First World War in Film," with Mitch Parry, Department of Art History and Visual Studies
• November 13—"Daughter of Empires: The Archaeological and Political Activities of Gertrude Bell in Mesopotamia, 1909-1926″ with Lisa Cooper, UBC's Department of Classical, Near Eastern & Religious Studies. (This lecture is sponsored by the University of Victoria branch of the Middle East and Islamic Studies Consortium of British Columbia – MEICON).
• November 27—"From Ithaca to Number 31328: Greek Literature of the First World War," with Evanthia Baboula, Department of Art History and Visual Studies
 All lectures run 4:30-6:00pm in room C118 of UVic's David Strong Building
—A version of this article originally ran in UVic's newspaper, The Ring