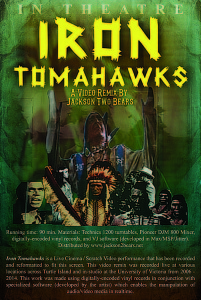 Now that  university classes are back in session (at least some BC students have returned to school), Fine Arts is also back in action with a full slate of September events. Here's a chronological list of what's coming up in the next few weeks—be sure to check back in early October for next month's lineup.
The annual Audain Exhibition presents returning Audain Professor Jackson 2Bears and his live cinema/scratch video performance, Iron Tomahawks. Digitally-encoded vinyl records—created in conjunction with specialized software developed by the artist—enable the manipulation of audio/video media in realtime, creating a multimedia performance that simply needs to be seen. Pop in and see the kind of contemporary work our Visual Arts professors are creating.
Iron Tomahawks should be open by Sept 12—they're just dealing with some technical issues at the moment. Once it opens, it will run 10am-4:30pm Mondays-Fridays through to Sept 26 in the Audain Gallery, found off the main foyer of the Visual Arts building. And it's free to watch, of course.
Visual Arts alumna Tia Casper is opening her first exhibit since graduating. Photo Magic offers a series of photographs taken in Las Vegas over 48 hours.These analog, pseudo tourist snapshots show Las Vegas through its lights, signs and grandiose architecture. The images juxtapose the glamour of greed against the detritus and decay of a failing dream. The images are dark, yet the lights shine through to create a parody of what Las Vegas symbolizes.
Photo Magic opens Thursday, Sept 11 and runs to Sept 28 at the Fifty Fifty Arts Collective, 2516 Douglas.
Staying on the visual arts beat, we've got the first of the 2014/15 Visiting Artist series—Thomas Kneubuhler. A Swiss-born multimedia artist, Kneubuhler creates work that often deals with social issues and how technology affects people's lives. His work has been presented in many exhibitions in both Europe and North America. He's appearing here as part of his participation in Open Space's Work'PLACE' exhibit. (Thanks to Open Space for jointly sponsoring his illustrated talk here on campus.)
If you've never caught one of the Visiting Artist talks, they're a great chance to hear about what's happening in the contemporary art scene around the world. Thomas Kneubuhler appears at 8pm Wednesday, Sept 17, in room A162 of the Visual Arts building. Also free!
As mentioned above, Open Space's fall exhibit is Work'PLACE', and it features a number of connections to the Visual Arts department. Work'PLACE'—curated by longtime Visual Arts professor Lynda Gammon—uses a variety of strategies to interrogate the rapidly transforming definitions of "work". Work'PLACE' features Visual Arts MFA alumnus Dong-Kyoon Nam, previously mentioned Visiting Artist Thomas Kneubuhler, and London's Tommy Ting, along with a film by Christine Welsh of UVic's Women's Studies.
Work'PLACE' opens 7pm Friday, Sept 19, and continues to Oct 25 at Open Space, 510 Fort. If you're interested in the ideas behind the art, the exhibit's Artist's Talks is at 2pm Saturday, Sept 20.
The School of Music is keeping the "cool" in "school" (but, you know, spelling it correctly) with the first of the season's Faculty Concert Series: Re-Birth of the Cool. Jazz professor Patrick Boyle is celebrating the 65th anniversary of the iconic Birth of the Cool sessions—featuring Miles Davis, Gil Evans and Gerry Mulligan—by performing innovative arrangements from these classic charts on guitar and trumpet, as well as a duo with Juno Award-winning local trombonist and School of Music professor emeritus Ian McDougall.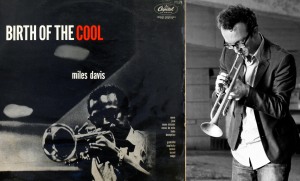 Re-Birth of the Cool kicks off at 8pm Saturday, Sept 20, in the Phillip T. Young Recital Hall. Tickets are $14 & $18. Can't make it to the show? Tune in here for a live broadcast of the concert.
Our colleagues at the Legacy Art Galleries are offering a pair of exhibits focusing on Salish art: Perpetual Salish: Contemporary Coast Salish Art from the Salish Weave Collection and Salish Reflection: Coast Salish Art and Artists on Campus.

Perpetual Salish presents a wide range of art forms and ideas, and gallery visitors will gain a better understanding of the cultural and stylistic elements that unify and inspire these contemporary artists in their own artistic practices. Artists featured are Maynard Johnny Jr., lessLIE, John Marston, Susan Point and Dylan Thomas, and the exhibit runs to January 10, 2015.
Meanwhile, Salish Reflection honours Coast Salish artists Chris Paul, Maynard Johnny Jr., and knitters May Sam and the Olsen family (Adam, Joni, and their mother Sylvia), who were all part of UVic's Artist in Residence Program through the Department of Anthropology between 2011 and 2013. During their three-month residency, they collectively taught students about their own artistic practices as well as aspects of Coast Salish history and contemporary culture.
This exhibit illustrates the teaching methodology and experience of students and artists in collaboration along with examples of the artists' work. (The Artist in Residence Program is facilitated by Dr. Andrea Walsh, who teaches the Anthropology of Art, and the program is supported by donors George and Christiane Smyth.)
All are welcome to join the artists and curators of both exhibits for a reception at 2pm Saturday, Sept 20, at Legacy Downtown, 630 Yates. Light refreshments will be served
You can also hear a curator's talk with lessLIE at 2pm Saturday, Sept 27, at the Legacy Downtown.
A great new project by the School of Music is their Emerging Artist Alumni Series. Not only does it allow recent Music graduates a chance to shine in the spotlight, the Emerging Artist series also offers a fantastic opportunity for students to meet with and learn from young alumni. The first in the series brings together classical and folk traditions in a double-bill of violist Sarah Tradewell and the chamber folk group West My Friend—featuring Eden Oliver, Jeff Poynter and Alex Rempel. 
The Emerging Artist Alumni Series kicks off at 7:30pm Sunday, Sept 21, in the Phillip T. Young Recital Hall. Admission is by donation.
If the literary arts are more your style, the Department of Writing is holding its Annual Faculty Reading Night this month. Featuring the words of Carla Funk, Bill Gaston, Kevin Kerr, David Leach, Tim Lilburn, Joan MacLeod and an excerpt of a film by Maureen Bradley, plus grad students Leah Callen, Heather Clark, Danielle Janess, Michael LaPointe and Sam Shelstad, the evening will be hosted by Fine Arts communications honcho and Writing department sessional instructor John Threlfall.
The Annual Faculty Reading Night starts at 7pm Tuesday, Sept 23, in room A240 of the Human & Social Development building. Guess what? It's also free.
Over the past two decades, the multi-media installations of Ontario-based multimedia artist Gary Spearin have utilized painting both on and off the canvas. A repertoire of painting techniques and styles had been employed to magnify issues of site and context within museums, private and public galleries, public and domestic architecture, and the natural and historic landscape.
Come hear Spearin talk when he's the next in the Visiting Artist series. That's at 8pm Wednesday, Sept 24, in room A162 of the Visual Arts building. Yep, it's free.
And you can end your month in harmony thanks to another of the Faculty Concert Series. This time it's School of Music flute professor Suzanne Snizek performing works by composers Mel Bonis, Charles Koechlin, Kaija Saariaho and J.S. Bach. This concert will also feature School of Music guests, pianist Bruce Vogt and soprano Anne Grimm.
That's at 2:30 pm Sunday, Sept 28, in the Phillip T. Young Recital Hall. Tickets are $18 & $14, and you can tune in here for a live audio webcast.