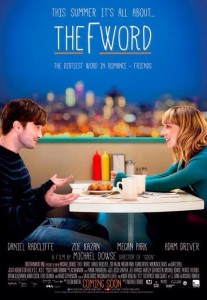 Let's say right off the top that The F Word is not what you think. Not only is the "F" in question actually "friend", but The F Word itself is a new movie starring Daniel Radcliffe—yep, he of Harry Potter fame.
But the Fine Arts connection? The F Word is actually the brainchild of a pair of Phoenix Theatre alumni—solo performance guru TJ Dawe and now-Hamilton based actor Michael Rinaldi.
While they didn't write the screenplay for The F Word, it is based on the 2003 play Toothpaste and Cigars co-written by Dawe and Rinaldi. A romantic comedy about unrequited love, Toothpaste and Cigars was first produced as a 15-minute playlet and was later expanded into a full-length play that toured across Canada.
A tale of unrequited love, The F Word follows Wallace (Radcliffe), a med-school dropout who falls for Chantry, an animator played by American actress Zoe Kazan. Upon meeting, the two develop an immediate connection. But because Chantry has a live-in boyfriend, they become best friends instead.
"I thought they were really true to the spirit of the original," Dawe told Michael Reid of the local Times Colonist newspaper in this article. "For it to be made at all, and as  Canadian film, is a miracle."
"I loved the movie," said Dawe. "For it to be made at all, and as a Canadian film, is a miracle."
"I thought they were really true to the spirit of the original,"
– See more at: http://www.timescolonist.com/university-of-victoria-grads-play-inspires-hollywood-film-1.1324032#sthash.c98DT5Nq.dpuf
For his part, Rinaldi has kind words for the film's star, describing Radcliffe in this CBC article as "funny and humble," saying he's "perfect" for the role of Wallace—which was originally the part Rinaldi played in Toothpaste and Cigars.
"I had been told…that he's really self-effacing," Rinaldi told the CBC. "That's still my default and that's how the character was written—to be really self-deprecating and undercutting himself all the time."
It's been a 10-year journey for the transformation of Toothpaste and Cigars into The F Word, now directed by Calgary-raised director Michael Dowse, whose credits include the rock & roll mockumentary FUBAR and hilarious DJ lifestyle spoof, It's All Gone Pete Tong.

Dawes & Rinaldi were approached with a development deal for their script in 2007, which started a bit of a "will it or won't it" roller coaster ride for the project. In 2008, the script started generating Hollywood buzz with indie-film biggie Fox Searchlight picking it up and, in 2010, enlisting actor Casey Affleck for the lead role. Cue the typical Hollywood scenario, however, as Searchlight dropped Affleck and then pulled out of the project themselves.
But then it morphed back into a Canadian project, with Dowse as director and Daniel Radcliffe onboard. "Suddenly, with a star like that, there's all this interest in distribution," Rinaldi told CBC. "I guess that's how it works."
Now it opens across Canada on Friday, August 22—although it will be opening under a different name in the United States where, surprisingly, having any "F" word seems to be an issue. The film is being called What If? in America.
Here in Victoria, the timing is good for the film's release—as TJ Dawe is back in town with his most recent 5-star solo show Medicine at the Victoria Fringe Festival. Medicine, a story about a retreat led by Dr. Gabor Mate and involving the shamanic plant medicine ayahuasca, runs August 25 to 31 at Langham Court Theatre.
So, if you're one of the people who can say "I saw it when it was just Toothpaste and Cigars", you can have a Dawes double-bill with the movie and his Fringe show.
Interesting side-note: Dawes also directed and dramaturged fellow Fine Arts alumnus Mark Leiren-Young award-winning memoir Never Shoot a Stampede Queen into a solo show starring another Phoenix alum, Zachary Stevenson.