Rising Canadian literary darling and one of the Writing department's most amazing recent undergrads, Eliza Robertson will be launching her debut short story collection Wallflowers in Victoria on Thursday, August 21.
Described by publisher Penguin as "quirky and masterful, Wallflowers is a bouquet of unconventional delights from a powerful new voice." And if that seems like high praise, consider that Robertson was also named to National Post's list of "The 25 most anticipated (Canadian) books of 2014."
More from Penguin: "Robertson has created a cast of unique and wholly engaging characters. Here there are swindlers and innocents, unlikely heroes and gritty survivors; they teach us how to trap hummingbirds, relinquish dreams gracefully, and feed raccoons without getting bitten . . . . Robertson smashes stereotypes even as she shows us remarkable new ways of experiencing the world—and of relating to our fellow human beings."
Born in Vancouver, Robertson was a clear standout here in the Writing department. Already a talent to watch before she graduated in 2011, Robertson picked up The Malahat Review's 2009 Far Horizons Award, won the 2010 PRISM International fiction contest, was shortlisted for 2010's acclaimed Journey Prize, and was also one of the student creators of the 2011 Leo Award-winning web series, Freshman's Wharf. Not bad considering her original major was political science and she didn't even transfer to creative writing until her third year at UVic.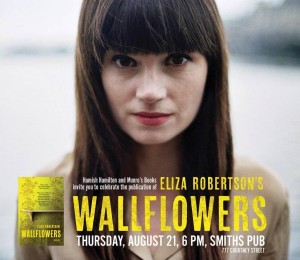 She then went on to pursue her MA in Prose Fiction at the University of East Anglia, where she received the Man Booker Scholarship and the Curtis Brown Prize for best writer. In 2013, she won the Commonwealth Short Story Prize and was a finalist for the Journey Prize and the CBC Short Story Prize.
Check out this quirky interview with Robertson on the 49th Shelf site.
Eliza Robertson launches Wallflowers at 6pm, Thursday August 21, at Smiths Pub, 777 Courtney Street. Come for the reading, stay for the beer—and take home a great new book! Find her on Twitter at @ElizaRoberts0n.