It's the typical sessional's dilemma—what to do with all that course material you so painstakingly prepared once your course is over?
Longtime sessional instructor and Fine Arts communication honcho John Threlfall found a solution: he's flipped the viewing list from his summer Fine Arts popular culture elective "It's About Time: Time Travel in Popular Culture" into the summer recommended viewing wall at stalwart Cook Street Village video store Pic A Flic.
With a selection of 42 films and television shows in a variety of genres offering a romp across the time-space continuum, word is the wall has been quite popular with Pic A Flic's loyal customer base. (And we're sure it's just a coincidence that the Victoria Film Festival's annual Free B-Film Festival kicked off on August 1st with the campy time-travel classic Bill & Ted's Excellent Adventure.)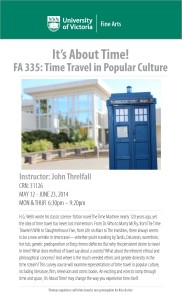 In fact, this is the second time that Threlfall has been a guest programmer for Pic A Flic: to mark the 50th anniversary of the James Bond film franchise in 2012, he assembled a selection of films that never would have been made without the influence of Bond. (Think The Incredibles, the Bourne series, the hilarious French series OSS-117, etcetera.)
Indeed, one of the reasons Pic A Flic has managed to survive in the digital direct era is not only because of their knowledgeable staff and fantastic selection, but also because of their relationship with their loyal customer base. Much like a favourite independent book store or record shop, it's important for film fans to help keep Pic A Flic afloat.
But if you don't have the time (ha!) to rent a movie right now, here's the master list for future reference:
The Twilight Zone: "Walking Distance", Hot Tub Time Machine, The Time Machine (1959), The Time Machine (2002), Time After Time, Warehouse 13: "Time Will Tell", Back to the Future (1, 2, 3),Frequency, Meet the Robinsons, Austin Powers: The Spy Who Shagged Me, Timeline, Army of Darkness, Harry Potter and the Prisoner of Azkaban, La Jetee, 12 Monkeys,Peggy Sue Got Married, Star Trek: "The City on the Edge of Forever", Heroes, Life on Mars, Donnie Darko, Les Visiteurs, Just Visiting, The Girl Who Leapt Through Time, Triangle, Slaughterhouse Five, Timecrimes, Safety Not Guaranteed, Source Code, Primer, About Time, The Prince of Persia: Sands of Time, Black Adder: Back and Forth, Quantum Leap: "The Color of Truth", Being Erica, Southland Tales, Time Bandits, The Navigator, Fringe: "White Tulip", The Terminator (1, 2, 3, 4), Free Birds, The Time Tunnel, Bill & Ted's Excellent Adventure, Cosmos, A Brief History of Time, A Connecticut Yankee in King Arthur's Court, Kate & Leopold, Star Trek: The Next Generation "All Good Things", The Simpsons "Time and Punishment", Doctor Who: "The Doctor's Wife", Next, Source Code

Threlfall's time-travel selections were up throughout July and will likely be on view until mid-August. If you're a time travel fan, be sure to pop down to Pic A Flic at 328 Cook Street and peruse the selection.