Undergraduates in the Department of Visual Arts are similar to students in any department at the University of Victoria: they come here to learn, to think, to research and to incubate their ideas. But what makes Visual Arts students different is that they also come here to create—and that creative difference is showcased in the annual Bachelor of Fine Arts graduating exhibit, this year titled Split.
No question, the BFA exhibit is one of the most anticipated events of the Visual Arts academic year. This year featuring the work of 36 students, Split runs from April 17-26 and will feature a tremendous amount of painting, drawing, sculpture, installation, video and media art spread throughout the Visual Arts building.
"For many of the students, the BFA exhibition is an opportunity for them to exhibit their work publicly for the first time," says Visual Arts professor Jennifer Stillwell, who is coordinating Split with fellow professor Robert Youds. "Each graduating student has created a body of work or a major work that speaks to their individual point of view as an artist. The exhibit marks the achievement of their degree and celebrates and highlights the work they have put into it."
More than just displaying their work, however, the students have also organized most aspects of the exhibition itself—from curatorial decisions and building preparation to organizing the opening night event and creating a colour catalogue that will further support the work and ideas of each artist in the show.
"Most BFA students arrive here not really knowing what contemporary art is, then they have to go through the process of figuring it out and engaging with it," says Visual Arts professor Paul Walde. "Then they have to decide what they want to work on and move forward with that. This final year really is the tipping point where you see massive development in a student's work. That's why UVic is such a great incubator for artists: it gives you time and space, and it has great facilities and a great faculty—but when students graduate, it's really important for them to get off the island and test the strength of their ideas in other contexts."
Split not only offers a glimpse into the future of visual art but also shows the originality of vision that comes with being mentored by some of Canada's top contemporary artists. "Taking these courses and working with these professors has given me a way of filtering what I'm taking in and providing effective strategies for creating things," says graduating Visual Arts Student Association president Graham Macaulay. "The strength of this program is the very direct studio practice—you really get into the meat of your artistic practice. I've been exposed to a lot of different ideas and people with different practices."
On one level, the exhibit title Split was inspired by a quote by French theorist Roland Barthes,  which appears in the exhibit catalogue: "It would seem that we are condemned for some time yet to always speak excessively about reality. This is probably because ideologism and its opposite are types of behaviours which are still magical, terrorized, blinded and fascinated by the split in the social world. And yet, this is what we must seek: a reconciliation between reality and men, between description and explanation, between object and knowledge."
When asked about this, Macaulay chuckles. "It's kind of tricky naming a grad show—it's always a bit of the same thing: a lot of people with very disparate practices. You get some meeting places where people work together but the only real connection point is the location—we're all here, we're all Visual Arts students," he says. "But in her catalogue essay, Jennifer Stillwell said, 'It's time to split'—which I thought was so funny, it's been four years and it's time to split. It's such a simple thing, and such a contrast with what Barthes has to say."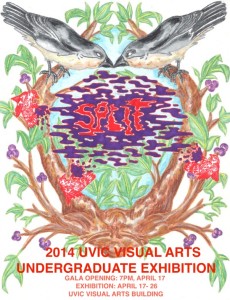 Split also carries on the enviable Visual Arts tradition of producing some of Canada's most notable contemporary artists—such as 2014 Governor General's Award winner Kim Adams, as well as the likes of Jessica Stockholder, Gwen Curry, Bill Burns, Marla Hlady, Phyllis Serota, Barbara Fischer, Christian Giroux and many, many others.
If you want to brush up on the future of Canadian art, look no further than UVic's Department of Visual Arts.
Split opens with a 7pm reception on Thursday, April 17. The exhibit runs daily to April 26 throughout UVic's Visual Arts Building, and is free to attend. Don't miss our upcoming MFA  graduating exhibit as well, running May 2-10.