Chalk up another achievement for Department of Writing MFA graduates: this month, Aaron Shepard is releasing his debut novel, When Is A Man.
Shepard, who picked up his MFA back in 2010, is only the latest in a string of Writing MFAs—including Anne Marie Bennett, Frances Backhouse, Devon Krukoff, Garth Martens, Arleen Paré, Kevin Paul, Melanie Siebert and Yasuko Thanh—to publish. (Expand that to include BFAs and the list grows even further, thanks to the likes of Esi Edugyan, Marjorie Celona, D.W. Wilson and many more than can be listed here.)
But while this may be his first novel, Aaron Shepard has already written some award-winning short fiction, served on the fiction board of The Malahat Review and has been published in a number of Canadian literary journals, including The Fiddlehead and PRISM International. His personal essay "Edge of the Herd" appears in the 2009 anthology Nobody's Father: Life Without Kids (Touchwood).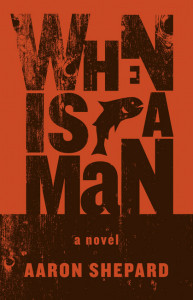 Described by publishers Brindle & Glass as "an original debut novel that is meditative, raw, and exuberant in tone, Shepard's When is a Man offers a fresh perspective on landscape and masculinity." In a nutshell, the novel follows Paul Rasmussen—a young ethnographer and academic recovering from prostate cancer—who retreats to the remote forests and towns of BC's fictional Immitoin Valley, where a drowned man and a series of encounters with the locals force him to confront the valley's troubled past and his own uncertain future. As Rasmussen turns his attention to the families displaced 40 years earlier by the flooding of the valley to create a hydroelectric dam, his desire to reinvent himself runs up against the bitter emotions and mysterious connections that linger in the community in the aftermath of the flood.
Join Aaron Shepard in celebrating the release of When is a Man at the reading and launch party from 7-9pm Tuesday, April 8 at the Copper Owl, 1900 Douglas Street in Victoria. The event will be hosted by Writing professor David Leach.
Calling it "an intimate and affecting exploration of screw-tight landscapes of the Interior," Canadian novelist Mark Anthony Jarman praises Aaron Shepard's freshman effort. "Shepard paints scenes in smoke and snow and light and dark, and the crack language and iron settings of river, mountain and forest put me in mind of the best of Ken Kesey the merry prankster," he writes. "When is a Man is complex and stubborn and a serious joy."
Focus magazine book columnist Amy Reiswig is also clearly a fan. Writing in the April 2014 issue, she notes, "Shepard blends his great love for and experience of rural BC communities with the freedom of fiction, resulting in a book that deals head-on with specific BC issues but isn't bound by specific BC history. Rather, Shepard creatively combines his own personal concerns with knowledge and research from a variety of very real events." Reiswig also describes how Shepard's "raw, honest look at male sexuality and constructed ideas of masculinity will encourage conversation about prostate cancer and about self-acceptance, patience and respect—another set of powerful unseens—that we could do well to extend to one another and ourselves."
Shepard, who works by day as a writer for the Ministry of Transportation and Infrastructure ("Way too much desk time," he admits), took some time to discuss the origin and intention of When Is A Man recently. Explaining that he had "essentially mapped out the novel before I started the MFA program—a much more surreal version than what I ended up with," Shepard says he only wrote the first third as his MFA thesis. "After I graduated, I wrote the rest. Once I had a rough draft of the whole novel, the revision process—which is basically glorified problem-solving—took me in unexpected directions because now I was focusing on character development, which tends to disregard things like chapter outlines."
His inspiration came from living and working in the West Kootenays, where he spent a few summers in his twenties building hiking trails beside rivers and doing some fisheries work. "River imagery took over a lot of my writing," he explains. "I've always been interested in water issues, whether it's the pros and cons of run-of-river dams, fracking, and so on. I was also inspired by the notion of time and events repeating themselves. One of the characters in the book embodies that idea: he keeps encountering the bodies of drowned men until he loses all sense of time . . . . As I wrote, these ideas somehow led me to thinking about the parallels between an altered landscape and an altered body."
While it's been a couple of decades now since Robert Bly brought men's issues to the forefront, both When Is A Man and his essay in the Nobody's Father collection both touch on issues of masculinity. Does Shepard feel the representation of men and men's concerns is somewhat ho-hum in literature right now?
"I often feel like the conversation about masculinity in literature is one-sided, that we expect our male characters to grapple with the so-called 'crisis in masculinity' through the familiar tropes of drinking, fighting and fucking," he says. "Those are presented as the only ways to confront any type of emasculating force—like economic hardships, divorce or boredom. Any kind of weakness, like Paul's impotence and incontinence, is usually reserved for satire or parody—that's how we mock or punish characters."
"As I developed Paul's character, I thought, 'What if things like impotence could be seen as a type of opportunity for an alternative take on manhood?' I liked the idea of someone trying to avoid the questions of sexuality and gender role as they re-examine their identity," he continues. "Paul learns it's not a simple matter of choosing a monk-like seclusion or a 'life of the mind.' So the questions can never be entirely avoided, but there's value in the searching. In that regard, I was influenced by [international novelist] A.S. Byatt, which sounds odd, but her female characters are often looking for a way of life that's not strictly tied up in sex and gender roles —they want to be free just 'to think.'"
Shepard will also be participating in the At the Mike: Fiction Night! alongside guest authors M.A.C. Farrant and Margaret Thompson. That kicks off at 7pm Tuesday, April 15, at Russell's Books, 734 Fort Street in Victoria.
Before she became his MFA advisor, Department of Writing professor and acclaimed short story writer Lorna Jackson taught Shepard as an undergrad. "I thought he had a ton of promise," she recalls. "He had a great attitude, his writing was original and well-crafted." When they started working together toward his MFA, Jackson was even more impressed. "I really found his preoccupation with masculinity and landscape interesting and appealing, as well as his resistance to writing it as a romance, staying really strong in the idea of who the character was and what he wanted to accomplish. Aaron was really open to suggestions about what the story might need—especially to do with the body—but he'd always take an idea, really develop it and make it his own. That was the pleasure of working with him: seeing what he would do with a suggestion."
"We had long discussions about the philosophical elements of the book—or, rather, why I want to tell this particular story in this particular way," Shepard recalls of working with Jackson. "We studied a lot of writing about landscape/body, essays on watching and playing sports, things that helped refine certain ideas and lend a more focused approach to my writing."
While he admits that setting his book in the interior of British Columbia was "a bit risky in terms of broad appeal" when it came to landing it with an agent, Shepard proudly stands by his Man. "I suspect many agents felt the book was too 'regional' or 'local.' For When is a Man—and this is also true for the novel I'm currently drafting—I've been wrestling with my own ideas for too long to worry about what's selling, or what's popular with agents and publishers, etcetera. Maybe down the road, if I start with a blank canvas, I'll be more strategic. But I doubt it. Then again, my next novel does deal a bit with climate change, so maybe my interests and the publishing world's interests will intersect. In the meantime, I'm grateful to Brindle and Glass for believing in the story as is."
But when it comes to placing that first novel, Lorna Jackson doesn't feel bigger is always better. "I'm sure he wanted a great big publisher to get all excited, but it's a different kind of novel than that," she says of Shepard's debut. "I think it's great he's found a smaller press to release it—I'm all about the small press. They're so interesting and so not commercial, and there's nothing wrong with that. I'm sure we'd all love a rousing commercial success, but it doesn't always serve the art. Aaron's a pretty arty guy—he's a deep thinker and a deep feeler, and sometimes that doesn't translate into massive sales."
Finally, Shepard credits the MFA program for being "hugely influential in shaping and refining the starting ideas," and praises other Department of Writing faculty members, notably Bill Gaston ("He's a great 'big picture' person—he had a lot of good advice for thinking about the book as a whole, which came in handy after I finished the program and still had two-thirds of a novel to write"), Tim Lilburn ("his class on nature writing was, for obvious reasons, extremely useful and inspirational"), David Leach ("his class on travel writing helped improve my sense of pace") and retired professor and novelist Jack Hodgins. "Three years later, funnily enough, John Gould—another instructor—was chosen by Brindle and Glass to work with me on the final edits after they'd accepted the manuscript."
What's up next now that first novel hurdle has been leaped? "I'm working on the next novel, just in the rough draft stages," he says. "It's slow going, and I'm bad at multi-tasking, so that's the only project on the go right now."