Who says you're never too old to compete in the Olympics? Just ask John Copley—he was 73 when he won a Silver Medal in the 1948 London Olympics. A septugenarian shotputter, perhaps? A sailor still in his prime? Nope—Copley won Silver for art in the "Mixed Paintings, Engraving and Etchings" category.
As CBC Radio's Under the Influence marketing show host Terry O'Reilly notes in his latest entertaining episode, "Marketing the Olympics", art was included as a competitive category in the Olympic Games between 1912 and 1948. Modern Olympics founder Pierre de Courbertin wanted Olympic athletes to compete in both body and mind, so the Olympics included medal categories for literature, music, painting, sculpture and architecture.
Each piece of art had to have a sport theme (Copley picked up the Silver for his painting "Polo Players") and, by 1928, Olympic officials were judging over a thousand entries in Painting and Sculpture alone. No big surprise, considering the artists didn't have to create new works under the gun, they simply had to enter previously unseen works.
See a complete list of all previous winners here. Music, Literature and Painting are each subdivided into four categories, Sculpture three and Architecture two—who knew you could once win a medal for designing a ski jump, pool or stadium?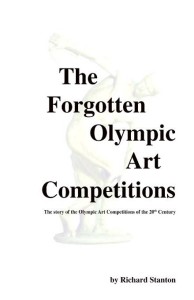 According to the Smithsonian.com article "When the Olympics Gave Out Medals for Art", Olympic judges handed over 151 arts-focused medals over the years . . . not that anyone really remembers. As Richard Stanton, author of The Forgotten Olympic Art Competitions, told Smithsonian.com writer Joseph Stromberg, "Everyone that I've ever spoken to about it has been surprised. I first found out about it reading a history book, when I came across a little comment about Olympic art competitions, and I just said, 'what competitions?'"
When he was rebooting the Olympics, de Courbertin was adamant that the arts be included in the modern Olympics. "There is only one difference between our Olympiads and plain sporting championships," Stanton quotes de Courbetin as saying, "and it is precisely the contests of art as they existed in the Olympiads of Ancient Greece, where sport exhibitions walked in equality with artistic exhibitions."
Yet despite de Courbetin's efforts, the artistic side of the Olympics remained a quirky sidenote to greater Olympic glory. As the Smithsonian's Stromberg notes, categories were fractured, medals were inconsistent and prominent artists never really entered. It all ended in 1952, and the artistic medals were officially struck from the Olympic record.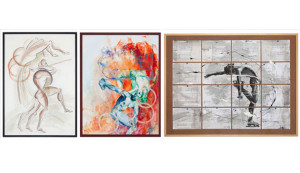 The news isn't all bad, however—for the past decade the International Olympic Committee has held an official "Sport and Art Contest" on the build-up to the Summer Games. No medals, alas, but there is a cash prize for three winners in each category (sculptures and graphic works), and the winning pieces are displayed in conjunction with the Summer Games. Winners of the 2012 prize in graphic works—selected from 86 entries—include (from left) "In Cerca Dell' Armonia" by Italy's Volha Piashko (mixed media, collage) in first, "Excellence Rising" by Romania's Luisa Balaban (paper, ink, watercolour, pastel) in second, and "Hope" by Portugal's Isabel de Cunha Lima (acrylic on canvas) in third.
Sculpture winners were the USA's Martin O. Linson's "Omnipotent Triumph" (bronze) in first, Georgia's Levan Vardosanidze's "Olympic Hymn" (bronze, brass, marble, wood) in second, and Spain's Fernando Serrano Munoz's "The Cycling Woman" (sapeli wood carving treated with wax, rusty iron support) in third.
Interested in participating in the upcoming 2016 Summer Games in Rio de Janeiro? Entries are welcome from any country with a participating National Olympic Committee. Check out the 2012 entry form here.