Want to change the world? All you need is the right idea.
UVic's third annual IdeaFest is back and ready to expand your mind with fascinating ideas from fascinating people. Running March 3 to 8 at various venues across campus, IdeaFest offers over 50 ideas worth celebrating.
This year's theme is "Ideas that can change everything," and Fine Arts is once again in the mix, with every department offering something. Here's a quick rundown by date of what we've got scheduled, but be sure to see the main schedule for complete details. Remember, all events are free and don't require registration—unless otherwise noted.
• Get an inside look at how musicians make music with a Cello Master Class featuring School of Music professor Pamela Highbau Aloni. (1:30-2:30pm Tuesday, March 4 in the Phillip T Young Recital Hall, MacLaurin B Wing)
• What do you do when you suddenly find yourself over your head with a creative project? Find out in "A Props Master Out of his Depth", a slide lecture by Department of Theatre master props artist Bryn Finer. Finer will address how his theatre experiences translated to the development of sculptures and dioramas for the Kwisitis Visitor Centre at Pacific Rim National Park near Tofino. (12:30-1:30pm Wednesday, March 5, in the Roger Bishop Theatre, Phoenix Theatres)

• The annual Jamie Cassels Undergraduate Research Awards feature new research produced by 115 young scholars—of which 10 are from Fine Arts: Caroline Baicy, Justin Barski and Evelyn Brotherston (History in Art); Alannah Bloch and Jocelyne Lamarche (Theatre); Abigail Laycock and Graham Macaulay (Visual Arts); Bethany Hughes and Benjamin Willems (Writing); and Sondra Moyls (Music).  Be sure to check out what they've got on hand in this fascinating exhibit. (11:30am-3pm Wednesday, March 5, Michelle Pujol room, SUB)
• Get an inside look at how musicians make music as School of Music professor Patricia Kostek leads a master class on the clarinet in this workshop. (1:30pm – 2:30pm Wednesday, March 5, in the Phillip T. Young Recital Hall, MacLaurin Building)
• Find out how young musicians hone their craft and learn from master musicians at this string chamber master class with UVic's own artists-in-residence, the Lafayette String Quartet. (7-9pm Wednesday, March 5, in MacLaurin B016)
• Ever heard of Soundpainting? Find out what it's all about at this presentation and interactive demonstration by UVic's new music ensemble, Sonic Lab. All are invited to participate with movement, visual arts, spoken word, acting or music in a real-time, gesture-based group composition. (1-2:30pm Thursday, March 6, in the Phillip T. Young Recital Hall, MacLaurin Building)
• A late addition to our IdeaFest lineup: The 3-Minute Thesis competition! School of Music graduate student Michael Dias will have three minutes to explain the ideas behind "The Creative Process: A Composer's Sketches and Drafts" with one slide, 180 seconds and no jargon. Can he do it? Find out 7-9pm Thursday, March 6, in the David Lam Auditorium.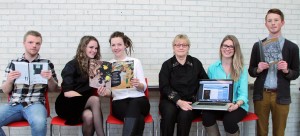 • In this age of digital publishing, you don't need a printing press to create your own magazine—unless you choose to go the traditional publishing route. So You Want To Launch A Magazine offers an interactive panel discussion and showcase of some of the very successful magazines—both digital and print—created by students in the Department of Writing to address social and literary concerns in society. The panel includes moderator Dr. Lynne Van Luven (Writing), Nadia Grutter (Coastal Spectator), Patrick Close (The Warren), Kimberley Veness (Concrete Garden), Patrick Grace (This Side of West) and Andrea Routley (Plenitude). (noon-1:30pm Friday, March 7, in HSD A270)
• If you've ever been to an opera, you've heard how the voice can be an instrument in itself. Learn more about this primordially human instrument when professor Benjamin Butterfield leads a master class in voice. (2:30-3:30pm Friday March 7, in the Phillip T. Young Recital Hall, MacLaurin Building)
• Unless you're a musician yourself, the process of creating music can offer be a complete mystery. Discover more in "Exploring Aesthetic Diversity Through Music," an interactive workshop where you can experience the excitement of live music creation. School of Music composition and performance students will also perform their latest music compositions, created under the guidance of Music professors Dániel Péter Biró (Tsilumos Ensemble) and Joanna Hood (Lafayette String Quartet). The general public is welcome to attend! (7-9pm Friday, March 7 in MacLaurin B016)
• This year's "Concert Without Borders" features the UVic Orchestra, under the direction of Ajtony Csaba, offering a program that includes Berlioz, Grisey and Beethoven and is punctuated by multi-media interventions highlighting Learning Without Borders projects from across campus. Theatre, song, visual art and spoken word shine a spotlight on the many ways in which members of the campus community are working to internationalize the curriculum and campus life. (8-10pm Friday, March 7 in the Farquhar Auditorium. Note: this is a ticketed event, and tickets can be purchased at the UVic Ticket Centre.)
• Finally, we offer the concert, A Night of Schubert. What makes a composer great? Why do we revere the music of one artist over another? Is it the beauty of the melody, a special harmonic sound, or something else? Discover the secrets of the romantic music of Franz Schubert (1797-1828) as explained and performed by pianist and School of Music professor Bruce Vogt. There will be a pre-concert talk at 7:30pm as well. (8-10pm Saturday, March 8, in the Phillip T. Young Recital Hall, MacLaurin Building. Note: this is a ticketed event, and tickets can be purchased at the UVic Ticket Centre.)