As always, there's plenty going on in the Fine Arts faculty. Here's a quick roundup of what's coming up in the next couple of weeks:
Open Word: Reading and Ideas with Gillian Jerome

The founder of Canadian Women in the Literary Arts and celebrated co-creator of Hope in Shadows: Stories and Photographs from Vancouver's Downtown Eastside, Gillian Jerome will read from her latest book of poems, Red Nest. A live interview with UVic's own Melanie Siebert will follow the Open Space reading.
7:30pm Wednesday, January 22, at Open Space, 510 Fort
Adaslā: The Movement of Hands

Thanks to the History in Art department, thousands of buttons and hundreds of metres of thread have now transformed one enormous swath of cloth into one huge button blanket. The companion exhibit, Adasla: The Movement of Hands, centres upon the creation and exhibition of what we're calling the World's Biggest Button Blanket. A project of Carolyn Butler Palmer, the Williams Legacy Chair in Modern and Contemporary Art of the Pacific Northwest, and sessional instructor Peter Morin, the blanket was created over the Fall 2013 academic term in collaboration with students at UVic's First Peoples House. The finished blanket invites new conversations about indigenous button blanket makers and the artistic traditions that surround them.
Morin will offer the inaugural dance of the blanket on Wednesday, January 29, at First Peoples House as part of UVic's 2014 Diversity Research Forum. There will also be a companion performance on at 2pm on Saturday, February 22, at the Legacy Gallery Downtown with Morin and Governor General's Award-winning performance artist Rebecca Belmore, a former Audain Professor for the Department of Visual Arts.
Adaslā: The Movement of Hands continues to April 25 at the Legacy Art Gallery Downtown, 630 Yates.
Visual Arts MFA Silent Auction

Our Visual Arts MFA students are trying to get to New York City, and you can help by bidding on one (or more) of the 60 pieces on offer in this silent auction. Work by both students and faculty is up for sale, and the event culminates with a 5:30pm performance on Thursday, January 23, by Fantastico! (better known as Visual Arts instructor David Gifford.)
Bidding runs 9am-5pm daily, and up to 6pm Thursday, January 23, in the Visual Arts building's Audain Gallery. You don't have to be present to win your bid.
Visual Impetus XVII: Conceived, Created & Consumed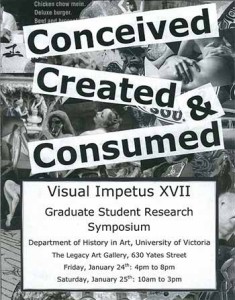 Join Visual Impetus, the annual History in Art department's graduate student symposium, and the theme this year is "Conceived, Created & Consumed." When attempting to analyze and understand the significance of visual culture in society, we must examine the various stages of development as it transitions from the artist's idea to a tangible manifestation that audiences perceive and respond to. The organizers of Visual Impetus XVII offer presentations addressing visual culture within the moments of conception, creation, or consumption, and how significance and function can shift within these different stages.
Included among the presentations is the keynote address by Peter Morin of the Big Button Blanket Project, 4pm Friday, January 24. Click here to see the full schedule of presenters.
Visual Impetus XVII runs January 24 & 25 at the Legacy Art Gallery Downtown, 630 Yates
A double dose of Sonik
Fans of Department of Writing sessional instructor Madeline Sonik will be excited to hear the multi-genre writer has a pair of events on the horizon: first up is her participation in the Malahat Review's WordsThaw prequel "CNF Night in Canada!" Kicking off at 7:30pm Tuesday, January 28, at Russell Books (734 Fort), Sonk will be joined by Vancouver Island authors Maleea Acker and Jay Ruzesky at this free "intellectual icebreaker," hosted by Malahat Review editor and fellow Writing instructor John Barton. They'll all be discussing "the grace and agility of memoir, the essay, and travel writing."
After that, the award-winning Sonik will be giving an interactive talk on literary magazine and book publishing, designed for new and emerging writers at UVic and the Victoria community at large who are interested in knowing how to make submissions, write pitches and book proposals, and approach literary agents. Other topics will include literary contests, grants, market studies, and how to keep track of it all. This equally free event runs 2:30-4pm Tuesady, February 4, in room A240 of UVic's HSD Building.
Visiting Artist: Michael Klein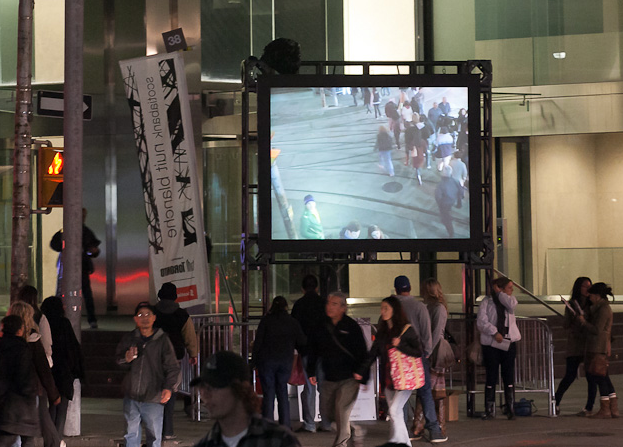 Michael Klein has been exhibiting video and photo-based work for more than 30 years. He has curated, organized and programmed numerous exhibitions and publications. and opened the MKG127 gallery in Toronto in 2007. Recent exhibitions include The Other Side for Scotia Bank Nuit Blanche 2012, All in the Family at the Winnipeg Art Gallery and Family Ties at Daniel Faria Gallery in 2013.
Michael Klein speaks at 8pm Wednesday, January 29, in Room A162 of the Visual Arts building 
Southam Lecture: Tom Hawthorn

Just in time for the Sochi Winter Olympics, Tom Hawthorn—2014 Southam Lecturer for the Department of Writing—presents his free public lecture, In Defence of Sports Writing (Not All of It, Just the Good Stuff). Not only will Hawthorn discuss the importance of sports writing but also examine the more political side of the Olympics at his public lecture, from the move to boycott the Nazi Olympics and the Black Power salutes of 1968, to the African boycott of the Montreal Olympics and the contemporary protests over Russia's anti-gay laws.
In addition to having covered the 1996 Olympic Games in Athens, Hawthorn has worked in the sports departments of the Globe and Mail, Province and Times Colonist newspapers, and is a well-respected journalist and magazine writer whose byline has appeared in magazines across the country. He is also the author of the recent book, Deadlines: Obits of Memorable British Columbians.
Tom Hawthorn speaks 7pm Wednesday, January 29, in room A240 of UVic's Human & Social Development Building
Daniel Laskarin: fallen and found

Hot off the Visual Arts faculty exhibition Paradox, Visual Arts chair Daniel Laskarin presents his latest solo show, fallen and found. In this, his fourth exhibition with Deluge Contemporary Art, Daniel Laskarin returns to a decades-old preoccupation with the role of the sculptor as matterist. A mix of sculptural pieces and newer works from an ongoing narrative of small wall pieces, Laskarin's artistic production is object-based, and uses a diverse range of media including photography and video, optics, robotics systems, installation and sound works, set design and public projections
Opens 7pm Friday, January 31 and continues to March 8 at Deluge, 636 Yates
The School of Music's Ajtony Csaba conducts the UVic Orchestra in a program of Mozart (Overture to Don Giovanni), Maurice Ravel (Piano Concerto in G Major), and Richard Strauss (Death and Transfiguration, Op. 24). Featured in the Ravel piece will be  piano soloist Barry Tan, winner of the annual UVic Concerto Competition.
Don Joy begins at 8pm Friday, January 31, in the University Centre's Farquhar Auditorium. Click here for ticket information.
The Lafayette String Quartet: Quintets Old and New
The Shostakovich Op. 57 Piano Quintet has been in the Lafayette String Quartet's repertoire from the very beginning. As students, three of the quartet members performed this work with the great Rostislav Dubinsky and his wife, Luba Edlina and the Quartet has performed this piece numerous times since. "This piece is an old friend—it's in our blood," says Ann Elliott-Goldschmid, violinist with the LSQ. In contrast, the Dvorak Op. 97 String Quintet, which uses idiomatic modalities common in Native American song and African Amercian spirituals, is a fresh undertaking for the group. The Quartet will bring both of these works to the stage with the help of guest performers Alexander Tselyakov (piano) and Yariv Aloni (viola).
The LSQ performs at 8pm Saturday, February 1, in the Phillip T. Young Recital Hall in UVic's MacLaurin Building. Click here for ticket information
Department of Theatre Open House
Choosing a career in theatre is a big decision, but new students who want to follow in the footsteps of UVic's successful theatre alumni have a great opportunity to learn more about the program when the Department of Theatre welcomes prospective new students for a behind-the-scenes introduction at the annual I Want to Be In Theatre! event on Saturday, February 1.
This fun interactive afternoon offers an inside look at life as a theatre student and is ideal for high school students who are deciding about their university studies—or anyone who is interested in studying theatre at a post-secondary level. As well as a tour of the impressive facilities at the Phoenix Theatre, the day provides detailed information about the department's many theatre specializations: acting, applied theatre, set, costume or lighting design, directing, production and management, and theatre history. Attendees will also see a rehearsal scene of the upcoming play Picnic, have an opportunity to chat with current students over a free pizza lunch, and get advice about choosing courses and the application process. Parents and teachers are welcome to attend with interested students.
I Want To Be in Theatre! runs 11:30am to 3pm Saturday, February 1 in the Phoenix Theatre. Tickets are free, but please register in advance with this registration form before Monday, January 27.
The 27th Annual Medieval Workshop

Spend a full day in two of the most beautiful and prosperous cities of the Middle Ages—Cairo and Venice! Settled at the margins of powerful empires, defying prejudice and authority, both islands of culture and wealth—over the desert in Cairo and over the sea for Venice—these two cities write a story of dialogue, art, and trade. History in Art's Catherine Harding and Marcus Milwright are both among the presenters.
In this full-day of workshops presented by UVic's Medieval Studies and History in Art departments, you can explore the former slaves who became rulers under the name of Mameluks (the Jewish community in Cairo), the hostelries for merchants in Egypt, the fashions and trends found at rich Italian merchants', and the friendship between Boccacio and Petrarch in Venice. You'll also discover music from Orient and Occident, performed on Venetian lute and Oriental oud. Most of all, you will be part of the vibrant Victoria community which gathers for the Annual Medieval Workshop. Click here to see the full itinerary.
The 27th Annual Medieval Workshop runs 9am-5pm Saturday, February 1, in Room B150 of UVic's Bob Wright Centre. Click here for ticket information.
Visiting Artist: Jon Sasaki
Multidisciplinary Toronto artist Jon Sasaki borrows conceptual art strategies to make works with an emotionally resonant core. Sasaki's work has been exhibited in numerous solo exhibitions across Canada. His work has been seen in several editions of Toronto's Nuit Blanche, and Sasaki holds a BFA from Mount Allison University and is represented by Jessica Bradley Gallery in Toronto.
Jon Sasaki speaks 8pm Wednesday, February 5, in room A162 of the Visual Arts building
Open Word: Readings and Ideas with Nora Young
Whether hosting CBC Radio's long-running technology & culture show Spark, creating documentaries for CBC's Ideas, working online and in television, or in her previous role as the founding host and producer of CBC's popular culture show Definitely Not the Opera, few know how to reflect life in the 21st Century better than Nora Young.
Now, Young will read from her non-fiction book, The Virtual Self: How Our Digital Lives Are Altering the World Around Us. Young looks at the debates and challenges around virtual data-sharing and its potential for building responsive communities and governments. She has fascinating information at her disposal, unique insights into the intersection of virtual and real worlds, and a wonderful voice for making all of these clear to a general audience.
Following her Open Space reading, Nora Young will be interviewed live by Writing professor David Leach, also the director of UVic's Technology & Society Program.
Nora Young's first reading is at 1:30pm Wednesday, February 5, in room 104 of UVic's Engineering & Computer Science Building. Her second reading is at 7:30pm Wednesday, February 5, at Open Space, 510 Fort.
Distinguished Alumni: Michael Whitfield
With over four decades of designing nationally and internationally for theatre, opera and ballet, Michael Whitfield is one of Canada's most versatile and experienced lighting designers—and he has also been named the Distinguished Alumni for the Faculty of Fine Arts for 2014. Even better, Whitfield's career at UVic has gone full circle, from his graduation way back in 1967 to his current work as a sessional instructor with the Department of Theatre. Now, Whitfield will be honoured by UVic Chancellor Murray Farmer at a special evening honouring Distinguished Alumni representing all 12 faculties, divisions and the UVic Libraries, from 7pm Wedneday, February 5 at the Hotel Grand Pacific.
Whitfield went on to become the Resident Lighting Designer at the Stratford Shakespeare Festival for 25 years, where he created the lighting for over 100 productions on the Festival, Avon and Tom Patterson stages. Concurrently with his work at the Festival, Michael also designed for the Shaw Festival and for many of Canada's regional theatres, particularly the Grand Theatre, London and the Royal Manitoba Theatre Centre. Since the late 1970's, Michael has designed extensively for the Canadian Opera Company in Toronto as well as for opera companies across the country. His work in the United States has included lighting designs for opera companies in San Diego, San Francisco, Dallas, Houston, Minneapolis and Los Angeles, while overseas his lighting has been seen at the Welsh National Opera and the Netherlands Opera.
Michael's lighting for ballet and dance has been featured at the Royal Winnipeg Ballet, the National Ballet of Canada, the American Ballet Theatre, the Finnish National Ballet, the Canadian Native Arts Foundation and the Banff Centre. In addition to his extensive professional design career, since the early 1970's Michael has taught at educational institutions including the University of Windsor, the University of Illinois, York University, Carnegie Mellon University, Pittsburgh and the National Theatre School of Canada. By taking on apprentice designers as his assistants he has also mentored the careers of many young designers who are now illuminating stage productions across Canada.
University of Victoria Wind Symphony & the Naden Band
The Naden Band of the Royal Canadian Navy has been an important part of naval tradition on the West Coast since 1940 and UVic's School of Music has a long-standing relationship with the group. Many alumni have served as members of the ensemble and in 1994 the Naden Band of Maritime Forces Pacific Scholarship in Music Performance was established. The band, currently under the direction of Lieutenant (Navy) Matthew Clark, will join the Wind Symphony for a special concert supporting this valuable scholarship, awarded annually to second and third year School of Music students who demonstrate excellence in brass, woodwind and percussion performance.
The School of Music's Eugene Dowling will be conducting the concert, which welcomes back to the Farquhar Auditorium stage bassoon soloist Petty Officer Second Class Robyn Jutras. "Although musicians in the Naden Band are from all over Canada, alumni from the UVic School of Music make up ten percent of their current membership," says Dowling. "It is wonderful that our featured soloist, Robyn Jutras, was not only trained at UVic, but was a past recipient of the Naden Band Scholarship!" Featured works on the program include David Maslanka's massive Symphony No. 8 and Eric Ewazen's Concerto for Bassoon.
The Wind Symphony & the Naden Band perform 8pm Friday, February 7, at the University Centre's Farquhar Auditorium. Click here for ticket information.
Phoenix Theatre: Picnic
On the last day of summer in small town Kansas, unfulfilled dreams and repressed desires come to a head when a charismatic young drifter arrives in town. His combination of rough manners and titillating charm sends everyone reeling, including the Owens sisters (Millie, the smart one, and Madge, the pretty one), their determined mother, Madge's college-bound boyfriend, the watchful neighbour and the spinster schoolteacher who boards at the Owens' house. This 1953 Pulitzer Prize-winning drama is an American classic from the post-war/pre-feminist era which speaks to the timeless themes of lost aspirations and the heart's yearning to leave everything behind for a new adventure.
Directed by Peter J. McGuire with lighting by Allan Stichbury.
Picnic previews February 11 & 12, and runs February 13-22. Click here for more information and tickets.