The Department of Writing is pleased to announce that veteran journalist Tom Hawthorn has been selected as the 2014 Harvey S. Southam Visiting Lecturer. With his impressively diverse reporting background, Hawthorn joins the exclusive roster of other top-flight journalists who have held the coveted Southam position: Charles Campbell of The Georgia Straight, Sandra Martin of The Globe and Mail, Jody Paterson of the Times Colonist, CBC Radio All Points West host Jo-Ann Roberts, plus authors and freelance journalists Terry Glavin and Richard Wagamese.
Drawing on his experience in the sports departments of the Globe and Mail, the Province and the Times Colonist, Hawthorn's Southam course will focus on the fast-paced field of sports writing.
"I'm thrilled to have been selected the Harvey S. Southam Lecturer for 2014," says Hawthorn. "I spent seven years working for a Southam newspaper and proudly joined Team Southam in covering the 1996 Olympic Games. The Southam name disappeared from Canadian newspapers a decade ago, which is a shame. At the time, my late friend and mentor Patrick Nagle described Southam newspapers as 'a long-lived experiment in quality daily newspapering.'"
In addition to the Atlanta Olympics, Hawthorn has covered Grey Cups, Stanley Cup playoffs, Major League Baseball (he was on the Blue Jays beat back in the late 1980s) and the Indy 500, as well as working as an archival researcher for the National Film Board documentary Sleeping Tigers (about a Vancouver baseball team of Japanese-Canadians) and writing the Citytv sports trivia program Beer Money. His experience as a member and contributing writer with the Society for American Baseball Research, as well as his association with the Society for International Hockey Research, will also serve his students well as they examine the relationship between journalists and athletes.
"We'll look at the struggle by women reporters to gain access to the locker room and to be treated as equals," he says. "We'll also be looking at how athletes—multimillionaire professionals and hand-to-mouth amateurs alike—are portrayed in the age of Twitter. It promises to be fun, and I promise to stay within myself while giving it 110 per cent."
While sports may be his passion, Hawthorn has written extensively on other subjects, notably his monthly column in Boulevard magazine and his work with the online magazine The Tyee, as well as the likes of Reader's Digest and Canadian Geographic, to name a few. But it was his popular obituaries—if that's even an appropriate description—in the Globe and Mail that prompted the publication of his 2012 book, Deadlines: Obits of Memorable British Columbians (Harbour). He has even won several tombstone-shaped awards (charmingly named "the Grimmies") from the Society of Professional Obituary Writers.
When asked why he has chosen to focus on sports journalism for the Southam course, Hawthorn doesn't hesitate. "It's an area that isn't fully explored," he says. "People who aren't into sports just toss that section of the paper aside. But there are a lot of people who want to see pro sport and amateur sport become part of culture as a whole: questions of gender and race and politics come into play. It's important to see sports writing express the wider culture, which is often unexamined. That's why this is a great opportunity."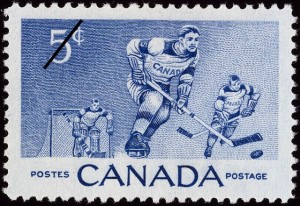 Hawthorn also points out how the game is changing here in the 21st century. "It's a different age for sports now," he explains. "Athletes are using social media, they're portrayed in video games, their personas are much wider culturally than they used to be. It'll be fascinating to look at the relationship between athletes and the public, and with journalists and writers."
"We'll also look at the branding of athletes—and, since we're on a campus with many athletes, we'll look at their lives as well. An athlete can be a millionaire or an impoverished student whose passion won't be able to provide them with a living—like javelin throwers or field hockey players."  His course also happens to coincide with the upcoming Sochi Winter Olympics, so he'll use that as a teachable moment too. "We'll be watching live-time to see how some athletes address the question of the anti-gay laws in Russia, and will be comparing that to the athletes reaction to the 1936 games in Nazi Germany."
Does Hawthorn have any final thoughts about the often thorny relationship between writer and athlete? "Writers look at flaws—flaws are more interesting—but athletes don't: they deal with a flaw immediately, correct it and ignore it," he says. "It's a completely different attitude. Sometimes I'm amazed athletes even talk to reporters . . . we can cause them a lot of grief. There's always tension between athletes and writers."
Join Tom Hawthorn at his free public lecture "In Defense of Sports Writing (Not All of It, Just the Good Stuff)," 7pm Wednesday, January 29, in room A240 of UVic's Human & Social Development building.