It's another busy month for Fine Arts events, with a pair of exclusive gallery exhibitions, as well as a full lineup of readings, concerts, visiting artists, the first Phoenix Theatre mainstage production of the 2013-14 season and a special gala literary celebration in honour of Lorna Crozier. Read on to find out what's going on!
• The notion of paradox provides an apt means of curating an exhibit by seven divergent artists—thus the title of the Department of Visual Arts group exhibit, Paradox, which continues through to January 12 at UVic's Legacy Art Galleries Downtown.
It has been nearly 35 years since UVic's Legacy Art Galleries curated a Visual Arts faculty exhibition. Paradox aims to bring wider understanding to the particular strengths of this nationally acclaimed academic program, which is rooted in explorations of phenomenology and in the perceptual, conceptual, and interactive contexts of contemporary visual art. It also comes on the heels of the recent Department of Visual Arts retrospective exhibit, Core Samples.
As Dr. Sarah Blackstone, Dean of the Faculty of Fine Arts, notes in her introduction to the Paradox exhibit catalogue, "The department [of Visual Arts] has a long-standing reputation for training generations of successful Canadian visual artists . . . . Students are inspired by the accomplishments and investigations of their teachers, and faculty are inspired by the fresh ideas and questions of their students."
You can read more about the Paradox exhibit in this separate post.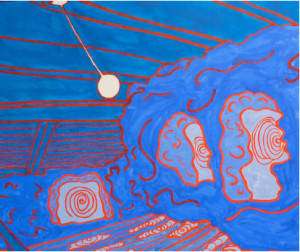 • Also in the galleries this month is a rare local solo exhibit by Visual Arts faculty member Sandra Meigs: The Basement Panoramas. In this exhibit, Meigs studies the invisible foundations of buildings—basements and crawl spaces—and these forgotten, often neglected areas, become familiar again in Meigs' exciting new works. "Basement spaces often hold that which we do not want to let go of and are also the foundation of the house, analogous to the psyche," says Meigs. Many of the pieces in the exhibit relate to the idea of transformation.
The Basement Panoramas runs from November 1 to December 14 at Open Space.
• The next concert by the UVic Orchestra is Harmonious Saints. Ajtony Csaba conducts a program of Bach, Handel, Biber, Gabrieli and Tchaikovsky, with special guest soloist and UVic student Joshua Lovell—winner of the UVic Concerto Competition and fresh off his well-reviewed performance in Pacific Opera Victoria's Falstaff.
Harmonious Saints begins at 8pm Friday, November 1 at Farquhar Auditorium. Tickets are $13.50 & $17.50 at the UVic Ticket Centre.
• The Department of Visual Arts welcomes Nelson-based sculptor Ian Johnston as the latest in their ongoing Visiting Artist series. An architect turned sculptor, since the mid-'90s Johnston has been pursuing an interest in ceramics and, more recently, large-scale installations that often include ceramic. Prior to opening his Nelson studio in 1996 he spent five years working at the Bauhaus Academy in post-Berlin Wall East Germany, where he developed and facilitated a series of workshops around themes of urban renewal and public intervention in a tumultuous time of cultural transformation. His recent body of work Refuse Culture: Archaeology of Consumption examines our relationship with the environment in a series of installations using ceramic and mixed media appealing to multiple senses of the viewer.
Ian Johnston will speak and show slides of his work starting at 8pm Wednesday, November 6, in room A162 of the Visual Arts building.
• The music of versatile American composer David A. Jaffe is celebrated this month with a trio of events: a lecture by Jaffe himself, a Guitarworks concert, and a special musical event featuring School of Music artists Andy Schloss, Scott MacInnes and the Lafayette String Quartet, as well as past School of Music collaborator Trimpin, plus other guests. (Trimpin was most recently involved with the (CanonX+4:33=100) collaboration between Music and Open Space.)
Jaffe's compositions range from acoustic to electronic, and the concert will encompass a broad spectrum of his output—from the old time fiddle-inspired Cluck Old Hen Variations to the Canadian premiere of The Space Between Us for radio drum, two string quartets, piano, and robotic percussion. Also in this concert, the Lafayette String Quartet will present the world premiere of the newly commissioned string quartet Fox Hollow.
The Orion Series in Fine Arts presents a lecture by David A. Jaffe at 8pm Wednesday, November 6, in the Phillip T. Young Recital Hall. The Music of David A. Jaffe begins at 8pm Friday, November 8, also at Open Space. Admission is $10 or $15. And the UVic Faculty Concert Series: Guitarworks features the School of Music's Alexander Dunn with Jaffe and guests, at 8pm Saturday, November 9, in the Phillip T. Young Recital Hall.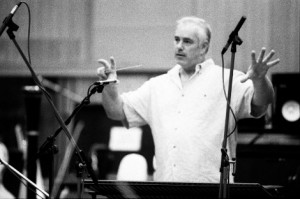 • Three-time Emmy nominee and twice-winning composer Larry Groupé will visit UVic to present a lecture titled "Film Music: An in depth look and discussion on the current state of composing in Hollywood today." Groupé will discuss his feature film and TV projects, and his latest award-winning score for the remake of Straw Dogs for Sony pictures. As a working Hollywood composer Groupé brings to light all the requirements—be they technical, creative, and political—to be a successful film and television composer today. Presented in colaboration with the UVic School of Music, Victoria Conservatory of Music, and the Computer Music Course Union.
Hear Larry Groupé speak at 3:30pm Thursday, November 7 in MacLaurin A169—for free.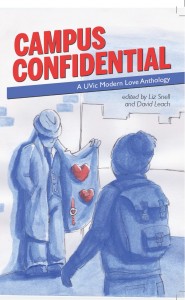 • Wonder what really goes on behind the romantic scenes on campus? Join the Department of Writing for the launch of Campus Confidential, a new collection of creative nonfiction tales by UVic writers exploring the intricacies of relationships . . . by degrees. Inspired by the popular New York Times column "Modern Love," the new book features 13 student and alumni writers, including work by City of Victoria Butler Book Prize winner and finalist—and current Writing instructor and graduate student (respectively)—Frances Backhouse and JoAnn Dionne, collection editor Liz Snell, and Fine Arts communications officer, Writing instructor [and author of this blog] John Threlfall.
Research for Campus Confidential was funded in part by the Jamie Cassels Undergraduate Research Award, and the book was produced on the UVic Bookstore's new Espresso book machine—which will also be in operation at the reading and launch.
Campus Confidential kicks off at 7pm Thursday, November 7, in the UVIc Bookstore—and it's free. (But the books are not.)
• Phoenix Theatre presents their first mainstage production of the 2013-14 season, The Skin of Our Teeth. Directed by veteran Phoenix professor Linda Hardy, this 1943 Pulitzer Prize-winning satire from Thornton Wilder (the author of Our Town) takes us on a wild and raucous tour through the ages.
Enter New Jersey suburbia: home of the perfect middle class family, George, his wife Maggie, their children Gladys and Henry (previously known as Cain?), and their pet dinosaurs. George is the inventor of the alphabet, the wheel, and the multiplication tables – he's the pick of the human race! But can the family survive the ravages of ice ages, global warming, storms, floods, depressions and war? Revolutionary when first written, The Skin of Our Teeth remains absurdly funny, very profound, and is absolutely a play for our time.
The Skin of Our Teeth runs November 7-23 in the Phoenix Theatre. Click here for ticket info.
• The UVic Jazz Orchestra, under the jazzy baton of Anita Bonkowski, will be performing at 8pm Friday, November 8 in the Phillip T Young Recital Hall. Tickets $10 & $15 at UVic Ticket Centre.
• A fitting work for the Remembrance Day period, School of Music professor Christopher Butterfield's Convoy PQ-17 commemorates the tragic near-destruction of an Allied convoy by German forces in July 1942. This sensational requiem features the renowned dance troupe Coleman Lemieux & Compagnie, the Victoria Philharmonic Choir, a stunning set and is conducted by Victoria Symphony Maestra Tania Miller.
Convoy PQ-17 with the Victoria Symphony begins at 2:30pm Sunday, November 10 in UVic's Farquhar Auditorium. Click here for ticket information.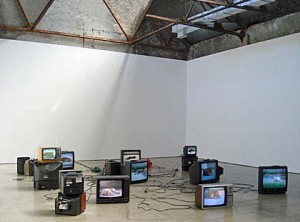 • The second Visiting Artist for Visual Arts this month is Toronto-based photographer Stan Denniston. Born in Victoria, Denniston's considerable body of work reflects a consistent
commitment to the photographic medium—though one would never find a stand-alone
photograph. Instead, Denniston has cultivated several series of works that employ the
photographic image as a component, either to be paired with another image or
accompanied by text. His work revolves around the themes of travel, memory and
representation and has been exhibited at the National Gallery of Canada, the Art Gallery of Ontario, and the Biennale de Montréal as well as in France, the Netherlands and Frankfurt.
Stan Denniston speaks at 8pm Wednesday, November 20, in room A162 of the Visual Arts building—and it's free and open to the public.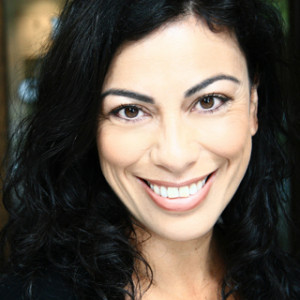 • Vancouver-based actor, writer and playwright Carmen Aguirre is the latest author to appear at the long-running Department of Writing / Open Space collaborative series, Open Word: Readings and Ideas. Her 2011 book Something Fierce: Memoirs of a Revolutionary Daughter recounted her childhood experiences regularly moving around with her parents who were part of the Chilean Resistance against Augusto Pinochet. Something Fierce was also the winner of the 2012 edition of CBC Radio's Canada Reads competition. Aguirre has also written over 20 stage plays to date, including her most recent, Blue Box. Her Open Space reading will be followed by a live interview with Writing professor and award-winning playwright Kevin Kerr.
Open Word with Carmen Aguirre begins 7:30 pm Wednesday, November 20, at Open Space, 510 Fort Street. By donation. She will also appear on campus, 8:50am Thursday, November 21, in room A240 of the Human & Social Development Building. Free.
• Wednesday, November 20, is also the Transgender Day of Remembrance, and Writing professor and filmmaker Maureen Bradley has been invited to speak before the screening of the film Melting Away at Cinecenta, presented by UVic's own Transgender Archives. Bradley is an apt speaker for this event, given that her own transgender romantic comedy Two 4 One is currently in pre-production for shooting in Victoria in early 2014. Bradley is also seeking financial support for the project via an Indiegogo campaign which has already raised over $13,000 of the needed $20,000—click here to donate to her project and help her film become a reality. You can also find out the backstory to this, her first feature film by reading about her winning the Jim Murphy Filmmakers Bursary, and about her being one of the winning teams for the NSI Features First initiative. You can also read more about Bradley and the Department of Writing's filmmaking program in this recent article in UVic's alumni Torch magazine (see pages 30-33).
• Acclaimed Canadian writer, editor and occasional actor Sheila Heti will be visiting UVic as our latest Orion Lecturer this month. An author who is never easily pigeon-holed, Heti's fourth book—How Should A Person Be?—was described as being "part literary novel, part self-help manual and part bawdy confessional" and was chosen as one of the 100 Best Books of 2012 by The New York Times. Audiences are never quite sure what they'll get at an evening with Heti, but it's always bound to be memorable.
Sheila Heti speaks at 7pm Wednesday, November 27,  in room 103 of the Fine Arts building. It's free and open to the public.
• Finally, one of the most eagerly anticipated events of the fall literary celebration occurs near the end of the month: A Literary Celebration of Lorna Crozier, featuring a veritable who's-who of national and local literary figures.
For over 20 years, Lorna Crozier helped shape the future of Canadian poets and writers as a professor in the Department of Writing. Now you can help us continue Lorna's legacy by creating a scholarship in the name of this multiple award-winning and much-loved poet and writer. Join host Shelagh Rogers of CBC Radio's The Next Chapter at this special literary event featuring famed Canadian writers Anne Michaels (Fugitive Pieces), Jane Urquhart (The Stone Carvers) and Brad Cran (former City of Vancouver Poet Laureate) plus UVic writers Patrick Lane (There Is A Season), Esi Edugyan (Half-Blood Blues), Carla Funk (former City of Victoria Poet Laureate), Melanie Siebert (Deepwater Vee), Steven Price (The Year of the Ox) and other special guests . . . including Lorna herself!
Each audience member will also receive a special poem, written for the occasion and signed by Lorna, that will be suitable for framing.
As acting Writing chair Joan MacLeod says, "Lorna's a brilliant poet, we all know that, but she truly was a brilliant teacher. Her legacy is already in our department in some of our amazing teachers—like Carla Funk and Steven Price, who were both students of Lorna's and have gone on to rich writing and teaching lives. When I visit their classes now, I see Lorna through their approach to the classroom. I love the idea of the scholarship, just because it'll be like having a little piece of Lorna still with us. And it'll be fantastic for our students. It's important to honour not just what she did for our students but what she did for the whole department."
A Literary Celebration of Lorna Crozier begins at 7pm Thursday, November 28, in UVic's David Lam Theatre (MacLaurin Building A144). $20 tickets are available now with all proceeds—and any additional donations—going to the Lorna Crozier Scholarship fund.