Okay, where did September go? Somehow the first month of the school year zoomed by faster than a speeding bunny pursued by a campus groundskeeper. Ah well, on to October, which has its own busy schedule of events ready to go.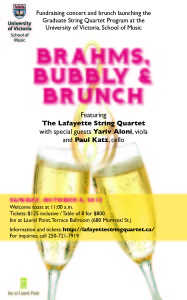 • First up is the Lafayette String Quartet's Brahms, Bubbly & Brunch event, which you can read all about here. In a nutshell, UVIc & the LSQ are celebrating the launch of Canada's first Masters degree program in String Quartet Performance with an exclusive performance brunch featuring champagne and a Brahms performance by the LSQ, renowned cellist Paul Katz and Yariv Aloni. Proceeds from this fundraiser will go towards UVic's Graduate String Quartet Scholarship Fund, and tax reciepts will be available upon request.
Tickets are $125 and the event starts at 11am on Sunday, October 6, at the Inn at Laurel Point (Terrace Ballroom), 680 Montreal Street. See the LSQ site for more information.
• SATCo, the Student Alternative Theatre Company, is presenting a short season of new student-created work this fall. Unlike the Phoenix mainstage productions, all SATCo shows are written, directed and acted by students, giving them invaluable hands-on experience with the creation and mounting of productions. While the first three shows (Robbie Huebner's Archard, Colette Habel's Goblin Market and Carl Eggert's Beyond the Clouds) are already finished, two more are coming up: Erin Shield's Amelia and the Dwarves runs October 2 to 4, and Shel Seigel's Last Fall runs October 16 to 18.
All SATCo shows appear in the Phoenix's MacIntyre Studio, usually at 4:45pm or 5:15pm Fridays. Admission is by a suggested $4 donation.
• The Department of Visual Arts is welcoming back alumna Anne Heeney with her art exhibit Three Cornered World, a collection of narrative paintings and abstracts. "Drawing will always be a substantial and universal pillar," says Heeney. "Colour, however, is deeply personal. I believe the more abstract pictures demonstrate both convictions. The only way to get the point of art is to experience it raw, in galleries, in museums and in studios—regularly."
As for the title of her exhibit, Heeney was inspired by a quote from the early 20th century Japanese novelist, Natsume Sōseki: "An artist is a person who lives in the triangle that remains after the angle which we may call common sense has been removed from our four-cornered world."
Three Cornered World runs 10am-4pm October 7-19 in the Visual Arts building's Audain Gallery. Free admission, and Heeney will be present weekends, the afternoon of Wednesday Oct 16 & and all day Friday Oct 18. (Note: closed Thanksgiving Monday)
• Bernard O'Kane: "The Writing on the Wall: the Importance of Epigraphy in Medieval Cairo"
Join History in Art, Medieval Studies, the Centre for Studies in Religion and Society and MEIVIC for this presentation by Bernard O'Kane, professor of Islamic Art and Architecture at the American University in Cairo. A leading scholar in his field, O'Kane is the author of The Illustrated Guide to the Museum of Islamic Art in Cairo, The Appearance of Persian on Islamic Art and Treasures of Islam: Artistic Glories of the Muslim World.
Bernard O'Kane speaks from 12:30-1:20pm, Wednesday, October 9, in Cornett A125 (free)
• Never let it be said that poetry isn't relevant to the world around us. Case in point: poet Emily McGiffin, whose stunning debut collection Between Dusk and Night reflects the need to find a new way to relate to the Earth at this time of ever-heightening environmental crisis. Far from a political diatribe, however, McGiffin's poems parallel her desire for a new paradigm with a search for intimacy with her fellow humans. The Toronto-based McGiffin is the latest contemporary author to appear at the ongoing Open Word: Readings and Ideas series, a partnership between the Department of Writing and Open Space, which has a long history of pairing the finest writers with fascinating live interviews.
Recently shortlisted for the CAA Poetry Award, McGiffin won the Bronwen Wallace Award for Emerging Writers in 2008, has twice been a finalist in the CBC Literary Awards and Between Dusk and Night was shortlisted for a pair of national literary awards in 2013. Her reading will be followed by a live interview with UVic Department of Writing instructor and former City of Victoria Poet Laureate Carla Funk.
Emily McGiffin has two dates on Wednesday, October 9: from 12:30 to 2pm in room 209 of the Fine Arts Building (free), and again from 7:30 to 9pm at Open Space, 510 Fort (by donation).
• Phoenix Theatre kicks off their fall season with the annual Spotlight on Alumni, this year featuring SNAFU Dance Theatre's Kitt & Jane: An Interactive Survival Guide to the Near Post-Apocalyptic Future. Two awkward but imaginative 14-year-olds share their hilarious and fantastical instructions on how to survive the impending apocalypse—accompanied on their ukulele and glockenspiel. Whimsical, playful and yet very illuminating, at its heart Kitt & Jane is a profound exploration of the real-life concerns of today's youth about the world they are inheriting . . . and what they're prepared to do about it!
A stand-alone sequel to the highly acclaimed hit Little Orange Man, this 2012 winner of the Critics' Choice Spotlight Award for Best New Play is a "hilarious, invigorating piece of theatre that will follow you home" (CVVMagazine.com). Featuring the talents of Phoenix grads Ingrid Hansen and Katherine Greenfield, plus Rod Peter Jr., Kitt & Jane previews October 15 & 16, and runs October 17 to 26 in the Phoenix Theatres. Click here for ticket information.
• Department of Writing professor and Associate Dean of Fine Arts Lynne Van Luven is a featured reader at the latest installment of the Brindle & Glass reading series At The Mike. In recognition of Mental Illness Awareness Week, Van Luven will join two other contributing writers from the new book of essays, Hidden Lives: Coming Out on Mental Illness, a groundbreaking anthology featuring evocative personal essays by writers who either suffer from, or have close family members who have been diagnosed with, a serious mental health or developmental disorder. The candid accounts in this collection give readers a place to turn while also looking to break the stigma and silence that continues to exist around mental illness.
Van Luven will be joined by Lenore Rowntree and Andrea Paquette at 7pm Tuesday, October 15, at Russell Books, 734 Fort Street. (The reading is downstairs in Russell's Vintage.) And hey, it's free.
• The School of Music offers the latest in their Lieder at Lunch series this month. Join Music professor Harald Krebs and his wife Sharon for an exploration of the German Lied repertoire—this time focusing on "Songs about Windows". Don't forget to bring your lunch!
Lieder at Lunch runs 12:30 – 1:30pm Wednesday, October 16, in the School of Music's room B037 (MacLaurin building).
• Niall Christie's "Friends, Foes or Fools? Muslim Views of Crusaders"
Presented by UVic's Middle East & Islamic Consortium and History in Art, Langara College's Dr. Niall Christie will discuss the attitudes of the Muslims of the Levant to the western Europeans who came to the region on the Crusades (1095-1291), considering to what extent these attitudes expressed themselves as hostile encounters, or whether they were transformed through ongoing political and cultural interactions into tolerance and sometimes, even, friendship. His research addresses the Muslim response to the crusades, with particular foci on the development of jihad ideology; comparative study of holy war preaching in Europe and the Middle East; and women and the crusades.
Niall Christie speaks at 7pm, Wednesday, October 16, in Turpin building A104
• Next up in the Visiting Artist series is Toronto-based artist and Visual Arts grad Marla Hlady. A celebrated sound artist and kinetic sculptor, Hlady's pieces deal with the nature of sound, often materializing it for viewers and reorienting their connection to
everyday auditory experiences.
After receiving her BFA at UVic and an MFA from York, she began showing in the early 1990s, eventually being
included in several national and international group shows, such as 1996′s Blink at
Toronto's Power Plant. (In 2001, the same gallery hosted a solo show of her work.) Hlady's practice developed in scope and ambition through the 2000s—her 2008 piece, Playing Piano was a player piano from the 1920s intricately modified with contemporary
machinery, and in 2012 she did a number of site-specific projects for a solo show at
Hallwalls Contemporary Art Center in New York, and for a residency in Norway. She was nominated for the 2002 Sobey Art Award and her work is now in the collections of the Art Gallery of Ontario and the National Gallery of Canada.
Don't miss this chance to hear her speak at 8pm Wednesday, October 16, in room A162 of the Visual Arts building—and it's free, of course.
• Also that same evening is composer, performer, instrument maker, "multiple flutist" and School of Music alum Bruce Gremo, who will be presenting an Electroacoustic concert on his self-invented flute. The 53-year-old musician is on the forefront of Beijing's hi-tech contemporary music scene and will be playing his latest creation, a flute controlled by computers that he calls the Cilia. "The flute itself doesn't make any sound," he said, but when linked to computers it can produce, and measure, almost every sound imaginable.
The invention was approved for a patent just last month. Using combination of computer applications he created and a vertical arrangement of digital sensors, Gremo has spent the last seven years developing the Cilia. He recently returned from a trip touring Taiwan, where he performed at universities and gave lectures on his electronic instrument designs, including his new experimental flute.
Bruce Gremo's Electroacoustic Music Concert is at 8pm Wednesday, October 16, in the Phillip T. Young Recital Hall. Free admission.
• Another grad making a big name for herself is Department of Writing alumna Marjorie Celona. Her debut novel Y was longlisted for the 2012 Scotiabank Giller Prize, the Globe and Mail called it "a stunning debut" and the National Post simply calling it "the book of the fall." (Nicely, the novel's setting is right here in Victoria and the YWCA on Broughton Street plays a prominent role.) After receiving her BFA from UVic, Celona picked up an MFA from the Iowa Writers' Workshop, where she was an Iowa Arts Fellow and recipient of the Ailene Barger Barnes Prize; her stories have appeared in Best American Nonrequired Reading, Glimmer Train, and the Harvard Review. (Interdisciplinary note: Celona is also the daughter of School of Music professor and filmmaker John Celona.)
Marjorie Celona will be visiting the Writing department as an Orion Lecturer with a pair of talks about "Fiction in the Big World" on Thursday, October 17—first at 8:30am in HSD A240, then again at 1pm in room 203 of the Fine Arts building. Both talks are free and open to the public.
• Also on October 17, guest performer & composer Lori Freedman will join Music professor Alexandra Pohran Dawkins in her Mus 347B class to explore improvisation and contemporary performance practice. Recognized internationally as one of the most provocative and creative performers in the field of contemporary music, Freedman's work includes concert repertoire, improvised and electroacoustic music, and her frequent collaborations with dance, theatre and visual artists. (She will also perform her improvisation This Time at 7:30pm Monday, October 21, at Open Space.)
Lori Freedman appears at UVic from 11:30am to 12:50pm Thursday, October 17, in MacLaurin room B037.
• The School of Music's Faculty Chamber Music Series presents [Mostly] Off the Beaten Path, featuring performances by faculty members Suzanne Snizek (flute), Patricia Kostek (clarinet), Alexandra Pohran Dawkins (oboe), Jenny Gunter (bassoon), Wendell Clanton (saxophone), Louis Ranger (trumpet), Ann Elliott-Goldschmid (violin), Joanna Hood (viola), Pamela Highbaugh Aloni (cello), Ajtony Csaba, Michelle Mares and Art Rowe (piano). Collectively and individually, they'll be performing a mixed program of familiar and rarely performed works by Rachmaninoff, Hans Gál, Martinu, Copland and others.
[Mostly] Off the Beaten Path runs 8-10pm Saturday, October 19 in the Phillip T. Young Recital Hall. Tickets are $13.50 & $17.50.
• The very next night sees an appearance by the University of Victoria Chamber Singers. Conducted by the School of Music's Garry Froese, their afternoon performance is titled Textura Sonora.
Hear them in action from 2 to 4pm Sunday, October 20, in the Phillip T. Young Recital Hall. Admission is by donation.
• Noted Toronto-based jazz trumpet player Mike Harriott will be presenting "The Versatile Musician", a special School of Music clinic focusing on the concept of versatility in the modern musical market, adopting multi-instrumentalism into one's own musical arsenal, and the essential elements of recording an album. This workshop draws from Harriott's latest recording project—a multi-tracked, large brass ensemble album of his own compositions and arrangements in which he performed almost all of the instruments and recorded in his home studio. (He'll be launching the CD at Hermann's Jazz Club on October 22.)
Catch Mike Harriott from 12:30pm to 1:30pm on   Monday, October 21, in MacLaurin B037.
• Rising star of the art world Adad Hannah will appear as the next Visiting Artist for Visual Arts. Born in New York, Hannah spent his childhood in Israel and England before moving to Vancouver in the early 1980s; he now lives and works between there and Montreal. He has extensively exhibited his unique photographic recreations of, and interactions with, classical art both nationally and internationally, and has produced works at the likes of the Montreal Museum of Fine Arts, the National
Gallery of Canada, the Vancouver Art Gallery and the Prado in Madrid.
He'll be speaking and showing slides of his work at 8pm Wednesday, October 23, in room A162 of the Visual Arts building. His talk is free, and open to the public.
• Later in the month, the Orion Series In Fine Arts presents A Britten Festival of Song: The Canticles. Recently named Members of the Order of Canada and the recipients of a Ruby Award from Opera Canada, the Aldeburgh Connection—piano duo Stephen Ralls & Bruce Ubukata—will be supported in this performance by the School of Music's Head of Voice, tenor Benjamin Butterfield, plus counter-tenor Daniel Taylor, baritone Alexander Dobson and the UVic Chamber Singers, with Garry Froese conducting. This marks the Aldeburgh Connection's first appearance in Victoria in a concert that celebrates the 100th anniversary of the birth of famed British composer Benjamin Britten.
The Aldeburgh Connection runs 8 to 10pm Saturday, October 26, in the Phillip T. Young Recital Hall. Admission for this special event is free—and if you can't make it, you can tune in here for the live broadcast.
• Heritage House Publishing and the Department of Writing are proud to present an illustrated reading and book launch of Ted Grant: Sixty Years of Legendary Photojournalism by Writing grad Thelma Fayle. Fayle is a freelance writer who has been published widely in the likes of the Globe and Mail, Reader's Digest, CBC, The Tyee, the Times Colonist, Boulevard, Focus, and others. Ted Grant will be in attendance at the event and will be showing slides of some of his iconic work.
The book launch runs from 2-4 pm Sunday, October 27, in the David Lam Auditorium (MacLaurin Building A144). It's free and open to the public.
• Finally, cap off the month with the much-anticipated Department of Visual Arts faculty exhibit Paradox at downtown's Legacy Gallery. Presenting new and recent work by the current permanent teaching faculty in Visual Arts, Paradox is the companion exhibit to the foundational Department of Visual Arts retrospective Core Samples, which runs to October 26. The seven faculty members—Daniel Laskarin, Sandra Meigs, Robert Youds, Vikky Alexander, Lynda Gammon, Jennifer Stillwell, and Paul Walde—are all mid-career and senior artists with national and international careers, and each will be represented by works characteristic of his or her current practice. All pieces will relate to the theme of the paradox, implicit in our physical and psychic experience of art.
Surprisingly, in its nearly 40-year history the Legacy Art Gallery (formerly Maltwood) has never curated a faculty of Visual Arts exhibition. Paradox aims to bring wider understanding to the particular strengths of this nationally acclaimed academic program, which is rooted in explorations of phenomenology and in the perceptual, conceptual, and interactive contexts of contemporary visual art.
Paradox also follows up on the week-long Visual Arts faculty exhibit Now Art, which briefly ran during UVic's Congress 2013. The exhibit runs October 31 to January 12, 2014 at the Legacy Art Gallery, 630 Yates Street—but the opening soiree will be happening on November 1.