The Lafayette String Quartet, artists-in-residence at UVic's School of Music, is thrilled to be hosting a special fundraising Brahms, Bubbly and Brunch event launching the School of Music's new Masters Degree in String Quartet Performance program.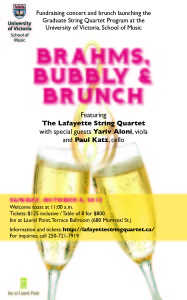 Sip on a glass of bubbly at the Inn at Laurel Point's exclusive Terrace Ballroom while enjoying the epic "Brahms B flat Sextet, Op. 18", performed by the LSQ, special guest Paul Katz, and beloved local violist (and School of Music instructor) Yariv Aloni. With stunning music, views overlooking the harbour, beautiful gardens and a delectable brunch menu designed by Laurel Point Executive Chef Takashi Ito, this will be an event to remember! Proceeds from the fundraiser will go towards UVic's Graduate String Quartet Scholarship Fund.
Please join us at 11:00am Sunday, October 6, 2013, in the Terrace Ballroom at the Inn at Lauren Point, 680 Montreal Street.
In recognition of the tremendous support from our colleagues, the LSQ would like to offer special ticket pricing to all faculty and staff in the Faculty of Fine Arts. For you and a guest, tickets (regular $125) are available at a 2 for 1 discount. We are also offering individual tickets for $80. To reserve your seats, please contact Tracy Wadlow (250-721-8908) between 9am – 4:30pm. Regular tickets are $125 inclusive or a table of 8 for $800. Regular ticket purchases may be made online or by phone at 250-721-7919. Again, proceeds from this event will benefit the Graduate String Quartet Scholarship Fund.
A handful of individuals in their collective lives have impacted the LSQ profoundly in their 28 years together, both musically and professionally, and Paul Katz is one such individual. As cellist of the Cleveland String Quartet, president of Chamber Music America, well-respected educator serving on the faculties of Eastman School of Music, Rice University and the New England Conservatory, Katz has been an integral part of the development of chamber music in North America.
It is for this reason that the LSQ has invited Katz to join them in the launch of UVic's unique Masters Degree Program in String Quartet Performance. This new program allows previously formed quartets the opportunity to study as a group and individually with the Quartet in a two-year program.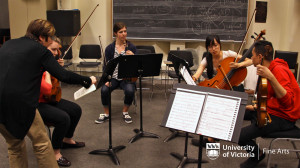 Over the past few years, the School of Music's string faculty has been working with the university to establish a program for young musicians to study intensively—not as individual artists, however, but as a quartet. While there are other institutions where individual musicians can earn graduate degrees in string performance, UVic is now Canada's first degree-granting institution to offer a Masters Degree in Performance with an Emphasis in String Quartet Performance. This will allow unparalleled collaborative opportunities for young musicians to pursue their research and creative practice.
"This will bring an outstanding student quartet to UVic to work directly with the Lafayette String Quartet for a two-year residency," says School of Music director Susan Lewis Hammond. "The program will bring the high level of the LSQ's creative activity directly to students; the result will be an innovative student experience that builds directly on the creative and research expertise of the Lafayette String Quartet."
For more than two decades, the LSQ has taught some of Canada's finest young string players, and also used their residency to enhance local performances and community involvement. "Not all universities have a resident string quartet, and there's a real mentoring by having all of the string teachers in one ensemble," says LSQ violinist Sharon Stanis. And as the the renewed success of their annual QuartetFest West summer teaching program for string quartet players proved, it seems only natural to create a Masters in String Quartet here at UVic.
Please join the LSQ at this celebratory event and help launch this important new program in the School of Music.