Looking for some fascinating electives this year? Fine Arts and History in Art have got you covered with this outstanding selection of courses guaranteed to widen your knowledge of the world around you. From studying photography and different periods of visual art to architecture and the more hands-on working with button blankets, there's a vast range of courses on offer.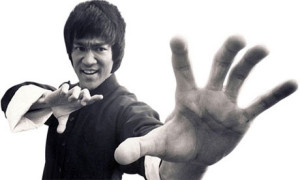 • Just announced for Winter 2014 is the new History in Art course, Traditions on the Move: Art, film, and popular culture in contemporary China. In the context of China's meteoric rise on the global stage over the past 30 years, you will examine the changing visual representations of Chinese identity in popular culture, from mainstream cultural icons to banned underground films and experimental art movements. We will focus on the increasingly influential role of visual media in shaping public debates and perceptions around tradition, modernity, gender, and national identity in contemporary China. This course will be taught by April Liu, who also teaches at Vancouver's Emily Carr University of Art and Design and is the cultural programmer for the Tibetan Cultural Society of BC.
Traditions on the Move: Art, film and popular culture in contemporary China runs Tuesdays 2:30-5:20pm in Cornett A225 (HA 337, CRN 23798).
• What happens when art and science intersect? Find out when History in Art instructor Susan Hawkins delves into the history of creative collaboration with The Weird and the Wonderful: The Intersection of Art & Science. Often thought of as incompatible disciplines, art and science are the twin engines of creativity in any vibrant culture. As she described in this recent interview on CFAX Radio's Eye on the Arts show, curiosity, inquiry and knowledge have transcended specialized compartments in many creative and artistic ways throughout history, contributing to new categories of art, thought, research and theories of knowledge. This course will look at the intersections of art and science from both historical and contemporary perspectives, exploring a wide range of artistic practices (including installation, painting, sculpture, photography, digital media and biotechnology) that challenge the boundaries between art, science, and popular culture. Curiosity and sense of exploration are strongly encouraged!
The Weird and the Wonderful: The Intersection of Art & Science runs 4:30-5:30pm Mondays & Wednesdays. (FA 335 A01 CRN: 11660)
• As Giorgio Vasari said, "Inspiration demands the active cooperation of the intellect joined with enthusiasm, and it is under such conditions that marvelous conceptions, with all that is excellent and divine, come into being." Hot off her recent TEDx talk, History in Art instructor Jamie Kemp tackles Encountering Renaissance Art. In this introduction to the cultural history of renaissance art, you will study the intellectual and spiritual world of artists, artisans and patrons in Europe between 1400-1550. Special attention will be devoted to issues of reception and response as you examine the ways in which viewers "consumed" culture in this period. How do the aesthetic priorities and theories of the past influence the way we encounter renaissance art today?
Encountering Renaissance Art runs 9:30-10:20am Tuesday, Wednesday & Friday. (HA 234 CRN: 11835)
• Kemp is also offering Art & Material Culture of Italy. The Italian Baroque has long been associated with complexity, scandal and high drama—both in terms of the subject and appearance of its most famous works of art and the stories we tell about its artists and key political figures. Focusing on the city of Rome, this course will study the social and cultural processes underlying this emphasis on spectacle and sensation. Join this exploration of the world of artists such as Caravaggio, Bernini, Carracci, Tiepolo and Gentileschi.
Art & Material Culture of Italy runs 11:30am-12:20pm Tuesday, Wednesday & Fridays. (HA 342A CRN: 11840)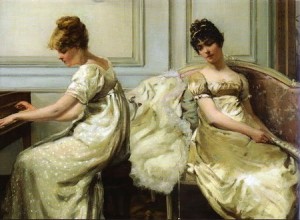 • Similarly, but from a totally different period of history, is Visual Culture in Jane Austen's World, taught by Denine Dudley. Is it a question of sense or sensibility? What one saw, and how one reacted to it, was of critical importance in this pivotal era from 1760 to 1837. But more just an issue of "What Jane saw", this course will explore the visual experiences of Austen, her characters, and her contemporary novel-reading public. You'll look at painting, architecture, gardens, fashion and textile production, print culture and spectacle, plus professional and amateur arts. You will also assess a selection of modern film adaptations to explore current approaches to the past. (Sorry, no zombies.)
Visual Culture in Jane Austen's World runs 9:30-10:20am Tuesdays, Wednesdays & Fridays. (HA346C CRN: 11841)
• But if you've got more of a revolutionary mindset when it comes to art, however, check out Allan Antliff's course on Art & Revolution. Antliff will examine the history of radical art from the French Revolution of 1789 to the Chinese Cultural Revolution of the 1960s. Remember, "The final end of any revolution is the restoration of power" (Joseph Goebbels).
Art & Revolution runs Mondays & Thursdays 1-2:20pm (FIA 103 CRN: 11846)
• Artistic revolution of a different sort is tackled by Denine Dudley in her course, Digital Art Histories. No question, digital images are taking over as a primary way in which we experience our world. This has implications for our understanding of, and participation with, nearly everything we see. This course will look at the (art) history of digital imagery, the impact of digitization on visuality and digital humanities tools for art history research. Half your time will be spent in the lab exploring and developing skills in various applications that can enrich and reshape your research and creative work in art history and beyond.
Digital Art Histories runs 11:30am-12:50pm Mondays & Thursdays. (HA 392 CRN: 11849)
• The more traditional history of photography will be explored by instructor Susan Hawkins in The History of Photography. This course will explore the beginnings of photography, tracing its aesthetic and technical history as an art form from the early days of the daguerreotype to present day digital. You will uncover how photography's essence changed with each technological advancement and review the photograph's aesthetic trajectory, tracking its formal movements and setting them against other major artistic movements of the period. You'll also examine developments in photojournalism, documentary and social documentary and landscape photography, as well as an array of artistic movements (eg: pictorialism, naturalism, modernism, street photography, First Nations artists, women photographers, photoconceptualists, etc.). This course is designed for students interested in the history and production of visual culture and passionate about photography.
The History of Photography runs 1:30-2:20pm Tuesday, Wednesdays & Fridays (HA 369: A01 CRN: 11846)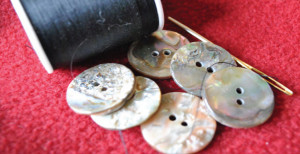 • Truly a once-in-a-lifetime opportunity is represented by the Special Topics in History in Art course, The Big Button Blanket Project. Guided by History in Art professor Carolyn Butler Palmer, in collaboration with artist research consultant Peter Morin (Tahltan), students will not only have the opportunity to study the history of buttons, blankets, and button blankets, but will also sew a monumental blanket—the world's biggest!—for display at the Legacy Gallery. Better still, this blanket will be danced in spring 2014 by performance artists Morin and recent Governor General's Award for Visual Arts winner Rebecca Belmore, also a former visiting Audain Professor in the Visual Arts department. Throughout the semester, elder button blanket makers in Victoria will join the class to share their knowledge and stories of button blankets.
The Big Button Blanket Project runs 8:30-9:50am Mondays and Thursdays in the Ceremonial Hall of First Peoples House (HA 392 CRN: 11850)
• Also on the aboriginal front is the special topics course, Issues in Contemporary Indigenous Art, which will focus on developing awareness of the importance of indigenous art history in our daily lives. Throughout the semester, instructor Peter Morin and students will investigate the role of art and artists to the development of the nation. You will also be looking at the creative strategies used by indigenous artists in the making of their work, and developing an understanding of these strategies in relation to our own learning journeys.
Issues in Contemporary Indigenous Art runs 11:30am-12:50pm Mondays & Thursdays. (HA 392 A03 CRN: 13790)
• Over on the architectural side of things, instructor Lesley Jessop offers Gothic Art & Architecture. This course examines the art and architecture of Western Europe circa1150-1400, and will discuss monuments such as the merchant palaces of Venice, the paintings of Giotto, and the cathedral of Notre Dame in Paris.
Gothic Art & Architecture runs 10:30-11:20am Tuesdays, Wednesdays & Fridays (HA 328 CRN: 11838)
Looking to the east, History in Art professor Anthony Welch offers a trio of courses, each looking at separate periods and eras in the Muslim middle east.
• First off, the Seminar in the Arts of Mughal India examines how Muslim rulers from Central Asia invaded northern India in the early 16th century and established the Mughal dynasty, an empire that would endure for more than three centuries and eventually extend over nearly all the Indian subcontinent. Its six emperors from 1526-1858 were active and discerning patrons of architecture and the arts, so that painters, calligraphers, and architects from all over the Islamic world brought their talents and training to embellish Muslim courts in India. Sumptuous paintings, drawings, calligraphies and precious objects were produced by gifted artists, and towering monuments like the Taj Mahal or the Red Fort in Delhi emphasized the capacity of Mughal patrons and designers to produced architecture of power and beauty.
Seminar in the Arts of Mughal India runs 4:30-5:50 pm Mondays & Wednesdays (HA 451/552 CRN: 11852/11859)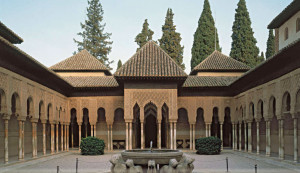 • Welch will also be examining the Amirates & Sultanates of the Muslim Mediterranean. From the 8th to 19th century, rich and powerful Muslim states governed territories extending from Spain in the west to Egypt in the east. The Mediterranean Sea divided and unified this immense ancient area that inherited many of the traditions of Roman civilization. Within their borders were also important minority populations that sustained vibrant commerce as well as warfare with Christian states to the north and east and produced works of art and architecture of abiding beauty and importance.
Amirates & Sultanates of the Muslim Mediterranean runs 12:30-1:20 pm Tuesdays, Wednesdays, & Fridays (HA 357 CRN: 11843)
• Finally, Welch will offer an overview of Painting in Iran. The Iranian epic poem, the Shahnama, is one of the world's great literary works, composed in the late 10th to early 11th centuries, by Firdausi. Its popularity in Iran was so great that it was often illustrated in sumptuous manuscript editions, notably from the 13th to 18th centuries. Other great works of Iranian literature were also illustrated, and by the beginning of the 14th century Iranian patrons, painters, and calligraphers had created one of the world's most important traditions of the illuminated manuscript. Other literary works by great poets like Hafiz, Sa'di, and Nizami works were also illustrated, so that this course, a history of Iranian painting, is also a history of Iranian literature.
Painting in Iran runs 2:30-3:20 pm Mondays, Wednesdays, & Thursdays. (HA 351B CRN: 11842)