It's hard to think of a better way to spend a summer afternoon than taking a tour of UVic's art collection. Whether exploring the vast amount of art on campus or checking out downtown's Legacy Art Gallery, the general public is welcome to see what we've got on display—for free!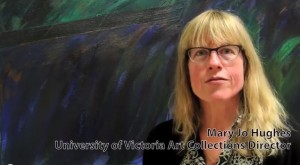 To help you get a feel for which of the 27,000 objects in UVic's art collections are currently on view, UVAC director Mary Jo Hughes and curator Caroline Riedel have created this new video tour as a sample of artworks available for viewing to all. The video provides a glimpse of what everyone can experience—including mosaics, landscapes, murals, serigraphs and legend poles—on our free, self-guided summertime art tours.
"UVic is an inspirational and invigorating place to be and to visit," says Hughes. "I invite everyone to discover these hundreds of works of art as well as outdoor sculptures such as the Charles Elliot and Hunt family totems, and more than 400 paintings and sculptures in the library representing a 'who's who' of Pacific Northwest Coast art."
The Legacy gallery, located at the corner of Yates and Broad streets, was established as part of a bequest by patron of the arts and philanthropist Michael Williams, offers rotating exhibitions throughout the year. UVic also displays pieces in community locations including the Royal Jubilee Hospital and Swans Hotel at the bottom of Pandora. Learn more about the university's art collections, by visiting their extensive website.
On campus, highlights include the Salish Reflections collection of Coast Salish Art in the Cornett Building, original art and archival material in the Maltwood Prints and Drawings Gallery at McPherson Library, as well as contemporary ceramics and student exhibits in the Faculty of Fine Arts buildings. (The Salish Reflections collection now includes QR codes that link the user to details on each piece; this smart-phone barcode technology will soon be extending to more art at UVic as well.) A downloadable PDF self-guided walking tour map of art on campus includes all locations and hours of accessibility.
And in other Legacy Gallery news, the Times Colonist's longstanding visual art columnist Robert Amos recently reviewed the current Legacy exhibit Core Samples. "The carefully chosen and installed exhibit brings a new elegance to the university's downtown Legacy Gallery," writes Amos in his July 12 article. "The forthcoming catalogue by curator Caroline Riedel reveals an inside view of this important component of Victoria's art culture. Best of all, for art historians and art fans alike, this is a visually stimulating show."
Core Samples offers a retrospective of the teaching faculty of the Department of Visual Arts, circa 1966-1986. Stay tuned for the next phase of this fascinating exhibit, titled Paradox, focusing on current Visual Arts faculty. Paradox runs October 30 to January 12, 2014, and presents the recent work of the department's teaching artists: Daniel Laskarin, Sandra Meigs, Robert Youds, Vikky Alexander, Lynda Gammon, Jennifer Stillwell, and Paul Walde.
Each artist will present a selection of work, including pieces seen during the short Congress 2013 Now Art! exhibit this summer. All of the current Visual Arts faculty members are mid-career and senior artists with national and international careers. Each artist will be represented by works characteristic of his or her current practice. All relate to the theme of the paradox, which is implicit in our physical and psychic experience of art.
Finally, UVAC and the Legacy Gallery got a nice shout-out in the Spring 2013 issue of roundUp, the newsletter of the British Columbia Museums Assocation.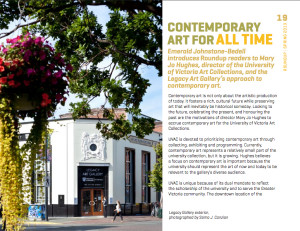 Click on this link and scroll to page 19 to read Emerald Johnstone-Bedell's article, "Contemporary Art for All Time." A curatorial assistant with UVAC, Johnstone-Bedell is a recent History in Art graduate with honours, and will soon be doing her MA at Queen's University in the fall.