Unrivaled in scope and impact, the annual Congress of the Social Sciences and Humanities—known simply as "Congress"—is now (amazingly) in its 82nd year. This flagship event is much more than Canada's largest gathering of scholars across disciplines. Organized by the Federation for the Humanities and Social Sciences, Congress brings together academics, researchers, policy-makers, and practitioners to share findings, refine ideas, and build partnerships that will help shape the Canada of tomorrow.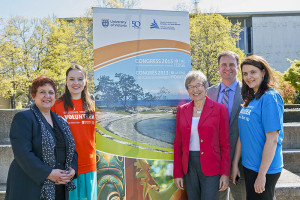 Running June 1 to 8 at UVic this year, Congress will host nearly 70 scholarly association meetings and attract an average of 6,000 attendees over the week. Developed in partnership with a different host university each year, Congress programming is open to attendees, academics and non-academic audiences. From theatre research, literature studies and education to history, sociology and communications, Congress represents a unique showcase of scholarly excellence, creativity, and leadership. The theme for Congress 2013 is @ the edge. (Next year, it will move to Brock University, and will be held at the University of Ottawa in 2015.) For complete details, see this schedule of meetings for Congress 2013.
But while much of the programming if specific to delegates, there are a number of lectures, workshops, entertainment and special events that are open to the campus community and the general public. Be sure to visit the Congress website for complete event details.
Within the Faculty of Fine Arts, various departments are hosting association meetings—such as the Department of Theatre, who are welcoming the Canadian Association of Theatre Researchers/ Association canadienne de la recherche théâtrale conference, and the School of Music, who are hosting the Canadian University Music Society—but there are also a number of our faculty who are involved with various public presentations and events. Here's a quick list of where you can check out the Fine Arts presence at Congress 2013.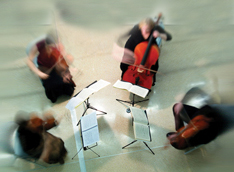 The free gala concert kicking off the Canadian University Music Society conference at the School of Music on Thursday, June 6, at 7:30pm is now open to the public. The concert features performance faculty including Lou Ranger, Eugene Dowling, Michelle Mares, Anne Grimm, Susan Young, Harald Krebs, Arthur Rowe, and members of the Lafayette String Quartet. The program will include Gary Kulesha's Sonata for Trumpet, Tuba & Piano, Julius Otto Grimm's Ach, es sitzt mein Lieb und weint & Der Traum, Johannes Brahms' Es träumte mir & Ständchen, Robert Schumann's Schön Blümelein & Die Schwalben, Eugene Weigel's Quartet Search, and Brahms' Quintet for Piano and Strings.
As well, the CUMS concert at 8pm on Friday, June 7, is also free and now open to the public. This concert will feature School of Music faculty and alumni, performing a program of works by the winners of the CUMS 2013 Student Composition Competition—the School of Music's own Robert Hansler and University of Alberta student André Mestre. Also on the program are works by Stefen Maier, Daniel Brandes, Tawnie Olson, and Jacques Hétu.
The Now Art faculty exhibit celebrates the contemporary work and wisdom of UVic's Department of Visual Arts. Featuring the work of Vikky Alexander, Lynda Gammon, Daniel Laskarin, Sandra Meigs, Jennifer Stillwell, Paul Walde and Robert Youds, Now Art is a rare opportunity to see a group exhibit of dynamic contemporary art by some of Canada's leading contemporary artists.
From sculpture and photography to painting, sound works, light works and drawing, our faculty members exhibit worldwide and are among the top contemporary Canadian artists, with work in the National Gallery of Canada's permanent collection and representation by some of Canada's leading galleries. Visitors will also have the opportunity to tour the Visual Arts building. Be sure to read this Times Colonist interview with both Walde and Meigs, and listen to this CBC Radio interview.
Now Art runs 10am to 5pm Saturday, June 1 to Saturday, June 8 throughout the Visual Arts building. There's also a public reception from 5 to 8pm Wednesday, June 5.
The Department of Theatre is proud to host the annual Canadian Association of Theatre Researchers conference, running from June 1-4. While much of the CATR/ACRT conference is closed, the following free sessions and events are open to the public:
• "A Creator's Guide to The Unknown" with Marie Clements (9 to 10:30am, Saturday, June 1, in the Phoenix's Dan George Theatre). An award-winning performer, playwright, director, screenwriter and producer, Marie Clements launches the conference with her keynote address on "A Creator's Guide to The Unknown". Her 12 plays, including Copper Thunderbird (featuring a stunning design by Department of Theatre's own Mary Kerr), Burning Vision, The Edward Curtis Project and The Unnatural and Accidental Women, have been presented on some of the most prestigious Canadian and international stages.
• "The Poet's Dream" performance created by assistant Theatre professor Conrad Alexandrowicz (5:45 to 6:45pm Saturday, June 1, in the Phoenix's Roger Bishop Theatre). Based on the poetry of Lorna Crozier, the much-lauded Canadian poet and recently retired Department of Writing professor, and collaborating with Alexandra Pohran Dawkins, head of woodwinds at UVic's School of Music, Alexandrowicz has explored poetry as the textual point of departure in the generation of physical theatre. (You can read the backstory to the piece on this earlier blog post.) The poems evoke wonder in the face of life's creations and grief at their passing. This workshop features recent grads Mollison Farmer, Alex Frankson, Véronique  Piercy and Kale Penny, with Chris Mackie and Theatre professor Jan Wood, plus dancers Brandy Baybutt and Jung-Ah Chung, and musicians Keenan Mittag-Degala and Sarah Tradewell, with lighting by current Theatre student Freya Engma. Developed through the generous support of SSHRC (Social Sciences and Humanities Research Council).
• "Embodying This Place: An Eco-Dramatic Experiential Exploration . . . Outdoors" with Bronwyn Preece (4 to 5:30pm Sunday, June 2, in Finnerty Gardens, but meet in the lobby of Phoenix Building). Through drama, poetry and storytelling, this collective experiential workshop will attempt to embody and express UVic's Finnerty Gardens. The workshop, drawing from the emerging field of Theatre/Performance/Ecology Studies, encourages partner and group participation to explore the garden's "land/buildingscape" through touch, sound and smell and to consider new ways of interacting with the space. This site-specific workshop will be held outdoors and is open to everyone and all mobility levels. No previous theatre experience required.
• "Step by Step: Walking, Reconciliation & Indigenous Performances of Sovereignty" with Helen Gilbert (9 to 10:30am Monday, June 3, in the Phoenix's Dan George Theatre).  Acclaimed Australian theatre academic Helen Gilbert is recognized internationally for her cross-cultural theatre research. A professor of theatre at Royal Holloway, University of London, she is the co-convener of its interdisciplinary Postcolonial Research Group. She has published widely in theatre and performance as well as in postcolonial studies and has recently co-written a book on orangutans, race and the species boundary. Her primary research is now focused on an interdisciplinary and multinational team-based project examining Indigeneity and Contemporary Performance.
• "Plus ça Change" with Department of Theatre professor emeritus Juliana Saxton (9 to 10:30am Tuesday, June 4, in the Phoenix's Dan George Theatre). Juliana Saxton is an international master teacher, keynote speaker and co-author of a number of texts, most recently, Applied Drama: A Facilitator's Handbook for Working in Community (Intellect, 2013). A lifetime in theatre is context for an idiosyncratic overview of "What's up now?"
There are also a few events beyond Fine Arts where faculty members will be participating.
• Writing our world: A panel discussion about life writing (2 to 3pm Saturday, June 1 at the Expo Event Space in the McKinnon Building). Join Acting Dean of Fine Arts and Department of Writing professor Lynne Van Luven for a panel discussion about life writing with Aaron Shepard, Andrea Paquette, and Julian Gunn. These writers have covered topics such as mental illness, gender issues, body image, and the traditional role of family, and show how life writing and the personal essay can examine parts of our existence in an immediate and influential way.
• Attention, Poetry, Politics: Poetry Reading (7:30-9pm Tuesday, June 4 in Room 104 of the Fine Arts Building). Enjoy an evening of poetry readings by Department of Writing professor Tim
 Lilburn plus fellow poets Jan Zwicky, Sue Sinclair, Warren Heiti and Lucy Alford.
• South of Heaven: Religion & Heavy Metal
 (7pm Friday, June 7 at Cinecenta, 1 to 6pm 
Saturday, June 8 in Room 103 of the Fine Arts Building). A two-day multi-media exploration of the relationship between heavy metal music and religion around the world, South of Heaven kicks off Friday night with a screening of the iconic Canadian documentary Global Metal, followed by a Q&A with director (and UVic Anthropology alumnus) Sam Dunn, hosted by Fine Arts communications honcho John Threlfall. Saturday afternoon, the public is invited to a free symposium by visiting scholars on the relationship of metal to religious movements and religious identity in diverse global contexts. The event finale is a live all-ages concert at Vertigo in the UVic Student Union Building with metal bands from Victoria and the Lower Mainland.
Threlfall will also be emceeing some of the performances on the Celebration Stage in the Quad, which runs from Sunday, June 2, through to Friday, June 7—and all performances are free and open to the public. See the complete schedule here.
Fine Arts will be represented on the stage by the likes of Lorna Crozier and Patrick Lane at the Writing @ the Edge event, from 11:45am to 1:45pm on Tuesday, June 4. Hosted by UVic's own Malahat Review, there will also be readings by Yvonne Blomer, Jeremy Loveday, Arleen Pare and Philip Kevin Paul, plus musical performances by School of Music string students.
Also, School of Music professor emeritus Ian McDougall will be performing on the Celebration Stage from 12:30-1pm on Wednesday, June 5. (Don't forget to pick up a copy of his $20 Fine Arts benefit CD, The Very Thought of You.) And School of Music instructor Coleen Eccleston will be performing from 1:15 to 1:45pm on Thursday, June 6, followed by Music alum Daniel Lapp and the BC Fiddle Orchestra at 6:30pm.
Finally, History in Art faculty and students are offering the exhibit Creating Con[Text] at downtown's Legacy Art Gallery (10am to 4pm daily from Wednesday, June 5 to Saturday, June 8 at 630 Yates Street). Creating Con[Text] brings to life the works of art in the UVic's Michael Williams Bequest Collection through the oral history research of Carolyn Butler Palmer and her graduate students. Dr. Butler Palmer and her students have gathered an extensive array of interviews with people associated with the late businessman and art supporter, Michael Collard Williams, and the artists he collected. Featuring paintings by Angela Grossman, Jack Shadbolt and Emily Carr, the exhibition allows the stories of artists, dealers, and collectors to impart greater meaning to these works of art.