It takes a unique artistic vision to guide the development of over 250 student artists, especially in the field of contemporary art. That guiding vision, as seen through the creative lens of seven distinctive artists, will be on view at Now Art, a rare group exhibit by the Department of Visual Arts faculty.
Part of both Congress 2013 and UVic's ongoing 50th Anniversary celebrations, Now Art celebrates the work and wisdom of Vikky Alexander, Lynda Gammon, Daniel Laskarin, Sandra Meigs,  Jennifer Stillwell, Paul Walde and Robert Youds. These faculty members exhibit world-wide and are among the top contemporary Canadian artists, with work represented at the National Gallery of Canada, commissions in Vancouver, Toronto and Winnipeg, and many pieces held in well-respected art collections around the globe.
Now Art has received coverage in both this article by the local Times Colonist newspaper, and in this episode of the "State of the Arts" column for CBC Radio's All Point West.
Now Art will feature sculpture, photography, painting and drawing, plus both sound works and light works. Highlights include a new series of photographs by Vikky Alexander, plus two large-scale panorama paintings by Sandra Meigs, featuring highly chromatic schematic depictions of architectural foundations. The department's newest members, Paul Walde and Jennifer Stillwell, will also be creating new works specifically for this exhibit.
While a group exhibit by the current Visual Arts faculty may be a rare occurence, all of them have been busy with recent solo exhibitions and participation in other group shows. Department chair Daniel Laskarin, for example, had a career retrospective at the Art Gallery of Greater Victoria in 2011 and Robert Youds had recent exhibits at both Deluge and Toronto's Diaz Contemporary. Vikki Alexander's photographs were a highlight of the 2012 Nuit Blanche in Toronto, while Jennifer Stillwell was one of 13 artists invited to participate in the WAG's Winnipeg Now exhibit, and is currently working on a new installation for her former hometown.
Lynda Gammon's work appeared at the 2012 collage exhibition Cut and Paste at Vancouver's Equinox Project Space, alongside work by Alexander (who also had photographs at the recent _backspace exhibit). Sandra Meigs was on the jury for the 2012 RBC Canadian Painting Competition, and collaborated with School of Music professor Christopher Butterfield on his Contes pour enfants pas sages concert in Toronto. And Paul Walde has been busy on all sorts of projects since joining the faculty in 2012, including some John Cage related field recordings, an exhibition at Museum London, a collaboration with the Royal BC Museum, and a glacier-based piece.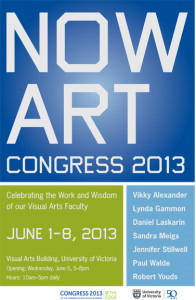 Visitors to Now Art will also have the opportunity to tour the Visual Arts building, as the exhibit will fill the various studios and the Audain Gallery.
Now Art runs June 1 to 8 in UVic's Visual Arts building. Exhibit is open 10 am to 5 pm daily, with a public reception running 5 to 8 pm on Wednesday, June 5.