First rule of history: if you want your story to be remembered, be sure to write it down. Such is the case with Bruce More and the UVic Chamber Singers, the 40-year-old campus choral group that has more than a few rich stories to tell.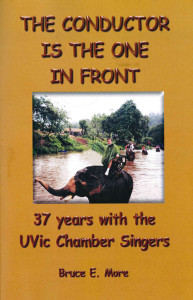 While More retired back in 2008, the Professor Emeritus has spent the past three years ("Really, whenever the muse caught me") documenting the story of the Chamber Singers in his new self-published book, The Conductor is the One in Front: 37 Years with the UVic Chamber Singers. And what a story: with over 400 singers having followed his baton, plus international tours to 140 cities in 40 countries (including Eastern and Western Europe, Asia, Africa and the South Pacific, plus the U.S. and Canada), the UVic Chamber Singers carved out an enviable reputation under More's direction.
"The UVic Chamber Singers is probably the most widely traveled chorus in Canadian history, let alone universities," says More from his home in Castlegar. "Some universities travel regularly, every two years or so, but they go back to the same place every time—they'd do an exchange with a university in England or someplace. I always tried to go for a three-week tour somewhere new, because for some of these kids it's the only international travel they'll ever do. I didn't want to just go someplace for a week and then come home, which is what most choirs do."
Specializing in the works of Canadian composers, the Chamber Singers routinely perform sacred and secular music from all eras, having a repertoire of more than 700 works. They've recorded for broadcast in at least seven different countries, received numerous awards and represented BC in the Juno Award-winning performance of R. Murray Schafer's Credo back in 2000. Currently, the Chamber Singers are under the direction of School of Music instructor Garry Froese.
More himself has spent his life in pursuit of all things choral, from conducting the first Yale University Women's Chorus (in addition to four other ensembles) while studying for his doctorate in the late '60s to founding the Malaspina College's Music department. Following his appointment to UVic's School of Music in 1973, he was founding president of the Vancouver Island Opera Society (now Pacific Opera Victoria) and, for 16 years, conducted the Victoria Choral Society and frequently guest conducted the Victoria Symphony. He also founded the 70-voice Prima Choir in 1994, and in 2006 received the Herbert Drost Award for his lifetime service to choral music in BC.
But while the history of the Singers is well documented, it's the colourful tales of international touring that take up the bulk of the 135 pages of More's book. Geographically, More literally took the Chamber Singers around the world on a different tour every two years, from Helsinki (the farthest north) to New Zealand (farthest south), and from Hawaii (west) to Tokyo (east). Describing himself as not only conductor but also a den mother and travel advisor, More says his years with the Chamber Singers were both incredibly fulfilling and incredibly exhausting. "But it's apropos for my personality," he says with a quick laugh. "I'm not a good delegator—I feel like I have to take all these things on myself . . . which is good and bad."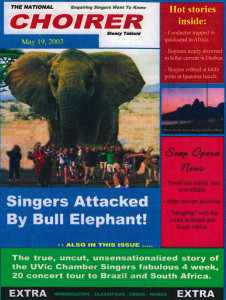 When asked to name the most memorable tour, More doesn't hesitate. "The most exotic tour was our first Russia tour in 1991, and the most difficult—but also exciting and exhilarating—was the last Russian trip in 2007." (As the book notes, the latter tour included instances of blackmail and sexual harassment by guards at the Transdniestria-Ukraine border.) "But each trip had its own character," More continues. "Certainly the longest and most continually exhilarating tour was when we went to both Brazil and South Africa in 2003. It started with a strong desire to go back to South Africa, but six months before that we went to a choral festival in Newfoundland and met a Brazilian group who we got to know quite well, and they invited us to Rio—and then we learned that you can get to South Africa through Sao Paulo."
Tales of border difficulty and missed connections are the meat and potatoes of any traveler—and The Conductor is the One in Front is certainly filled with those—but more interesting are the situations only a large choir would encounter: empty concert halls, poorly translated posters, less-than-gracious hosts, and limited toilet facilities for a very large group of people. Then there were the typical health problems most travelers face, which can be far more onerous for a choral group. "Sometimes it could be very difficult," More explains. "A change in climate does immediately cause vocal problems. The higher your range of sopranos and tenors, the more difficulty you'll have with that—but it's amazing what people can sing through. I'll always remember the last concert of the 2001 tour through Mexico and Belize: we'd been out all day in the sun, drinking and everything else, and people were just dropping like flies, fainting from the heat."
Yet while the bad stuff always makes for the best stories, the good times still make the best memories. "What I wanted to get across more than anything else is the incredible combination of artistic achievement and the experience of seeing far-off lands that someone on one of these tours could experience," More says. "And the 'far-off-lands' business isn't just a matter of getting off a tour bus and seeing a famous landmark—it's about meeting students and singers of any age and making life-long connections. The families we billeted with were wonderful. It didn't matter if they were singers or even musicians, we still had a ball with them."
While his book will be primarily of interest to Chamber Singers alumni who want to relive the good (or bad) old days, More also included a 22-track CD featuring a range of performances over the years. "You can talk about the ensemble till you're blue in the face, but until you actually listen to them, you don't know how good they are. I'd rather someone judge the group by what they hear."
"I absolutely loved writing it," he says about the book, of which he printed 250 copies and now has about 50 left. "It was produced for the Singers, but it's not out there to make a lot of money." More pauses and laughs. "I'm pleased with how it's sold, but my pocket book doesn't display anything . . . except a deficit."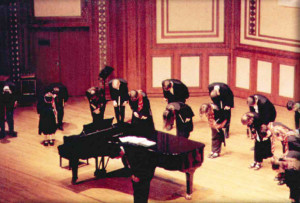 And even though the Chamber Singers continue to hold annual reunions, does More miss the touring now that he's retired? "The last couple of tours I got home and nearly died," he chuckles. "I was getting older, no question, but the fatigue was just terrible. I knew that the international touring was coming to an end after 2007; I managed to get through '09, but I had an assistant conductor who took a lot of the weight off me. That was it, though."
More pauses and laughs, and it's easy to imagine the travelogue of memories passing before his mind's eye. "I'm a healthy guy, but it's amazing I stayed that way."
Interested in a copy of The Conductor is the One in Front? Contact Bruce More directly at morebruce@gmail.com. He would also like to hear from any Chamber Singers alumni not currently in touch.