Good news for local literature lovers—not only is Russell's Books expanding again, but they're also kicking off a new reading series! In an age where independent bookstores seem to be vanishing faster than space in newspapers for book reviews, it's great to see a local outfit like Russell's breaking new ground.
As part of their latest expansion, Russell's Books is now opening Russell's Vintage, which collects all their antiquarian books in one handy spot—the former Fort Café location, downstairs at 742 Fort Street. Better still, Russell's Vintage will also offer a stage which will host a new reading series. This week, the series kicks off with multiple award-winning author Esi Edugyan (Half-Blood Blues) and local poet and novelist Steven Price (Into That Darkness), plus poet Marita Daschsel, at 7pm Tuesday, May 14.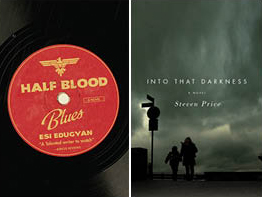 Like Lorna Crozier and Patrick Lane for the next generation, the husband-and-wife team of Edugyan and Price both hail from the Writing program and have both taught for the Writing department. (They've even been nominated for the same award at the same time.) Come on out and support them on Tuesday night . . . after you vote. And you are going to vote, right?