History in Art professor Marcus Milwright's recent win of the 2013 Craigdarroch Silver Medal for Excellence in Research isn't the only award-winning news in the Faculty of Fine Arts of late.
Recently retired long-time Writing professor Lorna Crozier—a multiple award-winning poet (including her own Craigdarroch award) and former chair of the Writing department—was just named the co-winner of the 2013 Lieutenant Governor's Award for Literary Excellence. The award was established in 2003 to recognize B.C. writers who have contributed to the development of literary excellence in the province. Lieutenant Governor Judith Guicho presented the award to Crozier as part of the B.C. Book Prizes gala at Government House on May 4; she shares the award with young adult author Sarah Ellis.
As the jury noted, "The committee for the Lieutenant Governor's Award for Literary Excellence quickly agreed that among many strong candidates, two were outstanding—and, as quickly agreed, there were no grounds to choose between these two most deserving giants in their field. Both are prolific, both are recipients of numerous awards, both are passionate advocates for their literary genre and for Canadian writing, both are internationally recognized, both tirelessly mentor their literary children, and both bring the strength of oral tradition to their writing. … Both bring the highest honour to the Lieutentant Governor's Award for Literary Excellence."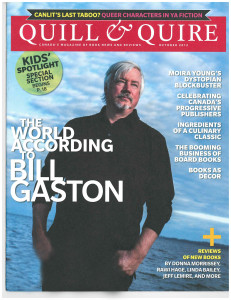 That same event saw Bill Gaston—the current chair of the Writing department—win the Ethel Wilson Fiction Prize for his latest novel, The World. (Ironically, former student and Writing alumni Yasuko Thanh was also nominated in the same category as Gaston for her acclaimed short story collection, Floating Like The Dead.) Gaston was previously nominated for the Ethel Wilson Prize for his 2006 short story collection Gargoyles, which earned him a nomination for the Governor General's Award for Fiction. (Hmm, could a 2013 GG nom be in the cards for The World?)
And in other Yasuko Thanh news, Floating Like the Dead has also been named one of five finalists (out of 29 submissions) in the 2013 Danuta Gleed Literary Award. Now in its 16th year, the $10,000 Danuta Gleed is administered by the Writers' Union of Canada and recognizes the best first English-language collection of short fiction by a Canadian author. This year's jury includes authors Alexander MacLeod, Carol Malyon and our own Bill Gaston. And busy Writing alum Eliza Robertson recently won the Canadian/European regional prize for the prestigious Commonwealth Short Story Prize. She'll now compete with the other regional prize winners (Africa, Asia, Caribbean and the Pacific region) for the overall prize, which will be announced May 31. Go Eliza!
Meanwhile, over in the School of Music, alumnus Mark Reid has been named Teacher of the Year by MusiCounts, the music-education charity associated with the Canadian Academy of Recording Arts and Sciences (CARAS). The award, one of the highest honors in Canadian Music, was presented to Reid by country music superstar Shania Twain at a private ceremony in Las Vegas. Reid also received $10,000, which he will put toward his post-graduate studies; he is currently pursuing a master's degree from Chicago's Vandercook College to add to his Bachelor's degree in music education from UVic. Reid has been teaching at Vancouver Technical Secondary School for the past seven years, and those students will receive an additional $10,000 in instrument inventory as part of the CARAS award.
In other Music news, the Canadian University Music Society (CUMS) announced that recent UVic Master's graduate, Robert Hansler, is one of the recipients of their 2013 Student Composer Competition. He has worked primarily with Dániel Péter Biró and John Celona in the pursuit of his Master's degree in composition. The jury selected his "Broken Branch" as one of two outstanding pieces to share first prize; both pieces will be performed by School of Music faculty members as part of a concert of contemporary music to be presented on Friday, June 7 at the Phillip T. Young Recital Hall.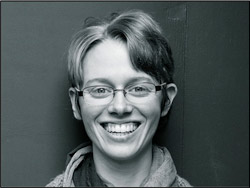 And fourth-year School of Music student Lynne Penhale recently had the opportunity to attend the 19th Young Composers Meeting in Apeldoorn, the Netherlands. The meeting, chaired by iconic Dutch composer Louis Andriessen, offers a select group of 14 emerging composers from around the world the opportunity to exchange ideas about contemporary music. "It was the most enriching experience of my life!" says Panhale. "I learned more about society, myself and music in an experience which seemed to have lasted three weeks but was really only one." Each composer came prepared with a three-minute piece composed for the 23-instrument ensemble-in-residence, Orkest de Ereprijs. Participants engaged in rehearsals, lectures, and lessons with composers Martijn Padding, Richard Ayers, Dmitri Kourliandski, Carola Bauckholt, and Ted Hearne. "As intense a learning experience this was . . . my favourite learning experience was getting to engage with the other young composers, and being completely inspired and challenged by everyone's individual strengths they had brought with them," says Penhale, who thanks UVic's School of Music for supporting her in this opportunity.
In other student award news, recent Visual Arts BFA graduate Bronwyn McMillin received the 2013 Royal Canadian Academy of Arts C.D. Howe Scholarship for Art and Design as part of the BFA graduation exhibit Work. The Howe Scholarship is awarded annually to allow the recipient the opportunity "to pursue further formal study in a discipline represented by the RCA membership. These opportunities in Canada or elsewhere should enable recipients to develop further their studio practices while gaining a deeper understanding of the historical precedents and contemporary issues relevant to their discipline." Fellow BFA graduates Carson Wronko, Emma Palm and Won Seok Seo also received the Visual Arts Achievement Award, funded by the office of the VP Academic and Provost, Dr. Reeta Tremblay.
Recent Visual Arts grad and aboriginal artist Kelli Clifton has won the YVR Art Foundation Scholarship Award. She will be given one year to complete a work that will then be on display at the Vancouver International Airport. Founded in 1993 by the Vancouver Airport Authority, the YVRAF fosters the development of BC First Nations art by providing scholarships and awards to artists wishing to develop their artistic potential.
Busy Writing MFA student Connor Gaston has been nominated for a Leo Award in the "Best Student Film" category for his TIFF & VFF screened short film, Bardo Light. Two other Writing students—Lukas Bhandar and Vanessa Annand—were both named winners of the 2013 Community Journalism Scholarships, courtesy of the Community Newspapers Association. Also among the winners at the recent BCYCNA Ma Murray Community Newspaper Awards were Writing alumni Nathalie North of the Saanich News (First Place, Arts & Culture Award) and Monday Magazine's Danielle Pope (First Place, Business Writing Award; Second Place, Environmental Writing Award).
Finally, current Writing student Vin Fielding has been awarded honourable mention in the short fiction category of The Fiddlehead's annual literary contest. His story, "All Bones Recovered," appears in their current issue. It was originally workshopped in Writing instructor Matthew Hooton's class, and Hooton describes it as "gorgeous writing, and one of the most arresting opening scenes I've encountered. I still think about it nine months after first reading it."
Congratulations to all!
—With files from Kristy Farkas