With her ready smile, sympathetic ear and vast storehouse of campus knowledge, Anne Heinl may be the most important person a Fine Arts student ever meets. Now, the veteran undergraduate advising officer has been honoured with the Award for Excellence in Service, presented by UVic president David Turpin at 2013's Distinguished Service Awards.
"I'm very honoured that I received this award," says Heinl. "I'd like to thank the people who put my name forward and wrote the reference letters: the Dean's Office, especially Samantha Knudson and Lynne Van Luven, the faculty and staff who wrote letters of support—they did a lot of work and that's the only reason my application was looked at and approved."
"But it's not just me—there's also all the people I work with," she continues. "I'm doing a good job because I have a great team: Maureen and Beth in Records, the people in Admissions, Norm Thom, each of the Fine Arts department secretaries . . . I kind of feel embarrassed about the award being just for me. Everybody works hard; I don't see myself as special."
Heinl, who has worked at UVic for 22 years, had been in Earth and Ocean Sciences for two years when she was hired as secretary to then-Dean of Fine Arts Tony Welch. "Advising students just started as a side thing off my desk back then," she recalls, noting that each department had their own undergrad advisor. It was a later Dean, Giles Hogya, who created her position.
Heinl started out working with 750 students; she now deals with about 1,500 and sees everyone  "at least once . . . but some I see every month. It's important for students to know that they can come and talk to me anytime; the door is always open for what they want to do, what they want to change." And given her role, it seems inevitable that she would form lasting connections. "I have a whole batch of letters and cards from parents and students," she chuckles. "Because you're not just helping them with their academic life, you're also helping them find what they need on campus: counseling, a letter for a job . . . I'm even starting to see the kids of parents who were students. A mother just emailed me the other day saying that her son is coming to UVic—and I was her advisor!"
In addition to her advising duties, Heinl also works with policy and curriculum committees, recruiters, transfer credits, appeals and the Senate Committee on Re-registration and Transfer—all of which is what makes her so valuable, says Acting Dean Lynne Van Luven. "She is truly a repository of knowledge about process, history and especially curriculum. One is never afraid to ask her a question—nor to seek her advice in a complicated matter involving student grades or academic concessions. Her support is immediate and unstinting."
Heinl's biggest reward? Helping out with the robing ceremony for graduating students each year. "It gives me great pride to see that—they've done it, they've accomplished it, they're off to bigger and better things," she says. "I love having them leave satisfied, with smiles, feeling they can conquer anything. Or having students come back and say 'You really helped me through my degree, I couldn't have done it without you'—which they could have, of course, but it's great to feel you've made a difference in someone's path."
Heinl says she learned this commitment to students from her days working with Tony Welch and the late Jean Shannon. "Tony was the one who expected the Dean's secretary to be compassionate and be there for students, to advocate for students. Tony was really in tune with student needs, and knew that's why we're here. And Jean's influence was where that attitude really started for me—that told me why we were here, why we're doing it. She was the one who really encouraged me. Without them, there is no university."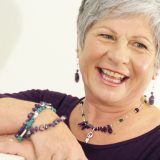 Heinl still sees this "students first" mandate as being the key to the overall university experience. "We should all be open and receptive and helpful," she says. "As soon as a student comes in with a problem, we have to stick with it until it's solved; it's really important to not say, 'Sorry, that's not my job' or 'I'm busy'. We should be here for the students all the time. We need to make sure they have a good experience and their education is what they expect, and what they should have."
All of which explains why she feels more like a team captain than the star quarterback. "It's never just one person who makes things so good," Heinl insists.
But it can be one person who makes all the difference in a student's life.