The Department Of Visual Arts is pleased to present four solo exhibitions under the banner of 2013's MFA Graduate Exhibition. This year's exhibitions feature the works of four Masters of Fine Arts graduates: Hilary Knutson, Chris Lindsay, Yang Liu, and Paola Savasta.
Hilary Knutson's Au Secours is an installation work that uses elements of domesticity and its comforts as a foil to explore aspects of her own struggles with chronic pain. Often displaying a keen sense of humour, Knutson's work invites us into her living room/ studio where artworks, set dressing and props conflate into an unsettling environment where the couch is central, offering the viewer a forced sense of comfort.  As the artist herself states, "My world revolves around the couch; the couch at home, the couch in the studio, and various couches in various waiting rooms. One must be comfy when one is in pain."
Knutson's work also caught the eye of local Times Colonist writer Amy Smart, who featured her in the article "An Art Installation with the Comforts of Home." "I think pain is incredibly hard to talk about," Knutson told Smart in the May 3 article. "It's something as a society that we tend to sweep under the rug."
A former microbiologist, Chris Lindsay's research has now turned to what he describes as exploring "the nature of experience and imagination. Through my work, fundamental questions become reified and I propose a challenge wherein the viewer may consider his or her own perception of what it is to be human." Inside the Outside, is an iteration of Lindsay's tireless sculptural experimentation in the studio.  For Lindsay perception and imagination are two sides of the same proposition, stimulate one and you ignite the other.  As Lindsay suggests, "What we know and understand of our physical world is gained through our senses; this is how we have come to define who and what we believe we are in the universe."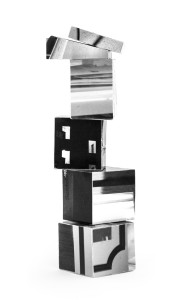 The photo works in Yang Liu's All the Things You Left Behind are based on his observations and experience as a recent immigrant to Canada from China. "My artworks explore the relationship of identity, memory, personality and a materialized social structure while representing loneliness, fear, and the inherent uncertainty of life."
Lui's work is often based on constructions designed by the artist which in turn are made of photographic images by the artist. Through a process of deconstruction and reconstruction Yang produces works that effectively conveys the psychological content of his experiences in a way that is accessible to audiences here.
Paola Savasta's exhibition The Heir, is actually two shows in one. In two separate rooms Savasta presents two distinct bodies of work. The work in both rooms explore ideas of depiction and display through modes of painting, sculpture and installation. Illusionistic effects including patterning, camouflage, and false shadows confound our immediate perception of Savasta's unique objects  and their place in space. These effects activate the spectator's experience, as the artist confounds our ability to decode the true shape and nature of the objects she has presented. As Savasta states, "I'm proposing a state of intermediacy, where the two-dimensional and three-dimensional borrow each other's qualities."
The University of Victoria Masters of Fine Arts Program is an intensive studio-based research degree, predicated on immersive experiential learning combined with critical discussions and one of Canada's leading visiting artist programs.
The MFA Graduate Exhibit opens at 7pm Friday May 3 and runs to May 11. The exhibit is open 10am to 5pm weekedays, and 1-5pm weekends.