Want a fresh soundtrack for the summer semester? Check out these special courses offered through the School of Music.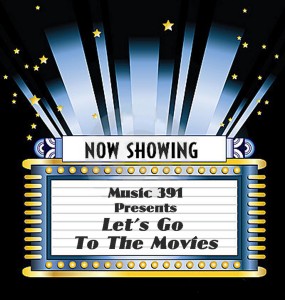 If you like movies and music in movies, you'll love Let's Go to the Movies (Music 391). Think about some of the classic moments in cinematic history and you can't help but hear the music that goes along with them: the ominous, lurking theme from Jaws, the shrieking violin in Psycho, the pulse-pounding excitement of the James Bond theme.

Let's Go to the Movies will examine the role of music in movies, drawing mainly upon American movies of the past 75 years. You'll look at how music is used to support the development of characters and story, how music creates atmosphere and more, all illustrated by a select series of visual and audio clips. A music background is not a prerequisite—the main requirement is a willingness to listen carefully and articulate what you hear. Not only will you develop critical listening and viewing skills, but it's guaranteed to change the way you hear movies!
Let's Go to the Movies (Music 391) runs 2:30-4:30 daily July 8-30 in MacLaurin A169.
MUS 391 is taught by Anita Bonkowski, who has a wide range of expertise in theory, history and orchestration in both jazz and classical music. Since earning her Masters in Music, she has continued to work nationally and internationally as a drummer, bassist, composer and arranger, performing in jazz and R&B bands, musical theatre and show bands. Her pieces can be heard on radio stations around the world.
But if you're more interested in rock music, why not give either The Top 20 Albums (Music 208) or The Beatles (Music 308) a spin?
The Top 20 Albums looks at the album as an art form. Once merely a change of format in the ever-competing music industry, "the album" has evolved over time to be the medium for some of the most remarkable music of rock history. Through close listening and consideration of context, you'll explore production, songwriting and the phenomenon of lists, comparisons and biases as well as their ramifications on the artists, musicians and composers in their careers. The criterion for what makes this particular top-20 list is the album itself as a "work of art." That guarantees great variety and good listening.
The Top 20 Albums (Music 208) runs 2:30-4:30pm daily May 1–24 in MacLaurin A169.
It's an understatement to say The Beatles were no ordinary rock band—they were part of a revolution of thought in a world reinventing its values. They were talented, charismatic and riding an unbelievable wave of music and social history; and while they achieved mythic proportions, they also suffered the consequences. From poverty in Liverpool to such wealth and fame: their story and their history are the subject of this course. Their music is a profound legacy that has affected every musician who has ever heard them. Together with George Martin they were innovators in the world of recording. The Beatles had a chemistry about them, an openness, and honesty, an innocence and sense of humour that conquered the world.
The Beatles (Music 308) runs 2:30-4:20 daily June 12-July 5 in MacLaurin A169.

Both Top 20 Albums and The Beatles are taught by singer/ songwriter/actor Colleen Eccleston. Colleen has enjoyed a multifaceted career as a performer ranging from various theatrical productions to fronting a six-piece rock band and touring with the Ecclestons for the past 14 years playing traditional and original music. She has also toured extensively as a solo performer. She has been a songwriting mentor for the BC Festival of the Arts, a novelist, a voice instructor and a sessional instructor in the School of Music for many years. Maclean's magazine even rated her one of the most popular profs at UVic!