There's been a flurry of Fine Arts alum popping up in the media of late. Here's a quick roundup.
Writing grad Yasuko Thanh has been named as finalist for the Ethel Wilson Fiction Prize in the BC Book Prizes for her debut collection —and she's up against none other than Department of Writing chair Bill Gaston. Thanh has been tapped for her debut collection of stories, Floating Like The Dead, while Gaston is named for his latest novel, The World.  Also on the shortlist for the BC Book Prize's Dorothy Livesay Poetry Prize is Writing alum and former Writing instructor Patricia Young for Night-Eater, her 11th book of poetry.
Thanh also continues to make news thanks to the revealing news about her appearance in the 2014 PEN nude author's calendar. The latest coverage appeared in the Times Colonist, hooked to her participation in The Malahat Review's upcoming WordsThaw event on March 23.
Three other Writing alumni in the news: grad-turned-Writing professor Joan MacLeod's new play The Valley was just announced in the Globe and Mail as being part of the lineup for Tarragon Theatre's new 2013-14 season. CBC CanadaWrites Short Story Prize shortlister Eliza Robertson now has a Q&A up about the story that landed her a spot in the popular CBC writing contest; this is her third time entering, and first time as a finalist—fingers crossed for the whole "third time lucky" thing! And Jessica Kluthe continues to attract attention with her first book, Rosina, the Midwife—check out this Edmonton Journal article.
Over in Theatre, busy Phoenix alum Nathan Medd was just announced as the new Managing Director of the National Arts Centre's English Theatre in Ottawa—a real feather in anyone's cap. "I feel extremely honoured to be taking on this role with the National Arts Centre—the Team Canada of the performing arts!," he says.
The move sees Medd leaves his position as managing producer of the nationally recognized Electric Company Theatre in Vancouver—whose artistic director and founding member is none other than new Department of Writing prof Kevin Kerr.  Among Medd's other achievements (theatre program coordinator with the BC Arts Council, the Canada Council's Theatre Assessment Committee, Vancouver's arts assessment juries, etc.) are stints with both the Belfry Theatre and Intrepid Theatre, where he helped establish downtown Victoria's immensely popular Metro Studio.
In other Phoenix news, current Theatre student Jasleen Powar has made it to the top 40 in MuchMusic's VJ Search competition. (Phoenix alumna Melanie Karin had also been on the longlist, but got knocked out.) Will Powar make it to the top 20? Vote for her here and help her make the cut!
Also on the television beat, Phoenix grads Peter Carlone (half of the sketch comedy team Peter 'n Chris) and Mack Gordon have applied to be on the first-ever Canadian edition of The Amazing Race—you can watch their hilarious audition video here. The cross-Canada version of the race-around-the-world reality show will air later this year on CTV. And Phoenix grad and Theatre SKAM co-founder Amiel Gladstone is back in Victoria directing Pacific Opera Victoria's upcoming production of Tosca.
Staying in the media spotlight, recent School of Music alum Amy Wood made it through the first three rounds of voting in CBC's Searchlight competition for the Best New Canadian Artist, earning a spot in the top five for the Victoria region before getting bumped. While at UVic, Amy studied voice with Music prof Benjamin Butterfield, but started playing and singing at the piano at a very young age. She now describes songwriting as an "obsession," saying, "I can't not write and lately it hurts not to sing for others."
Wood is currently planning the release of an EP as well as a full-length album and is in the midst of covering song requests on her YouTube-based Sunday "Request Booth". (Interesting side-note: Wood's Searchlight submission was actually recorded in the UVic studios and mixed by one of School of Music Audio Specialist/Recording Engineer Kirk McNally's student recording techs.)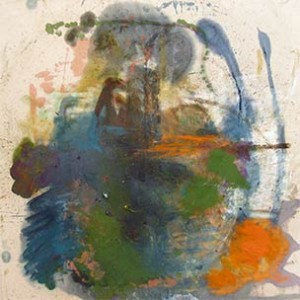 Finally, three Visual Arts alumni—Stephanie Aitken, Katie Lyle and Shelley Penfold—are featured in Drama of Perception, the latest exhibit at Deluge Contemporary. Aitken currently teaches at Langara College and Emily Carr University in Vancouver, Penfold lives and paints in Vancouver, and Lyle received a fair bit of attention last year when she was named the honourable mention winner in the 14th Annual RBC Canadian Painting Competition for her oil painting, "White Night." She earned a cheque for $15,000 and her painting was added to RBC's 4,000-piece corporate art collection.
Drama of Perception is also curated by Visual Arts prof Sandra Meigs, and runs to April 13 at 636 Yates.