Seems hardly a month goes by when there isn't news about Department of Writing alumni earning some kind of accolades.
First up this time around, Writing grad Jeanne Shoemaker was recently named one of the winners of the latest Pushcart Prize for her short story, "Sonny Criss." Originally published in the Iowa Review, Shoemaker's western was originally written as a way of avoiding an essay assignment. "I wrote 'Sonny Criss' while at UVic," says Shoemaker. "I workshopped it with Lorna Jackson." You can read a brief interview with Shoemaker here.
Shoemaker, who received her BA from UVic back in 2002, went on to receive her MFA from the Iowa Writers' Workshop in 2010. "Sonny Criss" was published in the Iowa Review in 2011 and currently appears in the Pushcart Prize 2013 Anthology. But just to prove that persistence is anything but futile, Shoemaker says her manuscript was rejected 40 times before being accepted. "I kept sending it out because I felt I had something to say with this story, something I discovered while writing it," she told the Iowa Review. "I had recreated a world that doesn't exist any longer—a world I miss terribly."
Also just announced is word that Writing grad Marjorie Celona is a finalist for the $7,500 Amazon.ca First Novel Award. Celona, of course, is up for her debut novel Y, which received rave reviews when it debuted last fall, and earned a spot on the prestigious Waterstones Eleven list. Past winners of the First Novel Award include the likes of Michael Ondaatje, Nino Ricci, Rohinton Mistry, Anne Michaels and Joseph Boyden. The winner is  announced on April 24. Fingers crossed!
Meanwhile, busy alum Arno Kopecky tackles the Enbridge pipeline in the February issue of Reader's Digest and asks the $273 billion question: is the payoff worth the risk? Kopecky also recently launched his first nonfiction book, The Devil's Curve: A Journey into Power and Profit at the Amazon's Edge—which the Georgia Straight reviewed as "a vivid example of immersive journalism" and "a trenchant critique of both our representatives and of us [as Canadians]." Arno was also one of the alumni authors featured at last fall's All-Star Alumni Reading night.
And if you check the longlist for the CBC Short Story Prize, you'll find four familiar names included: Writing grads Yasuko Thanh (for "Dolls"), Eliza Robertson ("L'Étranger"), Judy LeBlanc ("The Truth About Gravity")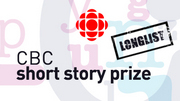 and former Writing instructor Holly Nathan ("Breathing in Siberia"). Thanh made headlines not so long ago for winning the Journey Prize and publishing her first collection, Floating Like The Dead, while Robertson was in the news for both her Booker Scholarship and winning various writing prizes, and LeBlanc won the recent Antogonish Review fiction contest.
While, yes, this is only the longlist—the shortlist is announced the week of March 11—it's still gratifying to see so many UVic names appearing there.
And speaking of Yasuko Thanh, word is the much-tattooed mom will be one of 12 authors to doff their duds in the new Bare it for Books 2014 charity calendar, due out in October 2013. (What, nobody asked Bill Gaston?) All proceeds will go to PEN Canada, an organization that supports freedom of expression in Canada and around the world. "The fact that there's an organization out there, fighting for people's freedom of speech, well that's great," the future Miss July told the the Coastal Spectator recently. "And I want to support that any way I can."
As reported in the National Post, the inaugural Bare It for Books calendar will feature past winners of the Giller Prize, the Booker Prize, the Journey Prize, the Stephen Leacock Medal for Humour and CBC's Canada Reads—specifically, Angie Abdou, Trevor Cole, Farzana Doctor, Dave Bidini, Miranda Hill, Daniel MacIvor, Terry Fallis, Sachiko Murakami, Vincent Lam, Saleema Nawaz, Yann Martel and, of course, Thanh.
When Coastal Spectator writer and fellow Writing alum Will Johnson asked Thanh how she feels about appearing alongside  Life of Pi author Yann Martel in the calendar, her answer was characteristically frank. "It feels friggin' awesome!"