Current Harvey S. Southam guest lecturer and CBC All Points West host Jo-Ann Roberts picked up some coverage for her recent public lecture, "Public Broadcasting and the Public Good: Making the case for the CBC." Her January 30 talk, which looked at the proud history and somewhat uncertain future of public broadcasting in Canada and around the world, attracted  well over a hundred people.
In advance of that, however, Roberts appeared in the January issue of Boulevard magazine, dishing in their "Secrets & Lies" Q&A column. "When I started at CBC in 1978, we didn't have this convergence of media ownership," she told Boulevard's Shannon Moneo. "We still had a fair bit of competition and the CBC was robust and healthy, so I've experienced probably what it was like at its best." (Indeed, one of the audience members who spoke at the event had been hired at CBC back in the 1940s, and wasn't shy about sharing his opinions regarding the current state of the public broadcaster.)
Roberts also spoke with Monday Magazine news editor Danielle Pope (and Department of Writing alum and former Martlet editor) in this article, in which the CBC personality said she felt Canadians need to "take more responsibility for what they want . . . . Governments will listen, but you have to make yourselves heard … sometimes we do need a little more outrage." And you can hear Roberts talk with U in the Ring host Phoenix Bain in this podcast interview, which originally aired on UVic's CFUV.
Meanwhile, over in the School of Music, visiting professor Suzanne Snizek appeared on CBC Radio and in the Times Colonist at the end of January, thanks to her classroom guest— "suppressed" Iranian-Canadian composer Farshid Sammandari. Both Snizek and Sammandari were interviewed live on CBC's morning show On The Island and appeared in this TC article.
Snizek will also be speaking about suppressed music during World War II at Vancouver's upcoming Chutzpah! Festival; that lecture & recital happens at 7pm on February 24, and you can get full details about that event here. If you're not up on your WWII history, take a moment to read her latest article, "Music in Internment," in the current issue of the Zachor newsletter, produced by the Vancouver Holocaust Education Centre.
In other School of Music news, instructor Bill Linwood talked about his pan-Canadian new music group, ensemble1534, in this Times Colonist piece from January.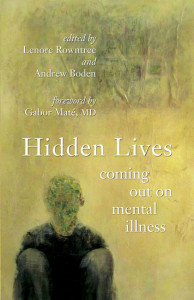 Finally, on February 18, Acting Dean of Fine Arts and Department of Writing professor Lynne Van Luven appeared on CBC Radio One's The Next Chapter with host Sheilagh Rogers. Van Luven was discussing her essay in the new volume Hidden Lives: Coming Out on Mental illness. The interview will also be re-aired between 4 & 5pm Saturday, February 23, and you can listen to it online here.
Described as a "groundbreaking collection" featuring "well-known and cutting-edge authors," Hidden Lives boasts a foreword by physician and bestselling author Gabor Maté, and offers "evocative essays by writers who either suffer from or have close family members diagnosed with mental illness or a developmental disorder." The book's aim is "to break down the stigma that surrounds one of the most devastating of human tribulations."