Four notable books came out of the Writing department this fall—two from faculty and two from alumni. Here's the scoop on them all.
Writing grad Arno Kopecky released his first book, The Devil's Curve: A Journey into Power and Profit at the Amazon's Edge (Douglas & McIntyre). A journalist and travel writer whose work has appeared in The Walrus, Foreign Policy, the Globe and Mail, Maclean's, The Tyee and Kenya's Daily Nation, the Squamish-based Kopecky has covered civil uprisings in Mexico, cyclones in Burma, Zimbabwe's 30-year dictatorship and election violence in Kenya. And while The Devil's Curve may have been caught up in the brouhaha that was the Douglas & McIntyre meltdown this fall, Kopecky's timing was good in that he had copies available at the Department of Writing's All-Star Reading Night on October 30 (but more on that below).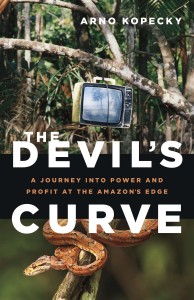 Described by the Georgia Straight at a "vivid example of immersive journalism," Kopecky earns praise not just for his writing but his greater themes. "Our high-consumption lives depend on a steady stream of natural resources, and sometimes gaining access to those natural resources means affecting indigenous people . . . Our federal government and resource companies feed us at the expense of others." The Straight review ends by calling The Devil's Curve a "trenchant critique of both our representatives and of us. Our apathy, Kopecky reveals, has its consequences." Intrigued? Check out this video trailer for the book.
Much loved and soon-to-retire Writing professor Lorna Crozier seemed to be all over the media this fall, thanks to her latest volume, The Book of Marvels (Douglas & McIntyre), which she launched at the UVic Bookstore back in October. Talk about marvels—this is Crozier's 18th book, not counting anthologies and essay contributions! She had a very nice spread in the December 2012 issue of Focus magazine, a PDF of which you can download here (then scroll to page 28). She also had a review in the Globe and Mail—which called Marvels "an irresistible invitation to sit up and take notice, to pay attention to every random thing"—and popped up in the October issue of Martlet, as well as the busy Coastal Spectator. The Globe and Mail also featured Crozier and her recently retired Writing prof husband Patrick Lane as "BC's Poetry Power Couple." Aw, that's sweet!
The October 30 All-Star Reading Night allowed a shelf's worth of Department of Writing A-listers to come back and strut their stuff to a sold-out house at one of the 50th Anniversary events held by Fine Arts. As well as the previously mentioned Arno Kopecky, featured writers included multiple prize-winner Esi Edugyan, former Vancouver poet laureate Brad Cran, former Victoria poet laureate and current Writing instructor Carla Funk, past Writing instructor Steven Price, rising star D.W. Wilson, busy filmmaker Jeremy Lutter, Fine Arts staffer and screenwriter Daniel Hogg, current Writing instructor Melanie Siebert and playwright and poet Jonathan Garfinkel. The evening was hosted by Writing instructor and Giller Prize-nominated writer John Gould and, despite some truly abysmal weather, was greatly enjoyed by all.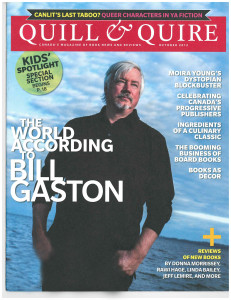 Finally, Writing department chair Bill Gaston finally got his shot at being a cover boy thanks to the October 2012 edition of Quill & Quire. Q&Q were profiling his humbly titled new novel, The World, which he launched locally in October alongside Writing grad Marjorie Celona and her own Giller longlisted novel Y—which you can read all about here.
The local Times Colonist also profiled Gaston in a piece titled "Writing Well, the Hard Way"—advice, we're sure, he gives to his students all the time.