There's nothing like the winter holidays for doing quizzes, and this year History in Art has created their own Christmas Quiz for your enjoyment. Nope, it's not a compilation of famous Santas or name-the-actor-playing Scrooge, but something far more ambitious and department-appropriate.
Featuring eight challenging image collages, each made up of slices of famous pieces of art, the goal of the quiz isn't simply to name the art but to construct a word (Hangman-style) made up of letters from each image. Could be the name of the artist, could be the title of the painting, could be the subject of the work—it's up to you to break the code and figure out the words.
For example, the word accompanying this image on the right has seven letters, which you can decipher by identifying 1) the given name of the artist of the top left image, 2) the family name of the top right artist, 3) the family name of the bottom left artist, and 4) the second name of the photographer who took the bottom right image. Get it?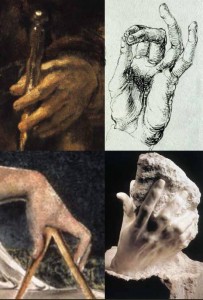 Once you've made your guesses, just put the eight complete words—or as many as you've been able to complete—on a postcard along with your name and contact email, then drop it at the History in Art office in the Fine Arts building by January 7, 2013.
This quiz is open to all UVic students and yes, you may compete as teams! Winners will be announced on January 14, and the top prize is a hand-painted leather drum. (But there will be other prizes for runners-up.) The Christmas Quiz is available as a downloadable PDF on either the Fine Arts homepage or the History in Art homepage.
Good luck!