And, just like that, a new year is upon us once again. No time to languish in the glow of feasts gone by, however—we're already right back at it in the Faculty of Fine Arts. Here's a quick teaser of the public events Fine Arts will have on view in January 2013.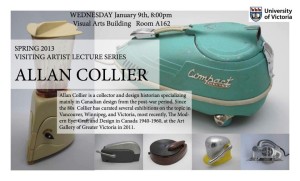 First up is an appearance by Visiting Artist and design historian Allan Collier, who will be speaking about his  exhibition which opens this week in the Visual Arts building's Audain Gallery. Collier specializes mainly in Canadian design from the post-WWII period and, over the years, has curated several exhibitions on the topic in Vancouver, Winnipeg, and Victoria. (Most recently he curated the 2011 AGGV exhibit The Modern Eye: Craft and Design in Canada 1940-1960.) Hear him speak as the first Visiting Artist of 2013 in the long-running Department of Visual Arts series, 8pm Wednesday, January 9 in room A162 of the Visual Arts building.
The School of Music is presenting a Faculty Chamber Music Concert, 8pm Saturday, January 12, in the Phillip T. Young Recital Hall. This 50th Anniversary concert will feature nearly 20 School of Music faculty performing Music For and In The Moment—including works by Composition faculty members John Celona, Dániel Péter Biró, alumnus Rudolf Komorous and the world premier of Christopher Butterfield's Omar Khayyam in Belfast: Six Postcards for Chamber Ensemble. "UVic has much to celebrate in its support and educational influence in the arts and music," says performance faculty, Pamela Highbaugh Aloni. "For 50 years the School of Music has contributed significantly to music in Canada and beyond. This is one way to highlight this distinction and share it with our greater university community." Tickets are $13.50 & $17.50 at the UVic Ticket Centre (250-721-8480) and at the door. There will also be a  post-concert reception with the faculty performers and composers.
Up next is a visit by Ed Pien. Born in Taiwan, the now Toronto-based artist Ed Pien has been drawing for nearly 30 years, and has exhibited nationally and internationally. He has taught at ECAD, NSCAD and OCAD, and is  currently teaching at the University of Toronto. Pien is in town as part of the AGGV's January exhibit, Traces: Fantasy Worlds and Tales of Truth. Catch him at 8pm Wednesday, January 16, in room A162 of the Visual Arts building.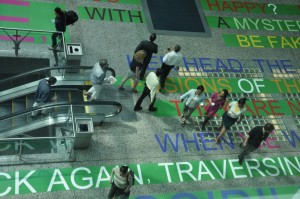 Hot on the heels of that session, Visual Arts will have their second Visiting Artist of the year when Blue Republic drops in for a chat. Blue Republic—also known as collaborative multidisciplinary artists Anna Passakas and Radoslaw Kudlinski—will talk about their fascinating history working with other artists, groups, and international centres of independent artistic research. That's at 8pm Wednesday, January 23, in room A162 of the Visual Arts building.
Papers are now being accepted for Visual Impetus XVI, the annual History in Art graduate student symposium. This year's theme is "Beyond Aesthetics: Contesting Convention Through Interdisciplinary Collaboration" and the symposium itself runs January 25 & 26 in the Fine Arts building. Click here for more details.
Renowned West Coast artist and environmental champion Robert Bateman will be speaking at the Legacy Art Gallery as part of the current exhibit, Honoris Causa: Artist Honorary Degree Recipients. The piece by Bateman in the exhibit was specifically selected by him to illustrate his passion and concern for the fragile environment. His free talk begins at 2pm Sunday, January 27, at Legacy Art Gallery, 630 Yates (at Broad).
Also on Sunday, January 27, is a concert of Light Tunes for a Heavy Instrument, featuring Eugene Dowling on tuba and Charlotte Hale on piano. This afternoon concert of light music will be performed by the Juno-nominated Dowling and will feature works by Astor Piazzolla, Fritz Kreisler, Vittorio Monti, Victoria's own Stephen Brown and others. That's at 2:30pm in the Phillip T. Young Recital Hall. Tickets are $13.50 & $17.50.
Popular CBC Radio All Points West host Jo-Ann Roberts is the Department of Writing's 2013 Harvey Southam Lecturer. She'll be teaching a course starting in January, but she'll also be giving a free public lecture on "Public Broadcasting and the Public Good."
As Roberts told me recently, "Public broadcasting matters to every journalist in this country. We keep the bar high, and that means private broadcasters can't go any lower—but the lower we get, the lower their bar goes. You don't have to be working for a public broadcaster as a journalist to care about it." Catch her in action at 7:30pm Wednesday, January 30, in room 240 of the HSD building.