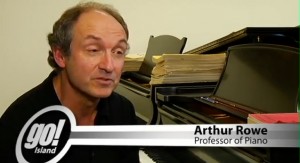 In case you missed the go! Island episode about the School of Music's Steinway pianos that ran on Shaw TV between November 19th and 25th, you can now catch it online. The segment featured piano professor Arthur Rowe and dedicated UVic piano tuner Jim Anderson speaking with Shaw host Nikki Ewanyshyn, and showed Anderson working on one the Steinways, as well as some fancy student keyboard action.
In other departmental news, musicology professor Jonathan Goldman appeared on Vancouver's Radio Canada—that's the French CBC station—on September 24, discussing the Learning Without Borders program through which he won a course development grant to develop his Mus 391: Global Music class . . . which is having an end-of-semester Global Music Fair from 4:30-6pm on Wednesday, November 28 in the David Lam foyer and MAC A144.
The 150th anniversary of the birth of Debussy was celebrated in the faculty concert Images: the Piano Music of Claude Debussy, featuring piano professor Bruce Vogt—which earned a note in Times Colonist classical music writer Kevin Bazzana's October 25 column. Bazzana also mentioned that Vogt "celebrated the Liszt bicentenary last year, too, with a three-concert series" and included a plug for the School of Music's new live streaming concert page on their website.
Music professor Christopher Butterfield yielded a great deal of coverage for the recent Cage 100 Festival he curated in November. "I think Cage's whole point is that he wants people to be acutely aware of the kind of aural world or acoustic world around them and to be able to actually, I don't know, rejoice in the sheer idea of consciousness or of being sensitive to the world, and you don't need the kind of conventional constructs of music," Butterfield told Globe and Mail arts writer Marsha Lederman. "It's much more about a much larger world of sound possibilities than simply the ones put together for people to learn on the piano or the violin or an orchestra or whatever." He also appeared in articles in the Times Colonist, on CFUV's U in the Ring show with Phoenix Bain (hear the podcast here), and an interesting review of the Cage 100 fest appeared in the Coastal Spectator blog.
Congratulations go out to composition and music theory professory Dániel Péter Biró, whose Kivrot HaTa'avah (Graves of Craving), a piece for solo bass flute, was selected as an independent submission for the International Society of Contemporary Music 2013 World New Music Days in Kosice, Bratislava, and Vienna. Established back in 1922, ISCM is an international network of members from 50 countries, devoted to the promotion and presentation of contemporary music; they present an annual international festival offering contemporary music across a broad range of contemporary practice. Biró's Kivrot HaTa'avah will be performed alongside other Canadian pieces including Anna Pidgorna's solo accordion piece Light-play through curtain holes, and Patrick Saint-Denis' multimedia work Trombe.
Meanwhile, Computer Science and Music prof George Tzanetakis talked about robotic musicianship and other electronic music notes in the Saanich News on October 19. "When you play sound, a musician hears what is happening. We are trying to add the ability to understand music to an artificial agent that performs," he told reporter Edward Hill. "The idea is to make the system musically intelligent, to have robotic musicianship."
And when fellow music & comp-sci prof Andrew Schloss brought acclaimed futurist Jaron Lanier to campus to speak at the School of Music about Alan Turing's spiritual legacy on November 7, he also found time to speak to CBC Radio One's On The Island host Gregor Craigie. You can catch a podcast of Lanier's interview here. Also, music & comp-sci grad Anthony Theocharis appeared in the Vancouver Sun recently thanks to his association with MediaCore, who won the $100,000 top prize in the BCIC-New Ventures competition. (Theocharis is MediaCore's chief of engineering.) The Sun noted that the Victoria-based MediaCore "has developed a cloud-based platform that connects instructors with public school and university students, as well as business seminars via online video connections."
Finally, if you want to keep up on the indie film projects of music prof John Celona, check out his Openfilm channel, where you can see four of his short movies: Nightfreight, Whisper Loretta, Reaching for Paradise and Mistress Italiano.