Looking for some Fine Arts action this week? Here's what's on view:
• Monday Oct 15: The Orion Series in Fine Arts presents cornetto player Bruce Dickey. Considered most like the human voice in sound, the cornetto was the most important instrument in Western Music until after 1600. For much of its history, great emphasis was put on supple expressiveness and stunning virtuosity. Bruce Dickey, the primary contemporary authority on cornetto repertoire and its authentic performance, will present a lecture-performance about this unusual and nearly forgotten instrument: That Lascivious Cornetto: A practical and historical introduction to a forgotten instrument. 8pm Monday Oct 15 in the Phillip T. Young Recital Hall, MacLaurin B-Wing (free).
• Wednesday Oct 17: What's better than one acclaimed author launching a new book? How about two? That's the case when University of Victoria Department of Writing Chair Bill Gaston and Writing alumna Marjorie Celona join forces to launch their new books: Gaston's The World and Celona's Y. While The World is Gaston's seventh novel, Y is Celona's first—yet the Victoria-based Y managed to earn Celona a place on this year's Giller Prize longlist. A rising talent in the Canadian literary scene, Celona is on the opposite end of the publishing spectrum from the veteran author, poet and short-story writer Gaston—who has been nominated for the Giller himself, as well as the Governor General's Literary Award, among many others. Both novels are published by Penguin Canada's imprint, Hamish Hamilton. This event runs from 6pm Wednesday at The Bard and Banker Pub, 1022 Government Street. Free.
• Wednesday Oct 17: Join former Maltwood Art Museum director and Gallery curator Martin Segger for an overview of the history of the University's art collection over the past 50 years. Light refreshments will be served, and an exhibition catalogue will be available for purchase. If you haven't been to the Legacy lately, this is a great opportunity to see the space and put it into context with UVic's ongoing history of art both on and off campus. This event runs 5 to 7 pm at downtown's Legacy Gallery. Please call 250-721-6562 for further information.
• Friday Oct 19:  After being awarded the position of scholar-in-residence at the prestigious Shangri La Centre for Islamic Arts and Cultures earlier this year, History in Art professor and director of the Medieval Studies program Marcus Milwright spent his time studying the collection's Syrian artifacts, amassed by Shangri La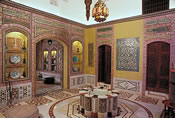 founder Doris Duke. Now, he's presenting "Doris Duke and the Crafts of Syria and Egypt" as part of the 50th Anniversary Deans' Lecture Series. Milwright, director of UVic's Medieval Studies Program, will talk about the collection of Islamic art and architectural fittings purchased by Duke and assembled in Shangri La, the residence she commissioned in Honolulu. This event runs 12:30-1:45pm Friday afternoon at the Central Branch of the Greater Victoria Public Library, and is free and open to the public, but registration required at the GVPL.
• To Oct 20: Comedy duo Chris Wilson and Peter Carlone are in this year's Spotlight on Alumni with Peter n' Chris in The Mystery of the Hungry Heart Motel at the Phoenix Theatre. Based on whodunit detective stories like the Hardy Boys and horror movies like The Shining, this hysterical spoof places our hilarious heroes in the thick of a series of murders at a seedy roadside motel. But who could the murderer be?  Okay, the answer is the motel manager—but that's not the real mystery. Maybe the mystery is why their mattresses are so dirty? Or what this dynamic duo might learn about themselves when they check in? If they ever check out! More than just funny, this is a clever and imaginative production that showcases the skills of recent graduates. This show runs through to  October 20 at the Phoenix.
Coming up next: UVic Orchestra "50/100" (Oct 26 in Farquhar Auditorium), Bruce Vogt plays Debussy (Oct 27 in PTY), Department of Writing All-Star Reading Night  (Oct 30 in Hickman B105)