Okay, so what's the deal with October 3? Not only is that the date of the latest Fine Arts event, but it's also the date for all three Fine Arts events happening this week! (Sheesh, let's talk scheduling, people.)
First up is the launch of the latest collection of poetry by Department of Writing professor and beloved poet Lorna Crozier. The Book of Marvels: A Compendium of Everyday Things (Greystone, 131 pages, $19.95) was recently described by Globe and Mail reviewer Diane Schoemperlen as "an irresistible invitation to sit up and take notice, to pay attention to every random thing." Featuring 85 prose meditations on the mysteries of everyday life, The Book of Marvels kicks off with a reading and signing from 7:30-9:30pm Wednesday, October 3, at UVic's Bookstore. Could this really be her 18th book, not counting anthologies and essay contributions? That is a marvel!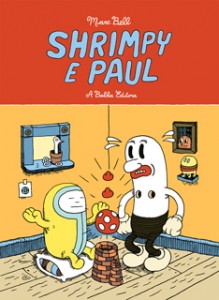 At exactly the same time on Wednesday night is the latest installment of the long-running Open Word: Readings and Ideas author series at Open Space. Featured reader this week is Guelph-based cartoonist and graphic novelist Marc Bell. First recognized for his Shrimpy and Paul comic strips, published in the likes of Exclaim!, Vice and the Montreal Mirror, Bell has also featured his mixed media pieces and watercolour drawings in many solo and group exhibitions. A monograph of his work, Hot Potatoe, was published in 2009 by veteran Canadian graphic publisher Drawn & Quarterly, and his latest—2011's Pure Pajamas—collects his best material and features reoccurring characters creating symbiotic relationships in his fantasy ecosystems and addressing the big issues of what it's like to live in today's world. Bell appears at 7:30pm Wednesday at Open Space, 510 Fort Street, with a live interview to follow by Writing prof Lee Henderson—who, none too coincidentally, teaches a Department of Writing course on the graphic novel.
Bell will also be appearing on campus at 2pm on Tuesday, October 2, in room A150 of the Visual Arts building.
Finally, we also have the latest in the equally long-running Visiting Artist program—this week featuring Ottawa-based photo and installation artist Andrew Wright. An assistant professor of visual art at the University of Ottawa, Wright's work is described as "multi-tiered inquiries into the nature of perception, photographic structures and technologies, and the ways we relate to an essentially mediated and primarily visual world." With linkages to practices as diverse as Alfred Stieglitz and Iain Baxter& (with whom Wright worked in the '90s), Wright's use of photography is decidedly non-conventional as it eschews lyricism and traditional pictorial aims. The award-winning artist and six-time Sobey nominee has exhibited both nationally and internationally, participated in residencies including the Banff Centre and Braziers Workshop (U.K.), as a war artist with the Canadian Forces Artist Program aboard Canadian warship H.M.C.S. Toronto and is the founding Artistic Director for Contemporary Art Forum Kitchener and Area. Hear him talk at 8pm Wednesday, October 3, in room A162 of the Visual Arts building.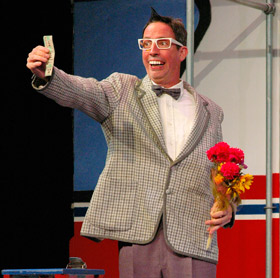 Also well worth a shout-out this week is the University Centre Farquhar Auditorium presentation of The Number 14, the fabulous Axis Theatre piece that has been touring the world for 20 years now. If you've never seen this hilarious piece of physical theatre, it's an amazing theatrical tour-de-force featuring six performers who strut, swing, sing and talk their way in and out of adventures aboard Vancouver's #14 bus. Part Monty Python, part Mr. Bean, the award-winning Number 14 is wholly engaging. Catch it at 8pm Wednesday, October 3 . . .  of course!
Coming soon: Matt Rader at Open Word (October 9 at Open Space), Peter 'N' Chris & The Mystery of the Hungry Heart Motel at the Phoenix (October 11-20), Eve Egoyan 50th Anniversary Signature Event at the Phillip T. Young Auditorium (October 13), the UVic Wind Symphony at Oak Bay High School (October 16) and a double-book launch with Bill Gaston and Giller Prize-nominated Writing grad Marjorie Celona at the Bard and Banker pub (October 17).