Busy Department of Writing graduate Arno Kopecky has a new project underway: raising his voice in awareness of BC's threatened coast through a storytelling, art and new media endeavor called The Oil Man and the Sea.
This summer, Kopecky and his friend, photographer Ilja Herb, will board a 41-foot cutter and spend three months exploring the oil tanker routes along the central coast of British Columbia—a region that may soon be traversed by over 200 oil tankers a year, if Enbridge Inc.'s Northern Gateway pipeline proposal is approved.
"We'll be sailing from Bella Bella to Kitimat, Haida Gwaii and everywhere in between," says Kopecky. "Our mission is to raise awareness of the threat oil tanker traffic would pose to BC's central coast, sending stories and images we'll collect along the way to laptops, magazines and Kindles across the country. Ilja is producing a photo exhibit, I have a contract with Douglas & McIntyre to put a book out by April 2013, and Reader's Digest is running a two-issue multimedia feature in early 2013 that will reach millions of Canadians." (And, he promises, "there will be more to come.")
This is a profoundly volatile marine environment that has already registered 1,275 marine vessel incidents (mechanical failures, collisions, explosions, groundings and sinkings) between 1999 and 2009 alone, notes Kopecky. "All indications are that it is a matter of when, not if, a catastrophic oil spill will occur once the tankers arrive," he continues. "Our goal is to use a variety of media to raise national awareness around this extraordinary ecosystem and its inhabitants, and the threat that now hangs over them. The participation of the communities we visit will be central to the stories we create; our wish is not only to document our travels, but also to help the Haida, Haisla, Kitasoo, Heiltsuk, Gitga'at, and other First Nations make their voices heard."
Since graduating from Writing back in 2001, Kopecky has been busy making a name for himself writing about culture and the environment for the likes of The Walrus, Foreign Policy, the Globe and Mail, Utne Reader, the Toronto Star and The Tyee, among other publications. His dispatches have covered five continents over the past 10 years, ranging from Iceland's attempt to become the first oil-free nation on earth, to Kenya's 2008 brush with civil war. In 2009, Kopecky received a Gordon Global Fellowship to investigate free trade agreements between North and South America, and his first book—The Devil's Curve, describing his journey through the Amazon and Andes ("travelling to Peru and Colombia, [Kopecky] follows radical left-wing politicians on the campaign trail, discusses black magic with villagers, winds up in gunfights and hallucinates in dark huts")—will be published by Douglas & McIntyre in September 2012.
Their current plan is to depart from Victoria in June, sailing north up the east coast of Vancouver Island until they reach the southern fringe of the tanker zone; once there, the two will spend three months visiting key communities and individuals. "A central character in our narrative will be the Great Bear Rainforest," says Kopecky. "We'll visit the communities who call it home in places like Bella Bella, Klemtu, Hartley Bay and Kitimat, all perched at the shores of this two-million hectare wilderness. At the end of August, we will leave the inside waters and cross Hecate Strait in time to greet the sockeye salmon as they return from a lifetime at sea to spawn in Haida Gwaii."
Their ambition is to bear witness—through photography, video and the written word—to the vital relationships between humans and animals, ocean and forest that characterize British Columbia's central coast. In doing so, Kopecky and Herb will argue that "the 217 jobs and $86 million a year in tax revenue promised by Enbridge are a pittance compared to the national treasure that a single tanker-wreck would bankrupt."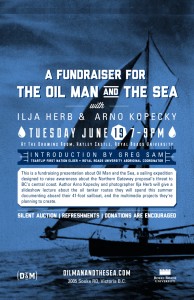 Why go now? "With the National Energy Board expected to make a decision on the Northern Gateway proposal by the end of 2013, time is of the essence," says Kopecky. "Setting sail in June will give us the chance to add our voices, and those of the people we meet, to the national debate before it's too late. Many people—from First Nations to artists, journalists and scientists—have already made enormous, even lifelong contributions to protecting this magnificent wilderness; more voices are needed still now that the full weight of our political establishment is lining up in support of Enbridge Inc.. Prime Minister Harper, eager to diversify our oil market by shipping oil to Asia, has declared Northern Gateway to be a 'national priority,' and Transport Canada recently lifted the moratorium on tanker traffic that has protected the central coast since 1977. The long-term future of our central coast will be decided in the coming months and years; the time to act is now."
You can read much more about the project and follow their journey through their website, OilmanAndTheSea.com, or via their Facebook page, but in the meantime they're also looking for financial help to make this project a reality. As such, they're having a fundraiser at Royal Roads University from 7-9pm June 19 (in Hatley Castle's Drawing Room), where Kopecky and Herb will present a slideshow about their proposed journey, as well as have a silent auction and an introduction by Tsartlip First Nation elder Greg Sam.
"We've raised $8,000 so far, but we still need $20,000 for things like a dinghy with outboard motor, GPS/satellite communication system, a new sail, diesel, food, etcetera," says Kopecky. "Expenses for a three-month journey like this one pile up quick."