School of Music associate professor and head of composition Christopher Butterfield earned some strong media attention—as well as audience appreciation—with his recent Toronto concert Contes pour enfants pas sages: 8 cautionary entertainments. Based on poet Jacques Prévert's 1947 collection of fairy tales (which loosely translates to Fables for Naughty Children), Butterfield's composition for Toronto's Continuum Contemporary Music got a lengthy write-up in the Globe and Mail, as well as playing to full houses both nights at the 918 Bathurst Centre.
While Butterfield's world premiere of Contes may be noteworthy in itself, it also warrants attention here due to the collaboration with the other Fine Arts faculty involved in its performance—Christopher's equally talented tenor brother, Benjamin Butterfield (head of voice); Benjamin's wife, soprano Anne Grimm (music performance instructor); and Visual Arts painting professor Sandra Meigs, who provided projected images to accompany the music. (Also involved in the production were acclaimed choreographer Laurence Lemieux and Choir 21, led by David Fallis.)
As the Globe and Mail's Robert Everett-Green notes in his May 27 piece, "Butterfield was introduced to the stories almost 20 years ago by Finnish cellist Anssi Karttunen, when both men were looking for saccharine-free books for their small children. The composer wrote a solo cello setting, with narration, of Prévert's relatively happy tale of a philosophical elephant seal, who reasons that he's better off than a king.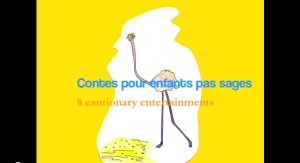 "'It's an identifiable world,' Butterfield says of Prévert's narrative situations, 'but where it goes is anybody's guess.' A caged lion puzzles over his keepers' harsh treatment, and eats his tamer 'more to restore order than from hunger,' Prévert writes. Horses decide they've had enough 'gifts' from humanity (including whips, spurs and forced labour), and secretly plot a rebellion. An ostrich, tired of being stripped of eggs and feathers, corners a neglected boy and flies away with him."
Noting that some of Prévert's poems have been covered by the musically diverse likes of Edith Piaf, Yves Montand and Iggy Pop, Everett-Green continues: "The fables also feature song-like verbal patterning, though Butterfield took their wayward narratives and absurdist logic as his cue to write music that follows its own impulses. 'They let me sail from one thing into the next,' he says, referring especially to the vocal melody, which doesn't repeat much. My audio preview of a few pieces revealed a lean and brilliant instrumental score, with bright overlapping patterns, some quite hummable tunes, and nimble alternations between the delicate and the grotesque. 'I wanted to make playful musical characterizations that wouldn't put children off,' Butterfield says, "though I can't say I was thinking: 'What would little Freddy like to hear now?'"
You can hear Butterfield himself talk about the piece in this video from Continuum's own site.
And the performance itself received resounding accolades from T-dot cultural blogger Leslie Barcza on her Barczablog:
"The music's surface shimmered inscrutably, challenging one to pay attention to the subtleties of the text & the performances. Butterfield's adaptation was decidedly sophisticated, and while invoking the child in all of us, not really for children: at least not young ones."
"Butterfield walks in the footsteps of giants. My first impression may seem narrow-minded, but I thought of smaller-scale works such as Ravel's Mother Goose or Debussy's Children's Corner Suite, thinking that the large-scale forces assembled could overwhelm the children's stories. But it's a new century. Butterfield isn't cowed by influence nor what's come before, only seeking to follow his own voice, occasionally tonal, sometimes in other mixes of tonalities that eluded my easy grasp (or descriptive classification)."
"Another Butterfield, namely Christopher's brother Benjamin, sparkled in several of the songs, wonderfully tuneful and especially authoritative in keeping a blank expression on his usually smiley face."
She concludes by simply saying, "I'd like to hear it again."