Two of the most exciting annual events in the Fine Arts faculty are coming up shortly—the yearly Department of Visual Arts BFA and MFA exhibits!
First up is BLINK, the BFA graduation exhibition. Running April 20 – 27 in the Visual Arts Building, you can see the work of more than 40 emerging artists.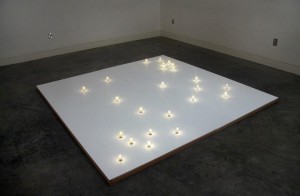 Opening Reception runs 7pm to midnight on Friday, April 20 (dress is semi-formal), and $15 catalogs will be for sale at the door.
These are just a few examples of the variety of work that will be on exhibit. Whether or not you can make the opening, do stop by and check out the work. The exhibit is open 12-5pm Monday to Friday, 1-4pm Saturday in UVic's Visual Arts Building.
After that comes the 2012 MFA Graduating Thesis Exhibition. Running May 4 – 12 and featuring the work of the seven graduating Master of Fine Arts students, each artist in this exhibit has a drastically different approach to making art, as reflective of the various nature of contemporary art practice in the world at large.
Join Steven Brekelmans, Heather Carey, Jessica Karuhanga, Dong-Kyoon Nam, Sasha Opeiko, Anne J. Steves and Matt Trahan as they explore the role of the artist as it relates to their various work—sculptural, painting, drawing, fabric or material exploration.
Just as the other Fine Arts departments have their own graduating recitals, concerts, theatrical performances or readings, this is the chance to see what Visual Arts students have been achieving during their time in the various programs. Always fascinating, always engaging, these two exhibits are definitely highlights of any academic year.
The MFA exhibit runs Monday to Friday 10am-5pm and Saturday 1-4 pm in the Visual Arts building, with an opening reception starting at 7pm on Friday, May 4.
Both shows are free and open to the public, of course.