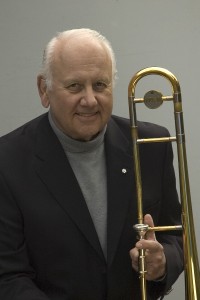 Sometimes the best charities really do begin at home. That's certainly the case with Ian McDougall's newest CD, The Very Thought of You.
Conceived of as a benefit album for Fine Arts students in financial need, The Very Thought of You features 14 beautiful ballads from the '30s and '40s with McDougall on his signature trombone, backed by a string orchestra—but the best part is that $10 from each $20 CD goes directly to a new emergency fund created by him to benefit Fine Arts students in financial need.
Nicknamed the "one potato" fund, the idea of creating a means to help out needy students came to McDougall a number of years ago, after he saw a student buying his meal for the night at a local grocery store: a single potato.
"He had one potato," McDougall told Times Colonist arts reporter Adrian Chamberlain in this recent article. "It was quite a large potato. That's all he had. I thought, 'Holy s–t, this guy's at the end of his tether here.'"
As a parent, professor and professional musician, McDougall well knows the financial pressures with which many Fine Arts students grapple; and, as a national jazz icon, he has long been a strong supporter of emerging talent. Now, The Very Thought of You allows McDougall to merge both these passions for the betterment of Fine Arts students.
"This wonderful project that Ian has initiated is going to help our students immensely," says Dr. Sarah Blackstone, Dean of Fine Arts. "Students in the arts find it difficult to work and attend school because so much of their work requires additional time in rehearsals or in the studio, so finding a way to make ends meet can be really difficult.  The 'one potato' fund will give us the ability to help students across the faculty if they hit a rough patch—and this will help them continue to succeed in their studies.  Ian really understands the struggles of students from his days in the classroom and his generosity and willingness to help is very special."
More formally titled the Ten Mile Fine Arts Student Assistance Fund, McDougall says the album would never have happened without the generous support of donors to the Ten Mile Limited Partnership—a dedicated team of alumni and supporters, headed by active UVic alumni Jim Crawford (former president of the Victoria Jazz Society) and Tony Gage. And while the charitable aspect of it is primarily aimed at the future Fine Arts students who will benefit from it, McDougall and his wife Barbara donated all their own time and services to this project—including playing, conducting and writing all the arrangements—to the tune of more than $20,000.
McDougall—an Order of Canada recipient, Juno Award winner and School of Music Professor Emeritus who taught at UVic for 15 years—realized right away that an emergency fund would be more practical than a formal bursary or a scholarship. "Scholarships and bursaries are different animals," he explains. "A scholarship has to be endowed—that's about $20,000 to begin with—but a little fund for someone who's in need right away, that's different."
To illustrate his point, McDougall shares a personal story from his own past. "I was the beneficiary of one of these when I went to UBC," McDougall explains. "I was broke at the end of my third year, back in 1959, but there was a fund administered by a pretty famous professor there—Walter Gage, a very kind man. I was going to have to leave UBC after completing five of the six months, because I was completely broke. But I went to him and said, 'I need some money to get through the year.' He asked how much I needed, and I said, 'As much as you can give me.' I ended up getting $250, and he said, 'Now, you need to at least try to get this back to us.'"
"I got a job and paid them back at the end of the summer," McDougall continues, "and that's the difference between scholarships and bursaries: there's no academic requirement to benefit from something immediate like this. You don't have to show any scholarly aptitude, you just have to be passing your courses."
McDougall hopes that students who benefit from the fund will follow his lead and pay their good fortune forward.  "You can say to them, look, this is a thing we're giving you now—but at some point during your career, send us it back. It's a gift, but if it helps you at all, put it back in the fund to help someone else."
At a time when escalating costs threaten to derail future artists, The Very Thought of You is an album that sounds as good as the cause it serves.
In Victoria, The Very Thought of You is for sale at Lyle's Place, Munro's Books and Larsen Music. At UVic, it can be purchased through the Bookstore, the School of Music, the Department of Theatre, the Fine Arts office and Arts Place cafe in the Fine Arts building. You can also purchase it through Ian McDougall's website. Remember, $10 from each $20 CD will go directly to the "one potato" fund.