It's busy times right now for local artist-on-the-go Megan Dickie. Not only is she one of five emerging artists showcased in the current Art Gallery of Greater Victoria exhibit, Throw Down, but she also currently has work on view in Calgary's Stride Gallery.
Dickie—a limited-term Visual Arts professor and ongoing sessional instructor specializing in sculpture—creates objects and images that are humorous, tactile and interactive. As noted on her website, she investigates ideas of artifice by making sculptures out of sensuous materials that turn functional forms into exaggerated novelty gadgets. Dickie finds novelty compelling in how it rejoices in excess and is truthful about its moral shortcomings. It is a form that promotes curiosity over intimidation which allows the viewer to lean in and discover through touch. Through this tactile experience the viewer ends up struggling between their desire for amusement and their desire for reason.
Her Stride Gallery piece, "the Gleamer"—a 15 x 15 foot flexible silver blanket made of tiled aluminum—can be entered and manipulated from underneath to become a variety of sculptural forms. Showcased in Stride's Project Room, Get the Gleamer runs through to March 24. As noted in the gallery's description, "Get the Gleamer transforms Buckminster Fuller's Jitterbug Discovery into an interactive sculpture for amusement. The form incorporates serial patterns and the same potential for endless action that one might expect of a slapstick movie. As a 'tongue in cheek' response to the distance between thinking and doing, the Gleamer invites viewers to experience how imagination and play lead to intellectual discovery."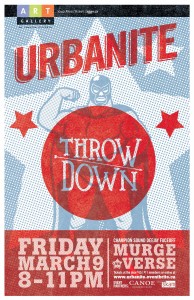 Meanwhile, back at the AGGV, Dickie's large-scale playful work in Throw Down (alongside fellow artists Sonny Assu, Gregory Ball, Tyler Hodgins and Alison MacTaggart), can be seen at their latest Urbanite event coming up on Friday, March 9—or through to the end of the exhibits's run on May 6.
And if you're wondering why the exhibition is so named, as the AGGV says, "to 'throw down' can mean many things: to celebrate in a big way, to fight for something meaningful, or to contribute resources to make something happen. The overall spirit of throwing down is captured by the five B.C. artists selected for this exhibition. They use sculpture, video, photography, drawing and public intervention to address socio-political issues, economic struggles, to invoke a call to action or an invitation to play. Satire and humour are strategically used as a means of contemplation and critique of relevant issues within society."
Dickie's work has been seen across Canada, including recent exhibitions at Vancouver's Grunt Gallery, the Nanaimo Art Gallery, Saskatoon's Kenderdine Art Gallery, and Deluge Contemporary Art and the late, great Ministry of Causal Living. She was also the recipient of a Canada Council emerging artist creation grant in 2004 and a BC Arts Council grant in 2007 & 2009. She completed a BFA in printmaking from the University of Calgary in 1997 and received a MFA in sculpture from the University of Saskatchewan in 2002.