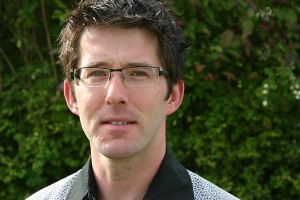 Garth Martens is now $5,000 richer, thanks to his first-place poetry win in the RBC Bronwen Wallace Award for Emerging Writers. A construction worker by day, the 28-year-old Department of Writing MFA graduate was announced on April 5 as the winner out of 120 submissions for "Inheritance and Other Poems," a selection from The Motive of Machines, his work-in-progress manuscript.
"The curtain is raised on blue-collar work," noted the jury in its citation, describing Martens' work as both "heroic" and "smoother than concrete." "Here's a poet of sweat and ambition and all the sensory detail and wild character that builds a world."
"This is the first time I've won any kind of prize, although I was long-listed for the CBC Literary Awards for two of my entries in the poetry category this year," says Martens, who serves on the editorial board of The Malahat Review and whose writing has appeared in The Fiddlehead, Grain, The Times Colonist, The Pacific Rim Review of Books, the anthology Leonard Cohen: You're Our Man, and others. "I'm working out-of-town right now, 60 hours a week on a construction site in Kelowna. The excitement around the award is a kind of lozenge that I'm savouring while shovelling trenches or pulling nails."
When asked about his plans for the prize money, Martens says he'll probably buy a pair of top-quality $500 flamenco boots, custom-ordered from Spain. "I've wanted a pair for a while because I've been taking flamenco lessons for singing and dancing at the local flamenco school, Alma de España," he explains. "I'll also use the money hopefully to fly to Toronto for the Griffin Prize ceremony. The Irish poet Seamus Heaney will be reading and he's simply the greatest living poet as far as I'm concerned."
Also among the finalists for the Wallace Award was Anne-Marie Turza, another Department of Writing MFA graduate, who received $1,000. The literary prize for young unpublished writers alternates between poetry and short fiction, and is administered by the Writers' Trust of Canada.