Alumni News
UVic School of Music graduates have gone on to have successful careers in diverse areas of music in Canada and around the world as performers, composers, conductors, musicologists, educators, sound technicians, and more.
Read about the latest alumni accolades and achievements below.
Fall 2015
Jeremy Potts
Violinist Jeremy Potts (BMus '12) is one of the Canada Council for the Arts 2015 Musical Instrument Bank Winners. The Instrument Bank is a collection of rare instruments of legendary quality created by some of the world's greatest craftsmen including Stradivari, Guarneri and Gagliano. The full collection is valued at over $41 million. A recent 2015 winner of the distinguished Eastman Concerto Competition, Jeremy is quickly building acclaim as soloist, orchestral and chamber musician. An avid orchestral musician, Jeremy has displayed high levels of musical leadership, serving as both Concertmaster and Principal Second Violin of the University of Victoria Orchestra, the Eastman Philharmonia and the National Youth Orchestra of Canada (NYOC). Jeremy will be playing on the 1902 Enrico Rocca until 2018.


Shima Takeda & Matthew Poon
Violinist Shima Takeda (B.Mus '11) and pianist Matthew Poon (B.Mus '08) opened the third season of the Oak Bay Music concert series on September 20. Takeda and Poon both have active performing careers in and around Victoria. They performed works by Mozart, Beethoven and Brahms—some of the most appreciated repertoire for violin and piano.

Eve Egoyan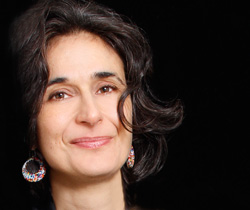 Eve Egoyan (M.Mus '85), one of Canada's foremost pianists and interpreters of contemporary music, and a UVic Distinguished Alumna, performed an intimate contemporary piano recital at Toronto's Small World Music Centre, on October 16–18. The recital programme featured music by Toronto composers John Mark Sherlock, Nick Storring and Linda Catlin Smith (M.Mus '81). The event also served as the launch of Egoyan's latest CD, Thought and Desire, an album comprised of world première recordings by Linda Catlin Smith.

Shawn Earle
Clarinetist Shawn Earle (M.Mus '07) was a member of the Pierrot Ensemble at this year's Atlantic Music Festival held in Waterville, Maine from July 6th to August 1st. The ensemble was comprised of an international slate of musicians from Canada, Italy, Spain, Poland, and The United States, with a raison d'être to produce recordings of compositions by each of the 40 student composers in residence at the Festival. The most noteworthy compositions were performed by the Pierrot Ensemble in the festival's closing concert, which was rewarded with a standing ovation.
Shawn Earle is teaching clarinet at the School of Music this semester while faculty clarinetist, Patricia Kostek, is on study leave.
Summer 2015
Victoria Composers Collective
SUMMER 2015 Wanted Composers Tour: Four School of Music alumni made their way through the BC interior this summer as part of the Victoria Composers Collective Wanted Composers Tour. The tour began in Victoria on June 26 and ended in Kamloops on July 9, with stops in Hope, 100 Mile House, Quesnel, Barkerville, Prince George, and Williams Lake. Composers Dave Riedstra (M.Mus '15), Lynne Penhale (B.Mus '13), Nathan Friedman (B.Mus '11), Christopher Reiche (M.Mus '08) and current School of Music student Maria Eduarda Mendes Martins presented concerts of new and innovative pieces for electric bass, toy piano, trombone, clarinet, voice, and piano as well as non-traditional instruments. "Everyone in the communities we went to greeted us warmly and made up some of the best audiences I've ever performed for," said Reiche. "We were so happy to get the support of the SOCAN Foundation and the BC Arts Council for this project."


Cassandra Miller
In May 2015, composer Cassandra Miller's Duet for Cello and Orchestra received its world premiere by Ilan Volkov, Charles Curtis and the BBC Scottish Orchestra at Tectonics Glasgow. "This concerto came together as an homage to the Sicilian opera composer Vincenzo Bellini. It takes as its source material a folksong, Trallallera, sung by Italian folk singer Maria Carta," explains Miller. She is currently pursuing a doctorate at the University of Huddersfield (Bryn Harrison) with the support of the Jonathan Harvey Scholarship in Composition.
Spring 2015
Daniel Tones
In late April and early May 2015 percussion alumnus Daniel Tones (BMus '00) leads another international tour that will bring contemporary Canadian percussion music to new audiences. "Canada Connected" features recitals and masterclasses at the Royal Northern College of Music, the Leeds College of Music, the University of Birmingham, and the University of York, a residency at the Guildhall School of Music and Drama, and a concert at The Barbican — one of London's most prestigious concert venues. Tones will be joined by Owen Underhill (BMus '75) and Russell Hartenberger (Nexus, Steve Reich and Musicians), and will perform solo repertoire by Alvarez, Applebaum, Hartenberger, Hatzis, and Underhill. Performances of particular prominence include Birmingham's BEAST FEaST and the UK premiere of Hartenberger's "The Invisible Proverb" at the Barbican with London's Ensemble Bash.


David Foley
Composer David Foley (MMus '14) received a special mention from the jury for the 2014 Jules Léger Prize for New Chamber Music for his piece 'Cloche sur table', and has been named a winner of the Turning Point Ensemble's What's the Score! competition. Read more about what David has been up to on his website.


Twin Kennedy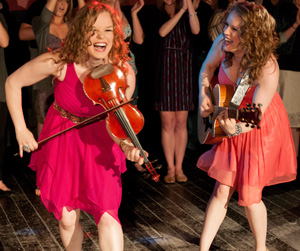 Powerhouse duo, Carli and Julie Kennedy (BMus '08), return to the School of Music as country duo Twin Kennedy for a CD release concert on Thursday, April 9. Their CD release tour is taking them across the country with their new album It's a Love Thing. Produced by multiple JUNO nominated and award-winning artists, Carli and Julie describe the album as a true extension of themselves—an honest account of their navigation through love and life.
The twin sisters have been making music together for as long as they can remember. In their youth they took piano, guitar and violin lessons and honed their skills in a family band, playing country music and fiddle tunes at community events.
The classical chops they fostered through their studies at the School of Music took them far—Julie was named Concertmaster of the 2007 National Youth Orchestra of Canada and Carli's guitar playing achieved third prize at the Canadian Nationals—but they both felt their true country folk roots calling. With Carli on vocals and guitar and Julie on vocals and violin, the duo has developed a sound that is all their own: a fusion of their background in country, folk, jazz, and Celtic music.

Victoria Composer Collective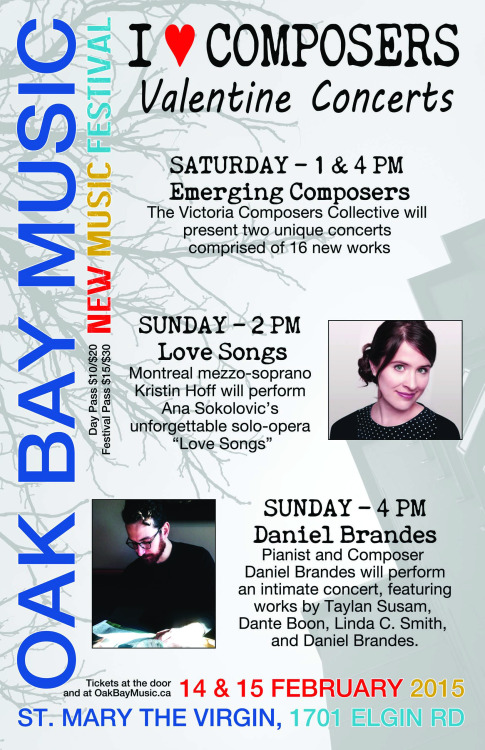 School of Music alumni and student composers converged in a 2-day festival, I Heart Composers, on February 14 and 15 in Victoria. Co-coordinated by Erik Abbink (of Oak Bay Matinée Concert Series) and composer Lynne Penhale (B.Mus '13), the festival included two Emerging Composers concerts. At least a dozen composers (all members of the Victoria Composers Collective) and many more performers—most of which were School of Music alumni and students—presented new or recent works. In two additional concerts, Montreal mezzo-soprano, Kristin Hoff, performed Ana Sokolovic's solo Opera, "Love Songs," and Daniel Brandes (M.Mus '10) performed intimate solo piano works—some with singing and whistling—by Eva-Maria Houben, Linda Catlin Smith and Brandes.


Mark Reid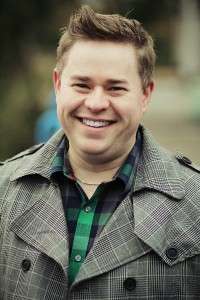 Mark Reid (B.Mus '03) was nominated for a 2015 Global Teacher Prize and selected as one of the top 50 teachers in the world. The coveted honour, considered the Nobel Prize of teaching awards, comes with a $1 million prize. Reid, Director of Bands and Choir at Vancouver Technical Secondary, was profiled on Global News back in January regarding the nomination.
Reid is highly regarded for his teaching. In 2013, he was named teacher of the year by MusiCounts, the music education charity associated with the Canadian Academy of Recording Arts and Sciences (CARAS). The award, one of the highest honors in Canadian Music, was presented to Reid by country super-star Shania Twain at a private ceremony in Las Vegas.


Miriam Sonstenes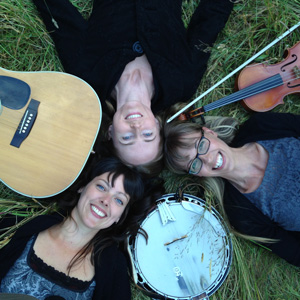 Violinist-turned-fiddler Miriam Sonstenes (B.Mus '06) joined CBC Radio's Vinyl Café on their Vancouver Island Tour with her band The Sweet Lowdown. With story-telling comic and voice of the Vinyl Café, Stuart McLean, the tour made stops in Courtenay, Campbell River, Nanaimo and Tofino. Podcasts of the episodes many be heard on the CBC website.
The Sweet Lowdown just recently released their third album, Chasing the Sun. Their second album, May, was nominated for a 2013 Canadian Folk Music Award for "Vocal Group of the Year" and was winner of a 2013 Vancouver Island Music Award Winner for "Island Roots Album of the Year."
Fall 2014
Neil Reimer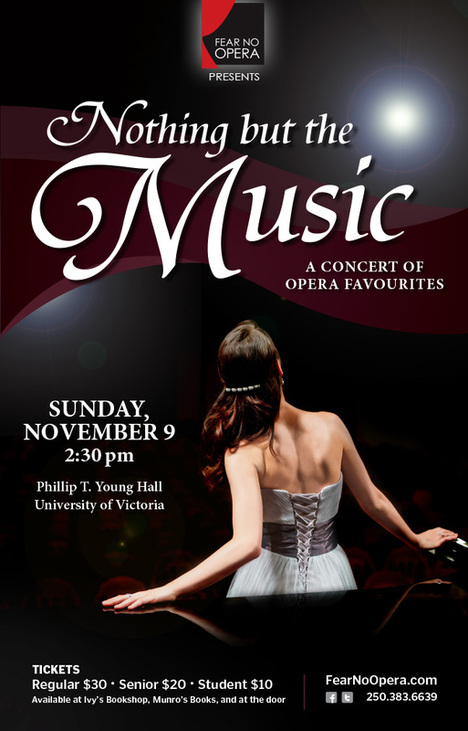 Two years ago, Neil Reimer (B.Mus '07) began an opera company for emerging artists. Now entering its third season, Fear No Opera has been wowing audiences with its talent and creativity. The company is dedicated to encouraging the "opera curious" to get their feet wet, and has also impressed more seasoned opera-goers with its high level of professionalism.
This season's opening show, Nothing But The Music, will be an afternoon concert of opera arias, duets, and trios such as Cara Non Dubitar, highlights from La Fille Du Régiment, The Marriage of Figaro, The Pearl Fishers and La Bohème. Featuring a cast of Victoria favourites (including alumni Anna Shill, Inge Illman, Olivia Selig and Adam Dyjach) as well as singers from Vancouver and Toronto, this stellar line-up includes artists who have sung with Vancouver Opera, Calgary Opera and Pacific Opera Victoria.
Neil says, "A concert like this lets us present a variety of great opera music from different periods in a single show. We move from funny to romantic to anguished and bring the audience with us every step of the way. We're especially thrilled to have some new faces—and great voices—joining us for our new season."
Nothing But The Music takes place at 2:30 p.m. on Sunday, November 9, in the Phillip T. Young Recital Hall. Tickets ($10-30) are available at Ivy's Bookshop, Munro's Books, and at the door.

Adrian Verdejo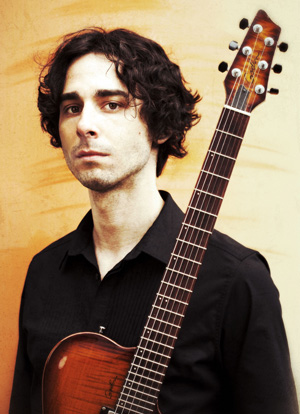 Guitarist Adrian Verdejo (B.Mus '04) launched his new album Modern Hearts - New Music for Electric Guitar in September in a concert at China Cloud in Vancouver. A debut album for the Vancouver-based guitarist, Modern Hearts has been hailed "an album of wonder, curiosity and pure, focused energy" (thisisclassicalguitar.com). Released by Redshift, the album features music for multiple electric guitars by composers from the last thirty years, including Nicole Lizée, Tristan Murail, James Tenney, Jordan Nobles and Rodney Sharman.
Verdejo specializes in contemporary music with equal fluency in classical and electric guitar styles and has commissioned and premiered several new pieces. He maintains a busy performance schedule as a soloist and with the Victoria Guitar Trio and the Erato Ensemble.

Andrea Blair
Congratulations to Andrea Blair, one of the top three winners of the annual Canadian Family Teacher Awards. Over the six-week online voting period which began in May, Blair received more than 7,800 votes, winning $2,500 for school programming and supplies for Gordon Head Middle School, where Blair is Music Director.
Read the full story in the September issue of e-Pulse.


Kayla Wong
Pianist Kayla Wong (B.Mus '04) recently released her debut solo album, Allure. Recorded in Toronto at the Glenn Gould Studio and independently released on her label, Luminous Vine Records, Allure features pieces by composers who Kayla has "always loved and gravitated towards," including Ravel, Rachmaninoff, Barber and Lecuona.
While a student at UVic, Kayla studied with the late Dr. Robin Wood, who made a lasting impact on Wong as an undergraduate student. "He always told me: play how you feel, and say what you have to say in your music," recalls Wong. "Ultimately, his words have stuck with me and guided me in discovering and developing who I am as an artist today," says Wong.
You can purchase Kayla's new CD and listen to an excerpt on her website.
Spring 2014
Jordan Ofiesh
Violinist Jordan Ofiesh (B.Mus '11) can be seen playing principal second violin with the Gürzenich-Orchester Köln in this video of the orchestra's recent tour to Seoul, Hong Kong, Shanghai and Beijing. Ofiesh has been with the Gürzenich-Orchester Köln since 2013.


Eve Egoyan
Concert pianist Eve Egoyan, native of Victoria and Distinguished Alumna of the UVic School of Music, gave a stunning solo concert on February 20 at the School of Music's Phillip T. Young Recital Hall to launch her most recent Canadian tour. Presented by Aventa, the program included the premiere of Nocturnes and Chorales, a new suite of pieces by Toronto-based composer Linda Catlin Smith (also a School of Music alumna) as well as James Tenney's To Weave (a meditation), Piani, Latebre by Piers Hellawell, and Michael Finnissy's Folklore II.
Egoyan is one of few pianists who have dedicated themselves to the performance of new works. Her intense focus, command of the instrument, insightful interpretations, and unique programmes welcome audiences into unknown territory, bridging the gap between the audience and contemporary composition.
School of Music program link: Performance

West My Friend
Victoria-based indie/folk band, West My Friend, featuring three School of Music alumni–Eden Oliver (B.Mus '08), Jeff Poynter (B.Mus '11) and Alex Rempel (B.Mus '12)– will celebrate the release of their second album, When The Ink Dries, at Fairfield United Church on Thursday March 6. With special guest Mike Edel, the concert will kick-off their 24-city Western Canada album release tour, and will feature many other musicians from the School of Music, both past and present, including Kelby MacNayr, Tyson Doknjas, Barry Leung, and Andrew Greenwood, as well as faculty trombonist Scott MacInnes. Advance tickets are available at Larsen Music, Lyle's Place, and online here.
School of Music program link: Performance

Ivana Jokic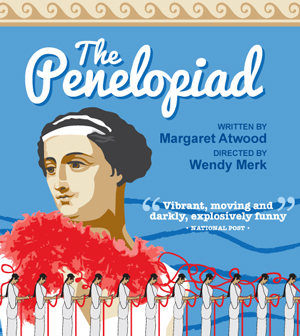 The Langham Court Theatre's upcoming production of Margaret Atwood's The Penelopiad, will feature new, original music by Ivana Jokic (M.Mus '13) and 4th year School of Music student, Liam Gibson. A re-imagining of Homer's Odyssey from the perspective of Odysseus's wife Penelope, The Penelopiad will run from April 24 to May 10 in Victoria. Since taking on the project this past September, Jokic, who currently resides in Ontario, and Victoria-based Gibson collaborated on the score, each taking on various scenes independently while combining their thematic material in others. Jokic has found the process of writing for theatre very exciting and rewarding. "This is my first composition that I wrote outside of a school or workshop environment," explains Jokic. "It feels great to finally take part in the real world!"
School of Music program link: Composition

Tobin Stokes
Composer Tobin Stokes (B.Mus '89) is preparing for the premiere of a new chamber opera, Pauline, commissioned by City Opera Vancouver. With a libretto by Margaret Atwood, the opera, set at Vancouver in March 1913, is based on the life and final days of Canadian writer, poet, and actress Pauline Johnson. The world premiere of Pauline will be given at the York Theatre in Vancouver on May 23, 2014, with performances through May 31. Pauline will be Stokes' fifth opera.
School of Music program link: Composition


Amy Simon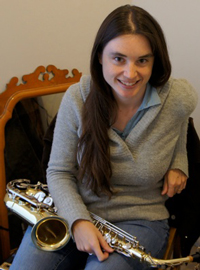 Amy Simon (M.Mus '06) is scheduled to perform this year with the Shen Yun Performing Arts Orchestra in their tour through northeastern U.S., Canada, and Europe (14 cities including Prague, Vienna, Berlin, and Paris). The sensational, highly praised production features classical Chinese dance, full orchestra, traditional costumes, and animated backdrops. Simon previously toured Canada and Europe as principal clarinet with the Orchestra in 2007 and 2008. She is currently a Ph.D candidate at York University, researching performance techniques on flute and reed instruments from Asia. Simon has taught privately for several years in Toronto, Charlottetown and Victoria, and has been teaching at the Snider School of Music in Toronto since 2006. She has also been a band camp clinician in Charlottetown and a flute class teaching assistant at York University.
School of Music program link: Performance

Liam Hockley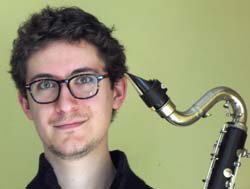 Clarinetist Liam Hockley (B.Mus '11) and pianist and vocalist Tony Booker (M.Mus '84) are teaming up with several musicians in an all-Gershwin concert on January 12 at The Old School House Arts Centre in Parkville, BC. Gershwin Galore will showcase a diverse range of numbers, from classical to jazz, by brothers George and Ira Gershwin. Further details are available from this recent article in the Parkville Qualicum News.
School of Music program link: Performance

Fall 2013
BCMEA Conference


From October 24 to 26, the British Columbia Music Educators' Association (BCMEA) held its annual conference at the River Rock Casino Resort in Richmond, BC. Jeff Weaver (BMus '03), music teacher at Oak Bay High and President of the board of BCMEA, oversaw the organization of the entire conference.
The BCMEA advocate for music education in BC schools and are dedicated to fostering a community of passionate music educators through professional development. The Executive Committee of Table Officers is currently made up entirely of School of Music alumni including 1st Vice-President Cindy Romphf (BMus '02), Secretary Jamie Davis (BMus '05), Treasurer Michael Doogan-Smith (BMus '86) and Past-President Mark Reid (BMus '03). Many attended the conference along with recent grads Nathan Jacklin (BMus '11), Paul Luongo (BMus '12), CJ Kumar (BMus '12), and countless others.
School of Music program links:Education

Fuhong Shi & Anna Höstman
Two School of Music alumnae were featured in the most recent issue of Canada's experimental music magazine, Musicworks. Chinese composer, Fuhong Shi (MMus '05) was profiled in an article that highlights her aptitude for bridging the contrasting musical cultures of the East and West. Shi completed her PhD at the University of Toronto, and music faculty Lawrence Cherney described her in the story as "one of the most talented students ever to go through the University of Toronto."
Photo by: Sophie X Zhang

Anna Höstman
's (MMus '05) latest collaboration,
Singing the Earth—Nuyamł-ił Kulhulmx
, with UVic alumni Dylan Robinson, was the topic of an interview with the artist in this
feature article
. The eleven-part concert-installation work investigates the languages, history, and evolving nature of BC's Bella Coola Valley where Höstman grew up. In the interview, she talks about her connection to this region, and the creative process of the work, which will be presented by Continuum Contemporary Music in Toronto.

School of Music program link: Composition
Summer 2013
The new music scene was resounding this summer in Victoria, and UVic alumni were at the forefront of some rare and exceptional events:
School of Music program link: Composition
Tenor Isaiah Bell (BMus '08) received a very favourable review in the New York Times for his lead role as the Madwoman in Tanglewood's production of Benjamin Britten's Curlow River, led by famed choreographer-director Mark Morris. Bell was described as giving a performance of "haunting beauty, ideally depicting emotional distraction with ultimate economy and glowing vocal skill."

Laura Miller (BMus '12) and third-year student, Josh Lovell and were cast in Opera Nuova's Fiddler on the Roof in Edmonton, which ran for four days in June as part of their Vocal Arts Festival.

Four singers from the School of Music participated at the Amalfi Coast Music Festival in Italy this summer. In a series of performances of Mozart's Le Nozze di Figaro, lead roles were held by Laura Miller (BMus '12) as the Countess at the Roman ruins in Minori, ArielBoughen (3rd year performance major) as Susanna in the Castello Lancellotti in Lauro near Naples, and Christina Dennehy (3rd year performance major) as Barberina at the Conservatoryin Naples. Directed by Stephen Brown from the Met, conductor GregRitchie of Opera Theater of St. Louis led the Opera Orchestra from
Cluij, Romania for this production.
Recent graduate, Leah Alfred (MMus '13) also participated in the Amalfi Coast Music Festival, performing with pianist/coach Vlad Iftinca from the Met.

David Cecchetto's (MMus '04) monograph, titled Humanesis: Sound and Technological Posthumanism, was released in 2013 on the Posthumanities series of the University of Minnesota Press. The publication offers a new critique of posthumanist studies.
Spring 2013
Mark Reid
School of Music alumnus Mark Reid (BMus '03) has been named teacher of the year by MusiCounts, the music-education charity associated with the Canadian Academy of Recording Arts and Sciences (CARAS). The award, one of the highest honors in Canadian Music, was presented to Reid by country super-star Shania Twain at a private ceremony in Las Vegas. Reid also received $10,000, which he will put toward his post-graduate studies. He is currently pursuing a master's degree from Chicago's Vandercook College to add to his bachelor's degree in music education from UVic. Reid has been teaching at Vancouver Technical Secondary School for the past seven years, and the students will receive an additional $10,000 in instrument inventory as part of the CARAS award.
Photograph by: AEG Live
School of Music program links: Education
Amy Wood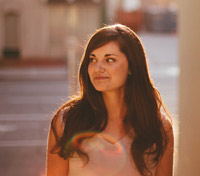 CBC's Searchlight competition for "Best New Canadian Artist" is in its third round of voting, and School of Music alumna, Amy Wood (B.Mus '12), has earned a position in the top five for the Victoria region. You can help Amy make it to the next round by voting (once per day until round three of voting ends on March 7, 2013 at 11:59 p.m. ET) and check out the other finalists on the CBC website. While at UVic, Amy studied voice with Benjamin Butterfield, but started playing and singing at the piano at a very young age. She now describes songwriting as an "obsession." "I can't not write and lately it hurts not to sing for others," describes Wood. She is currently planning the release of an EP as well as a full-length album and is also in the midst of covering song requests in her Sunday 'Request Booth' on youtube.com/amywoodsings.
School of Music program link: Performance
Jill Wiwcharuk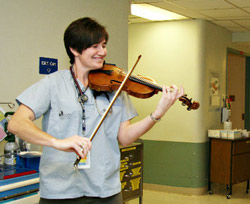 School of Music alumna, Dr. Jill Wiwcharuk, was recently profiled in the Brantford Expositor for her unique musical contributions to the hospitals in Brantford and Hamilton, Ontario where she now works. Musician turned physician, Wiwcharuk's compelling story of her world travels and career shift are highlighted in the article. One of her patient's relays the story of hearing Wiwcharuk play the violin while she lay in the emergency room just a few days before Christmas. "The song was 'Away In A Manger' and right away patients looked up and a sense of calm began to settle among us," describes the patient.  Although Wiwcharuk's focus is in the medical field, she still keeps in touch with her music. "The fiddle tunes tend to lighten the atmosphere and get patients toes tapping," says Wiwcharuk. Read the article here.
School of Music program link: Performance
Fall 2012
Nicholas Fairbank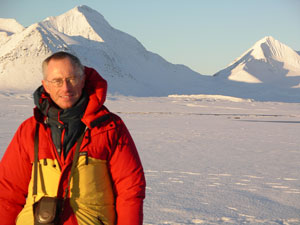 Nicholas Fairbank (M.Mus '05) has just returned from a residency in the Arctic. With 25 other artists from around the world he spent two weeks sailing in a tall ship around the Svalbard archipelago north of the Arctic Circle. During his time there he worked on a large choral composition which will be performed in Victoria in November 2013 by five local choral groups. The piece is designed to be performed in a large hall, reflecting the wide open spaces of the far north, and is based on poetry of Robert Service and Marcus Lund (one of the writers on the program).

Nick writes: "It was a tremendous privilege to be invited to participate in this program. Travelling together in the High Arctic and having the opportunity to collaborate with the other musicians, visual artists and writers was the opportunity of a lifetime." To see his online journal go to http://www.fairbankmusic.ca/AC2012.html.
School of Music program link: Composition
Daniel Brandes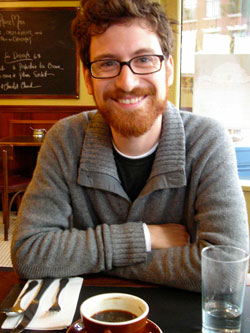 From January to June 2012, Daniel Brandes (M.Mus '10) was one of three young BC composers to participate in the second Canadian Music Centre/Canadian League of Composers Emerging Artist Mentorship program. As part of this professional development residency two new commissioned works were performed, including somewhere and somewhen: for laura, composed for the Reshift Music Society, premiered by Ethos Collective at the Vancouver Art Gallery. With assistance from the Canada Council for the Arts and the BC Arts Council, Brandes travelled to Düsseldorf Germany this summer for three weeks of intensive study with composer Antoine Beuger. During that time he had two works performed as part of the KLANGRAUM 2012 concert series including the European premiere of for Benjamin for solo tuba, performed by Max Murray (B.Mus '10).
You may have a chance to hear some of Brandes work performed in Victoria as part of his latest experimental listening series A Place to Listen. The monthly series focuses on works by Wandelweiser composers and other fringe artists working with silence. The next concert on November 21st will feature works for solo piano by Jürg Frey, Taylan Susam and Christopher Reiche (M.Mus '08).
School of Music program link: Composition
Cairan Ryan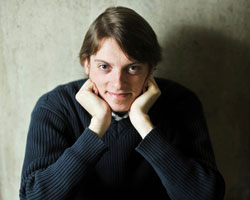 Baritone Cairan Ryan (B.Mus '08) recently begun training at the Atelier Lyrique de L'Opera de Montreal, and will be singing the Commissario in La Traviata on the main stage this September as well as in the Atelier Lyrique's Menotti double bill in March/April 2013, entitled "The Visitors." Cairan was a laureate of the Jeunes Ambassadeurs Lyriques in 2011 and 2012, and a recipient of the Alberta Foundation for the Arts Music Project Grant. Following his degree at UVic, Cairan completed a Masters of Music in Performance at the Guildhall School of Music & Drama as well as an Artist Diploma at the McGill University Schulich School of Music. He recently sang Pish-Tush and covered Ko-Ko in Gilbert & Sullivan's The Mikado at the Virginia Opera, as a member of the Emerging Artists at the Virginia Opera; Scotty McDonald in John Estacio's new Opera Lillian Alling at the Banff Centre, a co-production with Vancouver Opera; and Don Alfonso in Cosi fan tutte at the Green Mountain Opera Festival. Cairan credits Benjamin Butterfield, his voice instructor while at UVic, for setting him on the path to success: "He gave me so much confidence, and the right mindset to continue on when a lot seemed uncertain."
School of Music program link: Performance
Jeremy Potts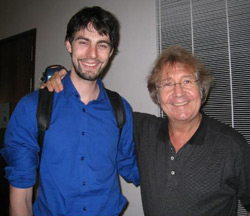 Violinist Jeremy Potts (B.Mus '12) spent a month this summer in Salzburg studying at the famous Mozarteum Summer Academy with instructors Igor Petrushevski and Pierre Amoyal. Jeremy was one of two fortunate UVic students to be awarded the Strauss Scholarship, making it possible for him to attend the program. Currently residing in Victoria, Jeremy will be a frequent member of the Victoria Symphony for its 2012/2013 season while working towards auditions for graduate studies abroad.
School of Music program link: Performance
Spring 2012
West My Friend
Victoria roots quartet West My Friend is not your ordinary folk band, and their upcoming CD release for their debut album Place will be no ordinary event. Members of the quartet include School of Music alumni Eden Oliver (B.Mus '08) and Jeff Poynter (B.Mus '11), as well as current School of Music students Alex Rempel (fourth-year) and Brian Anderson (second-year).  On the heels of their nomination for a Vancouver Island Music Award for "Song of the Year", the quartet will celebrate the release of Place, produced by Adrian Dolan (The Bills, Ruth Moody), on April 5th, 2012 with a community bike ride and performance.
As a means of raising awareness for Greater Victoria Cycling Coalition, West My Friend - along with an entourage of supporters they pick up along the way – will cycle from Fernwood Square to Hermann's Jazz Club shortly before taking the stage for their release show. The GVCC will receive one dollar for every admission to the event.
For more details about the event, which will also include a performance by School of Music alumni Carli & Julie Kennedy, visit the West My Friend website or Facebook page.
Their music, including the "Song of the Year" nominated Saturn Maybe, can be heard at http://soundcloud.com/jeff-poynter/saturn-maybe.
School of Music program link: Performance
Isaiah Bell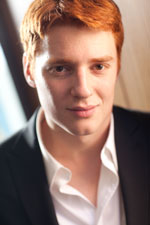 It is only a matter of time before tenor Isaiah Bell (B.Mus '08) sings his way to the international stage.  With performances described as "breathtaking" and "...chilling in their fervency and clarity" (Opera Magazine), Bell's reputation as a rising star is reaching far beyond his West Coast roots.  This year marks Bell's debuts with orchestra's across the continent, including l'Orchestre Métropolitain (Beethoven's Mass in C), Saskatoon Opera (Ernesto in Don Pasquale), Trinity Wall Street in New York (Evangelist in St. John Passion) and the Winnipeg Symphony Orchestra (Messiah), as well as return engagements with l'Orchestre Symphonique de Montréal (L'enfance du Christ), the Baldwin‐Wallace Bach Festival in Ohio (St. Matthew Passion) and the Choeur St‐Laurent, for Mozart's Mass in C Minor.  Bell will also revisit the Evangelist in Bach's St. Matthew Passion (with Ensemble Caprice, under Jordan de Souza) and sing his first Ferrando (Così fan tutte) with Jeunesses Musicales Canada. 
A former student of UVic's Benjamin Butterfield, Bell also trained at Calgary Opera's Emerging Artist Program, the Pacific Opera Victoria Young Artist Program, and the Universität Mozarteum in Salzburg, Austria.
Listen to Isaiah Bell singing Robert Schumann's Mondnacht, Op 39, No. 5 on the City Opera Vancouver's podcast.
School of Music program link: Performance
Carli and Julie Kennedy
Victoria songstresses Carli and Julie Kennedy (B.Mus '08) have been making their mark on the music scene with their unique country-folk sound. Nominated for a 2012 Vancouver Island Music Award for "Best Live Act", the duo recently arrived home to Victoria after an impressive Nashville debut. Performances included songwriter showcases at numerous Nashville venues, including the historic Douglas Corner and The Commodore, as well as a guest spot on Nashville's Balcony TV.  Representing Canada's Society of Composers, Authors and Music Publishers as the SOCAN Artist of the Month, Carli and Julie appeared on the Billy Block Show - second only to the Grand Ole Opry and Midnight Jamboree as Nashville's longest running live radio show and concert series - where they were accompanied by renowned musicians from Terri Clark's band.
For upcoming performances, and to listen to their 2011 EP, "Small Town Stories", visit their website.
School of Music program link: Performance
Winter 2012
Heather Roche
Although based in Cologne, School of Music alumna Heather Roche (BMus '05) continues to be a proponent of Canadian new music. After recently completing her PhD at the University of Huddersfield, the clarinetist premiered a work for bass clarinet and electronics by renowned Canadian composer Pierre-Alexandre Tremblay at CIRMMT (Centre for Interdisciplinary Research in Music Media and Technology). "Collaboration has been a huge part of my work," explains Roche, whose PhD research examined the role that dialogue plays in the creative collaborative relationship between the composer and the interpreter. "I'd like to think I always make a real effort when it comes to Canadian content," says Roche, who has worked with a number of young Canadians, including Sylvain Pohu, Alec Hall and Samuel Andreyev.
Roche maintains an active schedule as a performer and has played in some of the best festivals across Europe such as BachFest (Leipzig), musikFest (Berlin), the Huddersfield Contemporary Music Festival, Agora (IRCAM, Paris), and musica nova (Helsinki). She has performed with various ensembles including musikFabrik and has already had over a dozen appearances with her new sextet, ensemble handwerk. "We are interested primarily in giving second performances of interesting new works," says Roche of the group that occasionally performs on unusual and handmade instruments.
Additional successes this year includes a collaboration with Japanese composer Chikako Morishita, who has composed Lizard(shadow), for solo clarinet. With their first collaboration a success, the pair has some big plans for the future, anticipates Roche. "We're now planning a larger installation work that we're hoping will be featured in the Tokyo Wonder Site in 2013."
School of Music program link: Performance
Ana Alvarez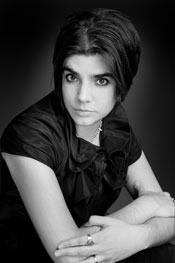 Ana Alvarez (MMus Conducting '09) will be making her Carnegie Hall debut in February 2012 as part of the Transient Glory Symposium presented by the Carnegie Hall Choral Institute and the Young People's Chorus of New York City. Alvarez will be paired with Chinese composer Bright Sheng for an in-depth study of a recently composed work for young voices.
Alvarez's experience with choral conducting began in Colombia where she founded Anita y el Coro Sound and directed the group for two years. During her graduate studies at UVic, she continued to gain experience conducting the School of Music's ensembles under the mentorship of Dr. Gerald King, Dr. Bruce Moore, and János Sándor. Alvarez is deepening her knowledge of conducting as a DMA student at the University of Toronto, where she is conductor of the U of T Women's Chorus and a member of MacMillan Singers. Her research focuses on authentic performance practice of Latin American music and she will be soon be participating at the TMC's Choral Conducting Symposium in late January 2012 in Toronto.
School of Music program link: Performance
Fall 2011
Betty Waynne Allison
Betty Waynne Allison (BEd & BMus '05) soprano, is back in town! A graduate of both the UVic education program and the music education program, she is now a leading lady with Pacific Opera Victoria taking on the role of Mary in the upcoming world premiere of Mary's Wedding by composer, Andrew MacDonald. "It's wonderful to be back; it's home and that is a special feeling in this business...Since day one POV has been a supporter of mine and I feel honored that they are taking this chance on me. We all believe in this show and it is rare to be afforded the opportunity to create a brand new opera character."
Throughout her studies at UVic, opera certainly wasn't Betty's focus. "While at UVic I never dreamed or even thought about being a professional singer. My focus was on learning to play all the band instruments and education technique rather than learning performance techniques."
Now a full-time opera singer, Betty's career is taking off. She is an alumna of the Canadian Opera Company Ensemble where her roles included Fiordiligi (Così fan tutte), Donna Anna (Don Giovanni), Tatyana (Eugene Onegin), and Rusalka (Rusalka). She performed the Countess (Le Nozze di Figaro) with the Centre for Opera Studies in Sulmona, Italy, the title role in The Cunning Little Vixen in a new production at the Banff Centre, the First Lady in the COC's The Magic Flute and Alice in Falstaff with L'Opéra-Théâtre de Metz Métropole, France. Next spring she takes on the title role in Susannah with Florentine Opera.
School of Music program link: Performance
Jonathan Andrew Govias
Jonathan Andrew Govias (BMus '98) returned to UVic on October 31 as a guest lecturer lecture to talk about his work as a conductor, educator, and consultant for el Sistema, a publicly financed voluntary sector music education program in Venezuela. Govias has written articles on el Sistema pedagogy, philosophy and practices that have been published internationally in leading periodicals and magazines. Since 2010 he has given keynote addresses in London (UK), Canada, Brazil, and South Africa on various aspects of el Sistema theory and practice.
Since graduating from UVic, Govias has been the successful recipient of several prestigious fellowships including the Abreu Fellowship at New England Conservatory. As a conductor he has studied with Janos Sandor, Kurt Masur, Marin Alsop, Gustav Meier and Pinchas Zukerman, and has worked with leading symphonies in North American and Europe, including a 2009 debut with Canada's National Arts Centre Orchestra.
School of Music program links: Performance & Education
Anna Höstman
Anna Höstman (MMus '05) was in Victoria this October for the premiere of a new orchestra piece commissioned by the Victoria Symphony. Emily's Piece, performed by the Symphony as part of a Victoria-wide collaborative celebration of the life and work of Emily Carr, is a four-movement orchestra work based on a quartet of Carr's paintings from the mid-1930s.
Currently pursuing her doctorate at the University of Toronto, Höstman is regularly commissioned to write new works for Canada's leading musicians and ensembles. Upcoming premieres include two pieces for baritone and piano based on the works of Swedish poet Tomas Tranströmer for Peter McGillivray, an accordian solo for Ina Henning, a short opera scene for the Toronto New Music Festival, a work for two pianos for the Pendulum Ensemble, a flute and piano duet for Tiresias, and a Baroque flute solo for Emma Elkinson. She is also researching material with Dylan Robinson and Marion Newman for an inter-media work exploring the relationship of the Nuxalk Nation with the Norwegian settlers in the Bella Coola Valley in the 1900's for Toronto's Continuum Ensemble.
School of Music program link: Composition
Cassandra Miller
Cassandra Miller (BMus '05) was awarded the 2011 Jules Léger Prize for New Chamber Music from the Canada Council for the Arts for her composition, Bel Canto. The work, composed for mezzo-soprano and two simultaneous ensembles, was premiered in May, 2010 at the Chapelle historique du Bon-Pasteur in Montreal by Ensemble Kore. Of Bel Canto Miller said, "A very long afternoon moment reminded me that life is warm and slow and completely full of strange potential. The piece is simply a dedication to that idea, and to the friend who made that (and many other moments) possible for me. The music exists to create a space in which the listener can make connections, see details, stop listening and start again, can come and go with the various elements of the sound." You can listen to Bel Canto and read the complete news release here.
School of Music program link: Composition
Paul Beauchesne
Victoria Symphony principal tubist, Paul Beauchesne (BMus '88), is the 2011 recipient of the Distinguished Alumni Award for Fine Arts. The award, granted to eleven leading members of UVic's Alumni community each year, recognizes professional achievements and community leadership. Beauchesne, who studied at UVic under famed tubist Eugene Dowling, is the founding member of the Beacon Hill Brass Quintet, serves as Department Head at the Victoria Conservatory of Music, and has performed with the Victoria Symphony for the past seven years.
School of Music program links: Performance & Education
David Cecchetto
In 2010, David Cecchetto (MMus '04) received his Interdisciplinary PhD from the University of Victoria and, upon receiving his degree, was awarded a 2010 Governor General's Gold Medal (the highest academic honour the University can bestow on a graduate student) as well as the 2011 CAGS/UMI Distinguished Dissertation Award (granted by the Canadian Association of Graduate Studies to the top Canadian dissertation in the fine arts, humanities and social sciences category for 2011). Assistant Professor of New Media History and Criticism at OCAD University in Toronto, Cechetto's innovative and groundbreaking research which critiques constructions of technological posthumanism, has made a hugely influential contribution to posthumanist thought.
School of Music program link: Composition
Anna Atkinson
Anna Atkinson (BMus '08) recently released her first solo album with the curious title Mooniture (a word invented by Atkinson to describe furniture made from pieces of the moon). Referred to as a "one woman band", Atkinson composed all of the songs, sings and plays most of the instruments, including accordion, viola, banjo, and piano. She performs regularly in the Toronto area, and is planning a West Coast tour this November. A sample of tunes from her album can be heard on her website.
School of Music program link: Performance
Learn about...