News & Highlights
For the latest School of Music news, please visit our blog.
Fall 2015
Fall Faculty Appointments


The School of Music is pleased to announce the appointment of its latest faculty members, Dr. Joseph Salem and Dr. Suzanne Snizek.

The School of Music is pleased to announce the appointment of its latest faculty member, Dr. Joseph Salem. Dr. Salem comes to us from Yale University, where he completed a doctoral degree with a dissertation on Pierre Boulez. Originally from Cincinnati, Ohio, Joseph Salem studied piano at the University of Cincinnati College-Conservatory of Music, and holds a BM in Piano from the University of Texas at Austin and an MA in Music Theory from the University of Wisconsin-Madison. As a lover of new and old traditions, Joseph pursues topics at the boundaries of the musicological discourse: musical/intellectual history, analytical studies of post-Wagnerian music and writings, semiotics, music aesthetics, and hermeneutic trends in the arts. Read more about Salem on the Artsy Type blog.


Dr. Suzanne Snizek received her undergraduate degree in flute performance at the University of Indiana-Bloomington. While an undergraduate student she was a winner in the national "Flute Talk" Magazine Competition. Her Master degree (in flute performance) was completed at University of the Arts (Philadelphia) where she studied with Julius Baker. After serving as Senior Lecturer in flute at the University of the Arts- Philadelphia, Dr. Snizek relocated to British Columbia and taught flute at Trinity Western University and Douglas College Community Music School. She received her DMA in flute at UBC in May 2011, and is currently an assistant professor in music (flute) at the University of Victoria.


Gordon Mumma & Michelle Fillion


School of Music Adjunct Faculty member, Gordon Mumma's book, Cybersonic: Arts
Adventures in American New Music, was recently published by the University of Illinois Press. The book, edited by School of Music Musicology Professor, Dr. Michelle Fillion, is a collection of Mumma's writings from every stage of his career, chronicling seminal events in the musical world of the twentieth century including his cofounding the Cooperative Studio for Electronic Music; his role in organizing the ONCE Festivals of Contemporary Music; performances with the Sonic Arts Union; and working alongside John Cage and David Tudor as a composer-musician with the Merce Cunningham Dance Company.


Alexander Dunn

School of Music guitar instructor Alexander Dunnwill be guest teaching and performing at the Beijing Central Conservatory in October. Dr. Dunn was invited by the Conservatory, which boasts one of the top classical guitar programs in the world. He will be teaching two masterclasses and playing a solo recital as part of an exchange between UVic's guitar department and Beijing's Central Conservatory.


Christopher Butterfield


Composition Professor Christopher Butterfield's new piece Canter, commissioned by the Victoria Symphony for its 75th anniversary, received its premiere on Monday Sept. 21 at 8pm in the Royal Theatre. Click here to read Butterfield's description of the piece.

In other news, Butterfield translated three plays by French dada writer and artist Georges Ribemont-Dessaignes (1884–1974). The works include The Emperor of China (1960), The Mute Canary (1920), and The Executioner of Peru (1928) and were published earlier this year by Wakefield Press.
Summer 2015
Remembering Gene Dowling


The School of Music mourns the passing of an inspirational teacher, invaluable colleague and dear friend: professor Eugene Dowling. Following a 2013 diagnosis of prostate cancer, Dowling passed away at his home on June 30 with his family and close friends at hand.
An inspirational mentor to more than one generation of students, Gene Dowling worked in the School of Music for 39 years before retiring as a Teaching Professor in 2014. He was well known locally for his 35 years leading the annual Tuba Christmas ensemble which raised thousands of dollars for local charities. "He was a devoted and insightful instructor, often offering extra hours of teaching and mentoring to his students," recalls fellow professor and School of Music Acting Director Harald Krebs. "The many successes of his students worldwide honour his legacy. He will be sorely missed by the many in whose lives he made a difference." Read on


SALT 2015

From July 23 – July 27, the 2015 SALT New Music Festival and Symposium took place in Victoria, BC. The Festival's host ensemble, Tsilumos Ensemble, featuring the School of Music's Ajtony Csaba, Joanna Hood, and Dániel Péter Biró, was pleased to collaborate with the internationally acclaimed vocal ensemble Neue Vocalsolisten (Stuttgart, Germany), flautist/composer Sylvie Lacroix (Vienna, Austria), Kirk McNally (Victoria, BC) and Cathy Lewis (Victoria, BC). New works by Canadian and international composers Charles-Antoine Fréchette (Montreal, QC), Annesley Black (Ottawa, ON), Justin Christensen (Langley, BC), Dániel Péter Biró (Victoria, BC), Linda Catlin Smith (Toronto,ON), Felipe de Almeida Ribeiro (Brazil), Marcílio Onofre (Brazil), Georg Friedrich Haas (Austria/USA), Samir Odeh Tamimi (Israel/Germany), György Kurtág (Hungary), Tatjana Kozlova-Johannes (Estonia), Robert Hansler (USA), Zaid Jabri (Syria) and others were presented in the program. Lectures, masterclasses and lessons were held at the School of Music. For more, read here...


Patricia Kostek

Clarinet Professor Patricia Kostek was invited to participate as Jury Member for the final round of the 2015 International Clarinet Association Young Artist Competition which took place in Madrid, Spain. The competition was held on July 24, during the annual conference of the International Clarinet Association. The panel consisted of judges from Italy, Spain, U.S.A., with Patricia representing Canada. Winners of the competition were from China, Portugal and Spain. Patricia has previously adjudicated competitions in Paris, Ghent, Buenos Aires and Rio de Janeiro. She also serves the ICA as national chair, representing western Canada.


Winter 2015
Adam Con
Music Education instructor, Dr. Adam Con, spoke about his practice and research in a Dean's Lecture on February 13 at Victoria's Central Library. Hosted by UVic Continuing Studies, his presentation—The Three Components of the Golden Elixir: Mirror Neurons, Tai Chi Chuan and Choral Singing—explained how he combines and applies these three elements to provide a powerful elixir fostering a better quality of life. Read more about Con's research on the Artsy Type blog.


19th-Century Women Composers of Song
Josephine Lang was one of the most prolific and widely published song composers of the nineteenth century, yet her life and works are virtually unknown. School of Music theory professor, Dr. Harald Krebs, along with his wife, soprano and scholar, Sharon Kreb's have researched and written extensively on her music. In honour of the 200th anniversary of her birth, the Krebs' organized a workshop-conference dedicated to 19th-century women composers of song on February 21-22.
Leading scholars and members of the Society for Music Theory presented their research, including UVic theory professor, Dr. Laurel Parsons, who delivered a keynote lecture. A highlight of the conference included a concert that brought together faculty, alumni and students from the School of Music, faculty from the Victoria Conservatory of Music, and the UVic Chamber Singers.


Kirk McNally and the Emily Carr String Quartet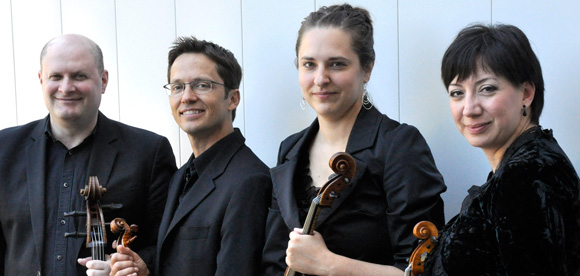 When Black Angels was premiered in Michigan in 1970, it was described as "one of the most important events of the season." Kirk McNally, audio specialist at the School of Music, recently dug up the original program for George Crumb's electric string quartet, as well as newspaper reviews from the premiere, in his preparation for the Jan. 29 performance of Black Angels by the Emily Carr String Quartet (ECSQ). Inspired by the Vietnam War, the eerie and atmospheric piece calls upon the musicians to play their instruments in many unusual ways—including trilling on the strings with thimble-capped fingers—as well as to whisper, chant, shout and play percussion instruments such as maracas, tam-tams and water-tuned crystal goblets.

"We are doing a proper version of the quartet using equipment that is the contemporary equivalent of what was used in the premiere," explains McNally. "The recording from the premiere is still on reel-to-reel tape, so unfortunately it won't be available as a reference."

Featuring local residents Müge Büyükçelen and Cory Balzer (violins) as well as two UVic alumni, violist Mieka Michaux (BMus '98) and cellist Alasdair Money (MMus '03), the ECSQ will also perform works by Shostakovich, Osvaldo Golijov and alumna Cassandra Miller (BMus '05).


Harald Krebs and Dániel Péter Biró
A recent publication, The String Quartets of Béla Bartók: Tradition and Legacy in Analytical Perspective, edited by School of Music's Harald Krebs and Dániel Biró, received an extensive review in the Winter issue of Chamber Music America magazine (p.48-50). The book, published by Oxford University Press, grew out of an interdisciplinary workshop on Bartók's quartets at the School of Music in September 2008.


Concerto Winner: Keenan Mittag-Degala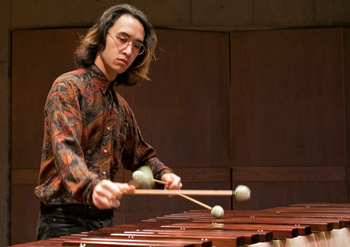 Fourth-year percussion performance major, Keenan Mittag-Degala, will perform Ney Rosauro's Concerto for Marimba and Strings with the UVic Orchestra on Friday, January 30. A winner of the School of Music's annual Concerto Competition, the Seattle-born musician has a background in a variety of musical styles on multiple instruments, from jazz drums, to folk guitar, and classical piano and percussion. Read an interview with Keenan in the School of Music's e-Pusle newsletter.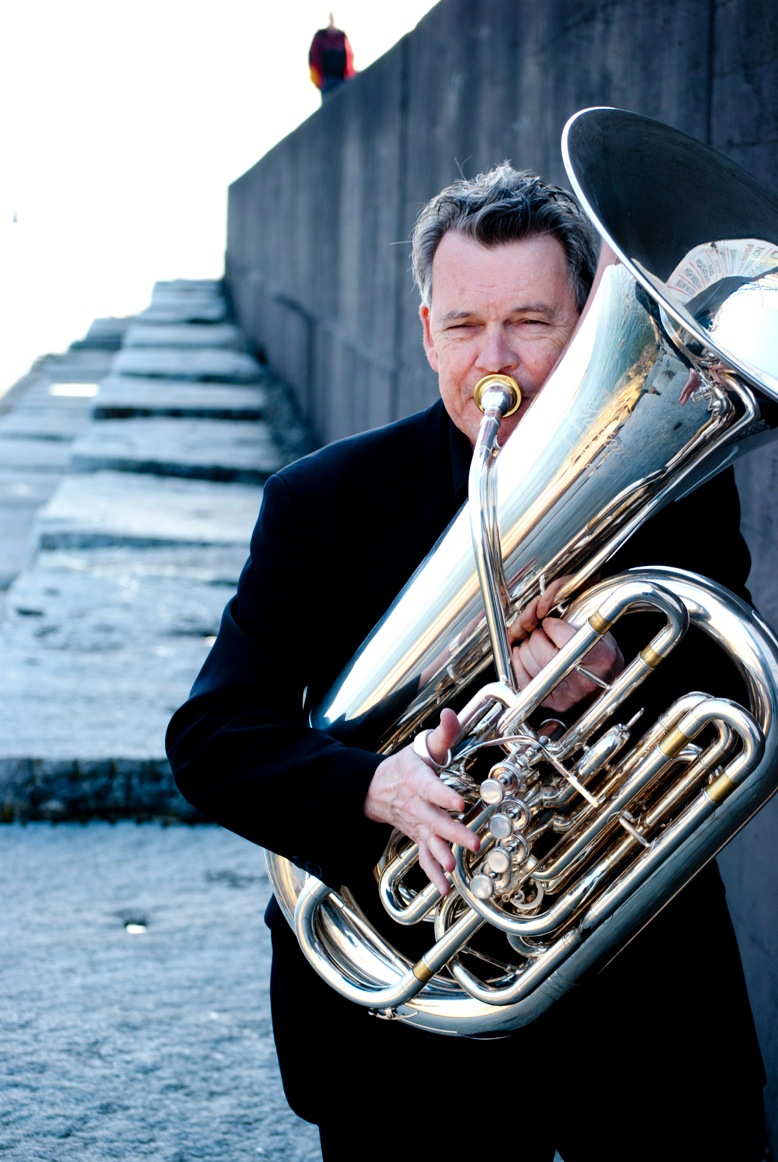 Eugene Dowling: Endowing the Gift of Music
How do you cap a life spent in music? By investing your legacy in future generations. That's what beloved School of Music brass professor Eugene Dowling is doing with a special January 11 concert inaugurating the Eugene Dowling Scholarship for Tuba and Euphonium. Not only will this kick off fundraising efforts for the scholarship itself, but the concert will also tie together Dowling's friendships, musical life and his years performing in both the School of Music and the greater Victoria community. Read on...

Donations to the scholarship can be made here using this online donation form.


Louis Ranger: A Life in Music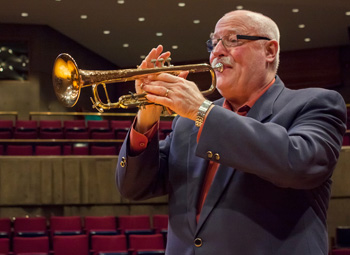 For School of Music professor and trumpeter, Louis Ranger, the Faculty Chamber Music concert on January 10 marked a double milestone–—36 years of teaching at the School of Music as well as his forthcoming retirement. Featuring many colleagues, alumni, and current students including Benjamin Butterfield, Anne Grimm, the Lafayette String Quartet and the UVic Chamber Singers, the concert showcased some of the music that inspired Ranger the most throughout his lifetime. The full-house concert concluded with a surprie performance by nearly thirty of Ranger's current and former trumpet students. Read more here.

Hold the Phone: Goodbye muzak, hello Beethoven
Getting put on hold at UVic just became a bit more pleasant, thanks to School of Music professor Andrew Schloss and the Lafayette String Quartet. Tired of listening to the muzak that UVic had been using, Schloss "went on a bit of a crusade" to replace it with something that actually features the School of Music.
"It was this absolutely abominable stuff—the kind you hear when you're on hold with an airline," says Schloss. "It put me in a bad mood every time I heard it." His "crusade" to replace the music with UVic Systems took the better part of two years, but callers across campus will now hear a five-minute excerpt from a live performance of Beethoven's Opus 18 No. 3 in D Major performed by the Lafayette String Quartet. "It is Beethoven, but over the phone it actually sounds a bit like the Mexican Hat Dance," chuckles Schloss.


Fall 2014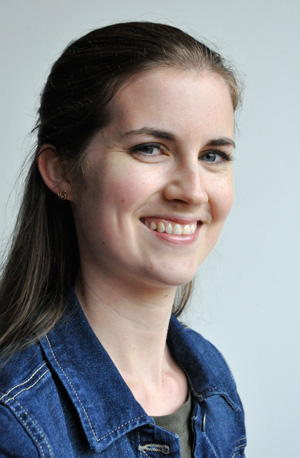 Concerto Winner: Elizabeth Clarke
As one of the three winners of the School of Music's annual Concerto Competition, pianist Elizabeth Clarke will perform Brahms' Piano Concerto No. 1 in D minor with the UVic Orchestra on November 29.
Originally from Fort McMurray, Alberta, Elizabeth is currently completing her M.Mus in piano performance under the direction of Professor Arthur Rowe. Before arriving at UVic, Elizabeth studied piano with Milton Schlosser at the University of Alberta's Augustana Campus where she was one of three 2013 undergraduates to receive the presigious Governor General's Silver Medal. Read more here.

Lafayette String Quartet
Distinguished musicians and artists, the Lafayette String Quartet, Artists in Residence at the University of Victoria, with Alexander Tselyakov, Professor at Brandon University, released a new CD of two piano quintets by famous Russian composer, Dmitry Shostakovich and well-known Canadian composer, Kelly-Marie Murphy.
Murphy's quintet, In a World of Motion and Distance, was commissioned by the Pender Harbour Chamber Music Festival to celebrate their 10th anniversary in August 2014. It was written for Alexander Tselyakov and the Lafayette String Quartet.
"The initial catalyst for the piece (In a World of Motion and Distance) was in drawing parallels between the creative process and the annealing of glass and metal " Murphy wrote of her composition.
Stay tuned for details regarding a CD release concert in 2015!

Tsilumous Ensemble


The School of Music was well represented at the Symposium of New Music and Computer Music (SiMN 2014) in Curitiba, Brazil this past September. Ensemble Tsilumos, the new music group formed by School of Music faculty Joanna Hood, Ajtony Csaba, and, Dániel Péter Bíró, with Kris Covlin, was in residence at the symposium to present a concert, reading session, masterclasses, and a lecture.
In concert in the picturesque Capella Santa Maria, with new pieces from Takasugi, Ullivelli, Bíró, and Frechette, Tsilumos also performed the world premiere of Alhures, composed by School of Music alumnus Felipe de Almeida Ribeiro (M.Mus '08), currently professor of composition the State University of Paraná – EMBAP.

Dániel Péter Biró

Dániel Péter Biró is spending the 2014-15 academic-year at Harvard University's Radcliffe Institute for Advanced Study, thanks to the prestigious Fellowship he received—a first for the University of Victoria. Biró's tenure at Harvard will be spent not teaching but completing a seven-part, three-hour composition cycle he has been creating since 2003. "It's called Mishpatim, which means 'laws'. It's all coming from an archaic Hebrew text, and will involve large ensemble, voice, piano and electronics," explains Biró. Read more about this work at Artsy Type.

Summer 2014
School of Music Launches New Degree
Over the past few years, the School of Music's string faculty has been working with the university to establish a program for young musicians to study intensively—not as individual artists, however, but as a quartet. We are now proud to announce the launch of the Masters Degree Program in String Quartet Performance—a first in Canada.
While there are other institutions where individual musicians can earn graduate degrees in string performance, UVic is now the first Canadian degree-granting institution to offer a Masters with a string quartet emphasis. This new program will allow previously formed quartets the opportunity to study both as a group and individually with the Lafayette String Quartet, UVic's acclaimed Artists-in-Residence.
Read the full story at Artsy Type
More about the program

Lafayette String Quartet
The Lafayette String Quartet has a busy recording session ahead of them this summer, thanks to the August release date set for their world premier recording of Piano Quintet by Canadian composer Kelly Marie-Murphy, featuring pianist Alexander Tselyakov. Marie-Murphy was commissioned by the Pender Harbour Chamber Music Festival to compose a piano quintet for Alexander (the festival's artistic director) and the LSQ in celebration of the festival's 10th anniversary. As a bonus, the CD will also feature the Shostakovich piano quintet. The LSQ will perform the world premier of Marie-Murphy's quintet at the fest in August, where they will also launch the CD.
The busy quartet will be in Ontario for a large part of the summer performing in Leith, Waterloo, Ottawa, and the 35th annual Festival of the Sound in Parry Sound. Just by way of showing the range of works they'll be tackling this summer, their lineup of composers includes Murray Adaskin, Fanny Hensel-Mendelssohn, Benjamin Britten, Beethoven ("Op. 95 String Quartet and the 9th Symphony with a smash-up band organized to celebrate the 35th anniversary of the Festival of the Sound," says the LSQ's Ann Elliott-Goldschmid), Alberto Ginastera, Felix Mendeslssohn, Luigi Boccherini, Arthur Foote, Rebecca Clarke, Joseph Haydn, Tchaikovsky, Mozart, Dmitri Shostakovich (quartet and piano quintet), and Ernst Chausson.
Dániel Péter Biró
As well as preparing for his prestigious Fellowship from the Radcliffe Institute at Harvard University in 2014/15, School of Music professor Dániel Péter Biró will have his new composition Al Ken Kara (That Is Why It Was Called) performed on July 26 at the Teatro Fondamenta Nuove in Venice, Italy. This piece was originally composed as part of the Mediterranean Voices film project. In addition, the book The String Quartets of Béla Bartók: Tradition and Legacy in Analytical Perspective that he co-edited with fellow School of Music professor Harald Krebs, has just been released by Oxford University Press.
Susan Lewis Hammond
School of Music director Susan Lewis Hammond is cracking the books this summer—her own book, that is. "I'll be finishing a textbook titled Baroque Music: History, Culture, Performance—forthcoming with Routledge in 2015″, she says. On top of that, she'll be presenting on a panel "on the value of a Bachelor of Music degree" at Congress 2015 at Brock University, and traveling to do research at the University of Toronto.
Beyoncé Course a National Headline
The School of Music's new course, Beyoncé, gained national media attention with a string of articles, blog posts and radio interviews. Instructor Melissa Avdeeff spoke with The Globe and Mail about what the course and her response to some of the criticism it has received. She explains that the class goes beyond watching videos and listening to music and offers "a way to develop a framework to understand why and how we listen to popular music and its role in society." In another article from The Province, School of Music Director, Susan Lewis Hammond, speculates that the course is so popular with students because they "look for courses that address issues of relevance to them. The course will help them understand their own relationship to music, media and technology." Originally capped at 70 students, the class, which starts in January, has reached its new capacity of 100 students.
You can follow the course on Twitter at @UVicBeyonce
Patrick Boyle
Patrick Boyle will be one of the guest artists at the Tuckamore Festival in St. John's Newfoundland, which runs from August 4-17, 2014. Since 2001, the festival has provided opportunities for young artists to mentor with world-class musicians, participate in workshops and performances, and attend concerts. Boyle will lead workshops in improvisation and spontaneity as well as give a late-night jazz performance.
Quartet Fest West
The popular summer intensive workshop, Quartet Fest West, returned to UVic for two weeks in June. Attracting participants from across Canada, the US and Italy, the festival of concerts, workshops and coachings was hosted by UVic's beloved quartet-in-residence, the Lafayette String Quartet.
Participants and the public had the opportunity to soak in the host quartet's prowess in a concert on June 18. Performing works by Boccherini, Shostakovich and Mendelssohn, the Lafayette String Quartet shared the stage with David Ellis, cellist of the Alcan String Quartet (guest coaches of the festival from Chicoutimi, Québec).
The festival culminated in a student concert on June 20 featuring chamber groups made up of Quartet Fest participants.
Spring 2014
Suzanne Snizek
Suzanne Snizek's chapter, The Abyss and the Berries, was recently published by Université Paris Ouest in the book La captivité de guerre au XXe siècle - Des archives, des histoires, des mémoires. The collection of essays were presented at the conference entitled 'The Impact of Nazism on Twentieth-Century Music' in April 2008 at the University of London's Senate House.
Snizek's essay looks at the music of Austrian born composer Hans Gál, in particular his "Huyton Suite," composed with instruments that were available in the camp which he was interned. Snizek concludes that "it is in Hans Gál's internment period compositions that one finds a unique portrayal of the collective internment experience."
Harald Krebs
School of Music theory professor, Harald Krebs, was recently awarded the Craigdarroch Award for Excellence in Artistic Expression. Recognized internationally as an expert on musical meter and rhythm, especially in 19th-century German art song known as Lieder, Krebs was named a UVic Distinguished Professor in 2010. He has produced award-winning publications as well as many articles and collaborative performances fusing scholarship and musical practice. Krebs is active as a pianist and performs frequently in collaboration with Sharon Krebs. The duo present the recital series Lieder at Lunch at the School of Music, which Sharon and he founded in 2001.
The Craigdarroch Research Awards were established in 2003 to recognize outstanding research-focused and creative contributions at UVic. They were named for Craigdarroch Castle, the estate that was once home to UVic's predecessor institution, Victoria College, from 1921 to 1946.This year's four Craigdarroch Research Award recipients will be honoured at an evening ceremony on May 1.

More on this story


Music Student and Alum Compose for Local Theatre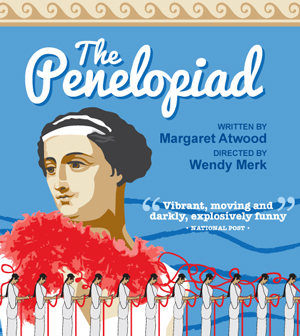 The Langham Court Theatre's upcoming production of the stage-adaptation of Margaret Atwood's The Penelopiad, will feature new, original music by Ivana Jokic (MMus '13) and 4th year School of Music student, Liam Gibson. A re-imagining of Homer's Odyssey from the perspective of Odysseus's wife Penelope, The Penelopiad will run from April 24 to May 10 in Victoria. Since taking on the project this past September, Jokic, who currently resides in Ontario, and Victoria-based Gibson collaborated on the score, each taking on various scenes independently while combining their thematic material in others. Jokic has found the process of writing for theatre very exciting and rewarding. "This is my first composition that I wrote outside of a school or workshop environment," explains Jokic. "It feels great to finally take part in the real world!" Jokic and Gibson discuss their collaboration in this Victoria News article.
Patrick Boyle
Trumpet and jazz instructor, Patrick Boyle, appears in the animated film short, 54 Hours, which recounts the 1914 tragedy off the coast of Newfoundland in which 132 seal hunters were stranded on the ice during a severe snowstorm. 78 men lost their lives in the ordeal. Produced by the National Film Board of Canada, Boyle brings horns and lap steel to the ensemble to help create the mood and sound effects that are as inventive as the film's shadow pupperty and animation. The making of the music is described in this short video clip.
UVic Hosts American Musicological Society Meeting
The School of Music hosted the Meeting of the Pacific-Northwest Chapter of the American Musicological Society on March 29-30. The 2-day conference featured a book sale hosted by Musicological Explorations—the School of Music's graduate student journal—as well as a celebratory book launch of The String Quartets of Béla Bartók: Tradition and Legacy in Analytical Perspective, edited by the School of Music's own Daniel Péter Biró and Harald Krebs. In addition to the many papers presented, Sharon and Harald Krebs gave a lecture-recital on The Hollywood Elegies of Hanns Eisler and Bertolt Brecht.
Ligeti Festival
Sonic Lab, the School of Music's contemporary music ensemble, participated in the Victoria Ligeti Festival, sponsored by the Victoria Symphony. The series of four concerts from March 21-29 honoured works spanning more than 40 years of the Hungarian composer's career. With special guest violinist, Müge Büyükçelen-Baden, Sonic Lab gave a "stunning" and "mesmerizing" performance of Ligeti's Violin Concerto. The concerto exemplifies the composer's late style: a fusion of avant-garde techniques and traditional conventions. Read Deryk Barker's review of the concert as well as this preview of the festival in the Times Colonist.
Media Briefs
School of Music instructor Colleen Eccleston was a guest on CFAX 1070′s "Cafe Victoria with Bruce Williams" show (unfortunately not archived online). Eccleston spoke about the recent anniversary of the Beatles appearing on The Ed Sullivan Show in 1964, and the impact they have had since that day 50 years ago. Music's Wendell Clanton was also featured on CFAX 1070 in February (but also not archived); both he and members of the UVic Vocal Jazz Ensemble were interviewed about their Singing Valentines fundraiser.
The UVic Wind Symphony and the Naden Band appeared on Shaw TV's Go Island South show in advance of their Naden Scholarship fundraiser concert on February 7. Also in the brass department, congratulations go out once more to School of Music professor emeritus Ian McDougall on his latest Juno Award nomination! His album The Ian McDougall 12tet LIVE is nominated for "Traditional Jazz Album of the Year."
The School of Music's new live streaming initiative also sparked this Times Colonist article about the pros and cons of digital content when it comes to audience impact. Concert Manager Kristy Farkas was interviewed, saying "she knows of no evidence suggesting that this program compromises attendance at UVic concerts." The TC's Kevin Bazzana quoted Farkas on how technology is "broadening our reach with the community" by allowing a student's family in another city to watch a graduating recital, for example.
Colleen Eccleston wins Rally Song contest


To the cheers of a tight game and the applause of a packed house, the winner of the School of Music / Vikes Nation Rally Song Contest was decided at the Vikes men's basketball game on January 10—and first prize went to the School of Music's own songwriting instructor Colleen Eccleston! With 18 submissions from across campus—including entries by students, faculty and administration alike—the top three finalists were performed live at half-time by fourth-year Music student and rising star Josh Lovell. It was a fantastic night for the School of Music in the McKinnon Gym, with the UVic Jazz Ensemble—led by Music professor Patrick Boyle—also getting in on the action by playing upbeat songs at both the women's and men's game. Click here to listen to Josh Lovell singing Eccleston's winning song, with a montage of photos from the January 10 event.

Read the full story on the Fine Arts blog.
A Week With Mahler
The School of Music had an ambitious first week back in January, thanks to a fascinating Week with Gustav Mahler. A combination of open rehearsals, lectures, listening rooms and a full faculty recital, Mahler Week earned a fair bit of media coverage.
The Times Colonist published a pair of articles about Mahler Week. As TC arts writer Amy Smart noted, "One doesn't simply say, 'Hey, let's play Gustav Mahler's Das Lied von der Erde,' on a whim. The large work not only requires a certain number of trained musicians, but a level of commitment to learning the complex rhythms, especially when performed in a chamber arrangement without a conductor." Smart then speaks to both Music faculty members Benjamin Butterfield and Alexandra Pohran Dawkins in this article, who noted the concert could only come about because of the size of the School of Music's performance faculty—the largest in the country—and its emphasis on chamber music. "There aren't many schools that could pull this off," said Pohran Dawkins. "I won't say it exactly fell into place, but the timing was right and there's a lot of enthusiasm for the project. We're hoping it will be a bit of a splash."
Classical music columnist Kevin Bazzana also highlighted the final concert of Mahler Week—the faculty performance of Das Lied von der Erde (The Song of the Earth)—in his January 9 column. (Not available online, but can be read here in the article UVic pays tribute to Mahler.) Bazzana provided the fascinating history of the symphony as well as some insight into the specific arrangement the faculty were performing. As Benjamin Butterfield notes, "It is the ultimate chamber music piece."


Fall 2013
Christopher Butterfield
A fitting work for the Remembrance Day period, Christopher Butterfield's Convoy PQ-17 commemorates the tragic near-destruction of an Allied convoy by German forces in July 1942. This sensational requiem, which was performed by the Victoria Symphony with Maestra Tania Miller on November 10, features the renowned dance troupe Coleman Lemieux & Compagnie, the Victoria Philharmonic Choir, and a stunning set. Since its premiere by the Victoria Symphony 12 years ago, this piece received such high acclaim that it was brought back the following year and has been performed several times in Russia.
Rally Song Contest
The School of Music, in collaboration with Vikes Athletics, has launched the University's search for its first rally song. With a deadline of November 15, the judging panel will include School of Music Director Susan Lewis Hammond along with UVic president Jamie Cassels, Athletics Director Clint Hamilton, and gold medal-winning athlete Kendra Pomfret. Judging will occur in December, with the shortlisted songs being performed by noted tenor and the School of Music's Head of Voice Benjamin Butterfield and the UVic Jazz Ensemble at the Vikes Days of Thunder men's basketball game on January 10, 2014. The crowd at that game will also help decide which song will ultimately win. The winner will receive a $500 iPad courtesy of PepsiCo Canada, who is proud to partner with Vikes Nation and the School of Music on this school spirit initiative.
Visit the Artsy Type blog for contest rules and details.
Monumental Opera Debut for Music Student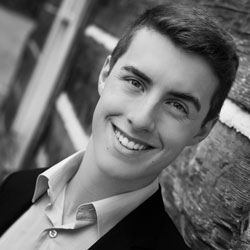 Fourth-year performance major, Josh Lovell, garnered high praise for his performance in Pacific Opera Victoria's recent production of Falstaff. As Times Colonist reviewer Kevin Bazzana noted, "tenor Josh Lovell, who plays Bardolfo, is still an undergraduate student, and that is scarcely believable—he seems fully at home among all these distinguished pros." While many School of Music students have performed in the POV chorus, and our alumni have been cast in many roles, Lovell is the first student to play a major role with the company.
Aldeburgh Connection
Members of the Order of Canada and the recipients of a Ruby Award from Opera Canada, the piano duo of Stephen Ralls and Bruce Ubukata (Toronto) made their first appearance in Victoria as the Aldeburgh Connection in a concert commemorating the 100th anniversary of the birth of Benjamin Britten. The duo gave a stunning performance to a full house on October 26 along with Daniel Taylor (counter-tenor), UVic's Benjamin Butterfield (tenor), Alexander Dobson (Baritone) and the UVic Chamber Singers (with Garry Froese, conductor). The concert can be heard on the School of Music's online Music Audio Archive for a limited time.
Lafayette String Quartet
The Lafayette String Quartet hosted Brahms, Bubbly & Brunch on October 6, a fundraising event celebrating the launch of Canada's first Masters degree program in String Quartet Performance. The sold-out event at the Inn at Laurel Point featured an exclusive champagne brunch with a special performance of Brahms' B flat Sextet, Op. 18 by the LSQ, renowned cellist Paul Katz and Yariv Aloni. Proceeds from this fundraiser contributed to UVic's Graduate String Quartet Scholarship Fund.
Summer 2013

Dániel Péter Biró
From August 1 to 18, composition professor Dániel Péter Biró joined the faculty of the Akademie Schloss Solitude (Stuttgart, Germany) for the International Masterclass for Young Composers. Sixteen composers were chosen to participate, including School of Music alumni Max Murray (BMus '10) and Robert Hansler (MMus '13). Over the course of the program, participants attended individual lessons, discussions, evening presentations, and heard their music performed in a final concert. The permanent faculty of the Academy includes Chaya Czernowin and Steven Kazuo Takasugi.
Benjamin Butterfield
Since his invitation eight years ago to teach at the Amalfi Coast Music & Arts Festival, Benjamin Butterfield attended the festival for the second time this summer. An American program based out of Washington, Butterfield is the sole Canadian on the faculty. Other institutions represented include Rice, George Mason, North Texas, Peabody and the Metropolitan Opera. The festival provides great opportunities to sing in Italy, soak up the language and culture, have the chance to work on a role and establish crucial contacts with other students and teachers for future studies.
While at the festival Butterfield also performed with Vlad Iftinca (Metropolitan Opera) in Sorrento as part of the festival's outreach program.
Seen in the photo is Butterfield with students from his studio, which included four UVic Music students. (L to R - Margaret Newcomb (Manhattan School of Music), Laura Miller, Ariel Boughen & Benjamin Butterfield (UVic), Caroline Brazelton (Stetson University), Leah Alfred & Christina Dennehy (UVic))
Kirk McNally
School of Music audio specialist and recording engineer Kirk McNally will be recording a CD project with adjunct faculty member Collin Tilney on harpsichord this summer, their fourth project together. McNally is also working on an online library of the school's concert recordings.
Benjamin Butterfield
The always busy performer and head of Voice Benjamin Butterfield has a full lineup of international activities this summer, including performing at the Aldeburgh Connection as part of Toronto's Britten Festival, singing with the Bach Choir of Bethlehem at the Pennsylvania Bach Festival, appearing with the American Classical Orchestra at New York City's Lincoln Center, plus appearances in Newfoundland, Edmonton, Vancouver and Italy.
Susan Lewis Hammond
New School of Music director Susan Lewis Hammond will be researching Claudio Monteverdi and music of the baroque period at the University of Toronto this summer, with the results appearing in two forthcoming books from Routledge Press: Claudio Monteverdi: A Research and Information Guide and Music of the Baroque: History, Culture, Performance.
QuartetFest West Returns
After a 15-year hiatus, QuartetFest West returned in 2013 with a new series of masterclasses & performances in the School of Music. Guests the Penderecki String Quartet united with UVic artists-in-residence Lafayette String Quartet and other guests to train the next generation of string quartets.
CUMS & Congress 2013
The 2013 Congress of the Humanities and Social Sciences was held on the University of Victoria campus from June 1-8. Thousands of academics, researchers, policy-makers, and practitioners gathered at UVic to share findings, refine ideas, and build partnerships through meetings, lectures, panels, presentations, concerts, and social events. As part of Congress, the Canadian University Music Society met for their annual association meeting at the School of Music from June 6-9. Chaired by the School of Music's Jonathan Goldman, highlights of the four days included a gala concert with School of Music faculty performers on June 6 and a concert of contemporary music featuring winners of the CUMS 2013 Student Composer Competition. The jury selected two outstanding works to share First Prize including UVic graduate, Robert Hansler's "Broken Branch" as well as André Mestre's "Zikr." Read more about this story on Artsy Type.
SALT New Music Festival
The annual SALT New Music Festival & Symposium returned at the end of May at both Open Space & UVic's School of Music. Created & hosted by the Tsilumos Ensemble, the festival integrates local & international performers to present performances of groundbreaking new music to Victoria audiences.
Spring 2013

The Krells
UVic's in-house analogue-digital electronic trio The Krells (John Celona, Kirk McNally, Dan Godlovitch) performed at Open Space in April, and were featured in this article in the local Times Colonist.
Symphony in the Library
While not exactly a flash mob, the UVic Symphony played a surprise performance this spring . . . in the McPherson Library! Fortunately, there wasn't a single "shush".
Music at IdeaFest
Two Music professors participated in this spring's IdeaFest Creativity panel: Jonathan Goldman and George Tzanetakis, of the Music & Computer Science program. They were speaking alongside Jennifer Stillwell (Visual Arts), Victoria Wyatt (History in Art) and Lee Henderson (Writing).
Jonathan Goldman
Music professor Jonathan Goldman performed his "L/Art de la Fugue: Bach & Piazzolla" at Le Fondation Arte Musica at Musee des Beaux-Arts in Montreal this spring.
Alumnus Mark Reid named Teacher of the Year
School of Music alumnus Mark Reid has been named teacher of the year by MusiCounts, the music-education charity associated with the Canadian Academy of Recording Arts and Sciences (CARAS). The award, one of the highest honors in Canadian Music, was presented to Reid by country super-star Shania Twain at a private ceremony in Las Vegas. Reid also received $10,000, which he will put toward his post-graduate studies. He is currently pursuing a master's degree from Chicago's Vandercook College to add to his bachelor's degree in music education from UVic. Reid has been teaching at Vancouver Technical Secondary School for the past seven years, and the students will receive an additional $10,000 in instrument inventory as part of the CARAS award.
Photograph by: AEG Live
CUMS awards Composer prize to UVic grad
The Canadian University Music Society (CUMS) announced that recent UVic graduate, Robert Hansler, is one of the recipients of their 2013 Student Composer Competition. The jury selected two outstanding works to share First Prize: Robert Hansler's "Broken Branch" as well as André Mestre's "Zikr." Both pieces will be performed by faculty members of the UVic School of Music, as part of a concert of contemporary music to be presented on Friday June 7, 2013 at the Phillip T. Young Recital Hall. Read more about this story on Artsy Type.
Fine Arts Benefit CD Nominated for Juno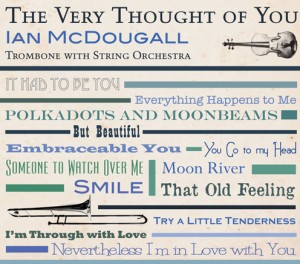 School of Music Professor Emeritus Ian McDougall's 2012 album The Very Thought of You, has been nominated for a Juno Award! A gorgeous collection of 13 jazz standards featuring McDougall's signature trombone backed by a lush string section, The Very Thought of You—produced by Ian's wife, Barb McDougall—has been nominated in the "Instrumental Album of the Year" category.
Conceived of as a benefit album for Fine Arts students in financial need, $10 from every $20 copy of The Very Thought of You goes directly to McDougall's student benefit fund—officially titled the Ten Mile Fine Arts Student Assistance Fund. Back in December 2012, McDougall presented Fine Arts with a cheque for $16,000, the first payback from the CD to the fund.
You can pick up a copy of the CD in the Fine Arts office, UVic's Bookstore, Arts Place cafe, the School of Music Office, and Phoenix Theatre, as well as Lyle's Place, Larsen Music and Munro's Books. Online, you can find it at CD Baby or through McDougall's own website.
Winners of the 2013 Juno Awards will be announced on April 21 at a gala ceremony in Regina.
Read more about this story on the Fine Arts blog, Artsy Type.
John Celona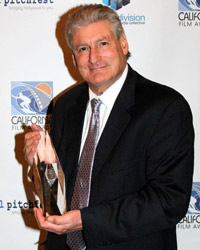 School of Music composition professor, screenwriter and filmmaker John Celona recently returned from having a "terrific experience" at the 2012 California Film Awards, where his screenplay for an unproduced sci-fi black-comedy thriller called Lady Smoke earned a Diamond Award in the screenwriting category.
The awards were held on January 26 at the swish Bahia Hotel in Mission Beach, San Diego. "They really do it up right," says Celona. "First-class, ballroom, formal dress, podium speeches, representation, studio execs like Harvey Weinstein."
This isn't Celona's first time to attend this awards ceremony. Celona picked up honorable mention at the same awards two years ago for his neo-noir thriller Nightfreight.
For more about Lady Smoke, visit Artsy Type.
Bruce More publishes book about UVic Chamber Singers


Former conductor of the UVic Chamber Singers, Bruce More, recently published The Conductor is the One in Front - 37 years with the UVic Chamber Singers. The 135-page book about More's long history of what is possibly the most widely travelled university choir in Canadian history (having performed 200 cities in 142 countries) also speaks to the milieu in which Canadian university choirs and choral conductors have existed from 1974 to 2010. The book contains over 70 colour photographs as well as a CD of selections from Chamber Singers tour performances. For details about the book, visit Artsy Type.
Pick up a copy from the UVic Bookstore for $25 (www.uvicbookstore.ca). Former members of the Chamber Singers can contact Bruce More at bmore@uvic.ca for a complimentary copy.
Composition Student Finds Inspiration in Apeldoorn
Fourth-year School of Music student, Lynne Penhale, had the opportunity to attend the 19th Young Composers Meeting in Apeldoorn, the Netherlands this past February. The meeting, which is chaired by iconic Dutch composer, Louis Andriessen, offers a select group of young composers (14 this year from around the globe) the opportunity to exchange ideas about contemporary music. "It was the most enriching experience of my life!" describes Panhale. "I learned more about society, myself and music in an experience which seemed to have lasted three weeks but was really only one." Each composer came prepared with a three-minute piece composed for the 23-instrument ensemble-in-residence, Orkest de Ereprijs. Participants engaged in rehearsals, lectures, and lessons with composers Martijn Padding, Richard Ayers, Dmitri Kourliandski, Carola Bauckholt, and Ted Hearne. The meeting culminated in a performance of the young composers' works. "As intense a learning experience this was...my most favourite learning experience was getting to engage with the other young composers, and being completely inspired and challenged by everyone's individual strengths they had brought with them," says Penhale, who thanks the UVic School of Music for supporting her in this opportunity.
Winter 2012

Ajtony Csaba
"If students are exposed to many different ways of interpreting music, they will be able to go to another country and listen with a referenced ear." Music professor and UVic Orchestra conductor Ajtony Csaba talks about internationalizing music education in the February issue of UVic's Ring.
Suzanne Snizek
School of Music professor Suzanne Snizek discussed "suppressed music" with the Times Colonist, hooked to a classroom visit by persecuted Iranian composer Farshid Sammandari.
Student Jared Richardson
Second year School of Music student Jared Richardson exercised his license to thrill by having his composition "Double Agent" featured in the Victoria Symphony's "007 & Other Spies" concert in January at the Royal Theatre.
Bill Linwood
School of Music instructor Bill Linwood talked about his pan-Canadian new music group, ensemble1534, in the Times Colonist in January.
School of Music Welcomes New Director
The School of Music is pleased to announce the appointment of Dr. Susan Lewis Hammond as Director of the School of Music. Dr. Lewis Hammond joined the School of Music in 2001 in the musicology area and received promotion to Associate Professor in 2007. Bringing a wealth of experience to this position, Dr. Lewis Hammond has served two terms as Acting Director of the School of Music, presently serves her third term on University Senate, and participates in the Early Modern Research Collective at the University of Victoria. She teaches courses in Renaissance and Baroque music and has authored two books, The Madrigal: A Research and Information Guide (Routledge, 2011) and Editing Music in Early Modern Germany (Ashgate, 2007). We congratulate Dr. Lewis Hammond on her appointment.
Suzanne Snizek


Suzanne Snizek's essay, 'It's Growing like an Asparagus': British internment and Gál's Huyton Suite trio', describing the composition of his exceptional chamber piece written under repressive conditions for one flute and two violins, was published in November 2012 in the Armand Colin publication Captivité de guerre au XXème siècle: des archives, des histoires, des mémoires. The essay was presented at a conference of the same title, in Paris, France at École Militaire in November 2011. The conference (and book) were organized into four themes: artistic and intellectual life in captivity; the laws and regulations that governed the lives of prisoners; the relationships between prisoners and society at large; and prisoners' and captors' perceptions of each other. The publication is available for purchase on the Armand Colin website.
Ian McDougall donates $16,000
School of Music Professor Emeritus and Juno Award-winning musician Ian McDougall presented the Faculty of Fine Arts with a cheque for $16,000 in early December—the first significant payment in the "one potato fund" (more formally titled the Ten Mile Student Assistance Fund) created by the sales of his Fine Arts benefit CD, The Very Thought of You. Read more about the Ten Mile Student Assistance Fund and where you can buy a copy of the CD here.
Andrew Schloss presents Jaron Lanier
He's often described as the "father of computer science," so to celebrate the 100th anniversary of the birth of Alan Turing, Andrew Schloss and the Music and Computer Science program hosted acclaimed futurist Jaron Lanier for a special appreciation of Turing's Spiritual Legacy in November. Lanier—a computer scientist, composer, visual artist and influential author who was named one of the 100 most influential people in the world by Time magazine in 2010—is also famed for coining or popularizing the term "virtual reality."
LSQ Health Series returns
The Lafayette String Quartet's seventh annual Lafyette Health Series was presented in the David Lam Auditorium September. This year's topic was "Weighing in on Fat: What makes us obese and what we can do about it," and featured guest speakers Priya Manjoo, Mary Kay Nixon, Hanh Huynh, Allen Hayashi and Darlene Hammell.
Christopher Butterfield
Christopher Butterfield yielded a great deal of coverage for the recent Cage 100 Festival he curated in November. "I think Cage's whole point is that he wants people to be acutely aware of the kind of aural world or acoustic world around them and to be able to actually, I don't know, rejoice in the sheer idea of consciousness or of being sensitive to the world, and you don't need the kind of conventional constructs of music," Butterfield told Globe and Mail arts writer Marsha Lederman. "It's much more about a much larger world of sound possibilities than simply the ones put together for people to learn on the piano or the violin or an orchestra or whatever." He also appeared in articles in the Times Colonist, on CFUV's U in the Ring show with Phoenix Bain (hear the podcast here), and an interesting review of the Cage 100 fest appeared in the Coastal Spectator blog. School of Music Adjunct Faculty member, Gordon Mumma, who worked closely with John Cage in the mid-60's and 70's, presented a lecture during the festival. Mumma also supplied the Art Gallery of Victoria with numerous pieces from his personal collection for the John Cage installation entitled Devoted Play, curated by Butterfield.
Steinways on TV
Shaw TV ran a segment between November 19th and 25th about the School of Music's Steinway pianos featuring piano professor Arthur Rowe and dedicated UVic piano tuner Jim Anderson speaking with Shaw host Nikki Ewanyshyn. The segment showed Anderson working on one the Steinways, as well as some students at the keyboards. If you missed the episode, you can now watch it online. For information on the School of Music's Steinway initiative, visit Adopt a Piano.
George Tzanetakis
Computer Science and Music prof George Tzanetakis talked about robotic musicianship and other electronic music notes in the Saanich News on October 19. "When you play sound, a musician hears what is happening. We are trying to add the ability to understand music to an artificial agent that performs," he told reporter Edward Hill. "The idea is to make the system musically intelligent, to have robotic musicianship."
Jonathan Goldman
Musicology professor Jonathan Goldman appeared on Vancouver's Radio Canada—that's the French CBC station—on September 24, discussing the Learning Without Borders program through which he won a course development grant to develop his Mus 391: Global Music class. The class hosted an end-of-semester Global Music Fair on Wednesday, November 28.
Robert Silverman plays for Steinway pianos
Distinguished pianist Robert Silverman performed at the School of Music in September as a fundraiser is to help cover the costs of the 63 new Steinway pianos that made UVic the first and only All-Steinway School in Canada. Silverman, himself a Steinway artist, performed Brahms' Rhapsody in B Minor and Six Pieces for Piano, as well as Schumann's Piano Quintet with the Lafayette String Quartet—with whom he has had a longstanding professional relationship.
Dániel Péter Biro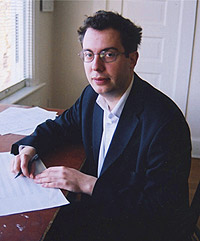 Congratulations to Dániel Péter Biró, whose composition for solo bass flute, Kivrot HaTa'avah (Graves of Craving), was selected as an independent submission for the ISCM (International Society of Contemporary Music) 2013 World New Music Days in Kosice, Bratislava, and Vienna. Founded in 1922, ISCM is an international network of members from around fifty countries, devoted to the promotion and presentation of contemporary music.  Each year they present an international festival hosted annually by a selected country of one the of ISCM's Section Members. The festival focuses on contemporary music across a broad range of contemporary practice. It provides an opportunity for composers, ISCM members and audience to converge and experience a showcase of activity from around the world.
Additional Canadian works to be performed at 2013 ISCM World New Music Days include Anna Pidgorna's solo accordion piece Light-play through curtain holes, and Patrick Saint-Denis' multimedia work Trombe.

Summer 2012

Harald Krebs
After meeting with the Society for Music Theory's program committee in Louisville, Kentucky, and taking a research visit to Berlin and the Stuttgart area, professor Harald Krebs participated in the Vancouver International Song Institute, as well as finished editing a collection of essays on Bartók's string quartets for Oxford University Press (co-edited by fellow Music prof Dániel Biró).
Dániel Péter Biró
As well as teaching workshops on electronic music and on rhythm, extended techniques and notation with the Meitar Ensemble in Kiryat Ono, Israel, and lecturing on the history of Jewish Torah cantillation signs (the te'amim) at the Genootschap voor de Joodse Wetenschap—that's the Dutch Society for Jewish Studies—Biró visited the Netherlands to conduct field recordings of Jewish and Islamic chants. That's all on top of teaching at the Matrix Academy for Electronic Music in Amsterdam, as well as leading colloquia at the Harvard Summer Composition Institute. In addition, Biró's composition Vayiru Et (And They Saw) Version II was performed by the Meitar Ensemble at the Center for New Music and Technology in Tel Aviv.
Christopher Butterfield
School of Music associate professor and head of composition Christopher Butterfield earned some strong media attention—as well as audience appreciation—with his recent Toronto concert Contes pour enfants pas sages: 8 cautionary entertainments. Based on poet Jacques Prévert's 1947 collection of fairy tales (which loosely translates to Fables for Naughty Children), Butterfield's composition for Toronto's Continuum Contemporary Music got a lengthy write-up in the Globe and Mail, as well as playing to full houses both nights at the 918 Bathurst Centre.
While Butterfield's world premiere of Contes may be noteworthy in itself, it also warrants attention here due to the collaboration with the other Fine Arts faculty involved in its performance—Christopher's equally talented tenor brother, Benjamin Butterfield (head of voice); Benjamin's wife, soprano Anne Grimm (music performance instructor); and Visual Arts painting professor Sandra Meigs, who provided projected images to accompany the music. (Also involved in the production were acclaimed choreographer Laurence Lemieux and Choir 21, led by David Fallis.)
Continue reading on Artsy Type
Youth Orchestra tours with three of UVic's outstanding players
Every January, young orchestral musicians across the country audition for a spot in the National Youth Orchestra of Canada's summer program and tour.  This year, three talented UVic School of Music students landed a seat in the coveted Orchestra.  Jiten Beairsto and Lindsey Herle (both violinists) as well as Tazmyn Eddy (trumpet) will take part in the NYOC tour, which stops in six Southern Ontario cities, Montreal, and two cities in the US, all under the baton of Alain Trudel, one of the most sought after conductors on the Canadian Scene.
Faces of UVic Research series launched
As one of Canada's leading research universities, the University of Victoria is home to a wealth of world-class expertise across a broad range of disciplines. More than 800 faculty researchers are at the forefront of discovery—on everything from aging to music to zoology and sculpture—and are working with community, government and business partners to turn that new knowledge into action.
Who are these researchers? What do they study? And how is their work relevant to our lives? Find out in the newly launched "Faces of UVic Research" video series, in which individual researchers give a short and succinct "elevator pitch" on their work—in everyday language—that quickly gets to the heart of what they do and why it matters.
Sixty short one-minute videos have now been released on UVic's YouTube channel, and Fine Arts is well-represented in this first batch by the likes of Andrew Schloss (Music), Lorna Crozier, Maureen Bradleyand David Leach (Writing), Warwick Dobson and Conrad Alexandrowicz (Theatre), Daniel Laskarin (Visual Arts), and Marcus Milwright (History in Art).
Read more about this initiative on the Fine Arts blog, Artsy Type.
April 2012
Concerto Competition Winners
Congratulations go out to this year's winners of the School of Music's annual Concerto Competition: Jiten Beairsto (violin), Daniel Jordan (piano), Erin Ronningen (mezzo soprano) and Sabrina Sun (flute).
The competition took place in April in front of a panel of judges that included one member from each section of the Performance Faculty along with the UVic Orchestra conductor, Ajtony Csaba.  The winners, selected by ballot, will have the opportunity to perform in the Concerto Concert this coming spring alongside the students & faculty of the Concerto Orchestra.  The program for the January 25 concert will include Chausson's Poeme, Op. 25 with Beairsto as soloist, Jordan in the spotlight performing Rachmaninoff's Concerto No. 1, Ravel's Scherezade sung by Ronningen, and Martin's Ballade with Sun on flute.
Suzanne Snizek
Suzanne Snizek's chapter titled "'Spiritual Vitamins:' Music in Huyton and Central internment camps May 1940 to January 1941" was recently published in the Routledge publication Cultural Heritage and Prisoners of War: Creativity behind Barbed Wire.  Inspired by a conference held at Cambridge in April 2010, the book focuses on the numerous examples of creativity produced by POWs and civilian internees during their captivity.  At the conference, Snizek presented a paper as well as a concert of works for flute and piano with works composed by Hans Gál and Franz Reizenstein during their British internment (during WWII).   The nature of the book is interdisciplinary and international in scope. Contributors include archaeologists, musicologists, cultural studies scholars, visual art curators, military historians, dance and theatre specialists and scholars in Eastern European studies. The publication is available for purchase on the Routledge website.
March 2012
A Taste of SALT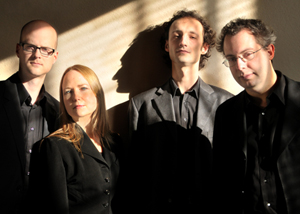 Tsilumos Ensemble, Victoria's new music ensemble co-directed by School of Music faculty Dániel Péter Biró, Ajtony Csaba, and Joanna Hood as well as Kris Covlin was recently awarded grants from the Ernst von Siemens Foundation for their 2013 SALT Festival.  With the objective of presenting first-rate performances of new and challenging works by Canadian and international composers, the grant will fund the commissioning of new works by Wolf Edwards (M.Mus '03), Bernhard Gander (Austria), Steven Kazuo Takasugi (USA), and Gianluca Ulivelli (Italy).   
Biró received an additional grant from the Ernst von Siemens Foundation for the commissioning of a new work for ensemble and electronics to be performed this year by Tel Aviv's Ensemble Meitar.
Read about this year's SALT Festival, which included the UVic Orchestra's North-American premiere of Chaya Czernowin's Zohar Iver and the world premiere of Lovely Monster Reloaded by Bernhard Gander on Artsy Type.
February 2012
Jonathan Goldman
Jonathan Goldman, Associate Professor of music history, musicology and theory for the School of Music has been awarded an Opus Prize in the category "Book of the Year" for his latest publication, The Musical Language of Pierre Boulez by Cambridge University Press.
Awarded annually by the Quebec Music Council, Goldman describes the Opus Prize as "kind of like the Quebec classical music Grammys." This latest prize comes on the heels of Goldman's previous "Article of the Year" Opus win for "Charting Mémoriale: Paradigmatic Analysis and Harmonic Schemata in Boulez's … explosante-fixe …"
January 2012
Michelle Fillion
The Faculty Advisory Committee has selected Dr. Michelle Fillion as the winner of this year's Award for Teaching Excellence in Fine Arts, a prize awarded to one Fine Arts Faculty member each academic year.  Dr. Fillion teaches musicology and music history while also serving as Graduate Advisor at the School of Music.
Michelle Fillion joined the School of Music faculty in 2002, after almost two decades at Mills College (Oakland California) where she served as Professor and Head of the Music Department.  While at Mills, Fillion was acknowledged on more than one occasion for her teaching excellence, having received the Phi Beta Kappa Northern California Teaching Award and the Mary S. Metz honorary Chair for Excellence and Creativity in Teaching.  Dr. Fillion will be honoured at the UVic Faculty Excellence Awards reception this spring.
Harald Krebs
There is much to be lauded of long-time UVic faculty member Dr. Harald Krebs, professor and Head of Theory at the School of Music.  While 2011 marked his 25th year at the University, Krebs was also named a University of Victoria Distinguished Professor in 2010 - the highest academic honour that the university can bestow on a faculty member.  "I am very grateful to the University for this award. It's wonderful when your own university recognizes you for your research as well as your teaching," says Krebs, who is using the award to fund research and conference travel, and to invite guest speakers and performers to the School of Music.  
As the eleventh recipient of the prestigious award, Krebs has been invited to give a public presentation for UVic's Distinguished Professor Lecture Series.  "I am happy to have the opportunity to give a talk on campus. It is a way of saying 'thank you' to the University," says Krebs. The talk, intended for a broad audience, grows out of his recent research on how song composers manipulate the rhythm of poetry for expressive purposes.  "It was during this research that I became enthralled with Robert Schumann's late songs, which are not sufficiently appreciated by scholars and performers. I look forward to acquainting the audience with this wonderful music, both by talking about and performing it," says Krebs, who will be joined by his wife, soprano Sharon Krebs, for the performance portions of the presentation.
In addition to his work at UVic, this past October Harald Krebs became President of the Society for Music Theory, the primary scholarly society in the field.  Although the position is one of many demands, Krebs finds the work rewarding. "I'm enjoying it all very much—especially because I like and admire all the people with whom I am working," expresses Krebs, who previously served on several committees of the Society, and as its vice president.
Krebs' lecture, Robert Redeemed: The Beauty of Schumann's Late Songs, will be held on Tuesday, January 24th at 7:30 p.m. in the Phillip T. Young Recital Hall.  Admission is free.
Reinventing the Piano: Trimpin Visits UVic
Trimpin, the famed sound sculptor, composer and inventor, brings his latest innovations to Victoria in Spring 2012 with a project titled (CanonX+4:33=100).  In collaboration with Open Space and Dr. Andrew Schloss (co-creator of UVic's Music and Computer Science program), a team of emerging sound engineers, musicians, and visual artists from UVic will have the opportunity to work directly under Trimpin's mentorship while assisting with the creation and installation of the work, scheduled to open on March 16.
With 2012 marking the centennial celebration of some of the most influential composers of the last century, namely John Cage and Conlon Nancarrow, (CanonX+4:33=100) celebrates a continuum and extension of the important work of both composers.  Combining ancient concepts and methods with the latest in digital technology, Trimpin will give new life to an array of transformed abandoned pianos, by constructing visually dynamic and aurally stunning acoustic and electroacoustic sculptures and automatons out of their carcasses. "The pianos will be 'prepared' with mechanical actuators, small robotic devices to play the piano strings in a way which both composers, more than a half century ago, started to experiment with, compose, and perform," describes Trimpin. "With the tools of today's technologies, this experimentation can be extended to the next level of investigation." Believing in our capacity to experience sound visually, Trimpin will accentuate this concept with the use of video cameras and sensors to translate movement and colour into gestures that activate the instruments.
Trimpin will visit UVic from January 17 to 20 to conduct workshops with participants and will introduce the project in a public lecture on Tuesday, January 17th at 2:30 pm in Rm. A162 of the Visual Arts Building.  A screening of Peter Esmonde's documentary, TRIMPIN: the sound of invention will be presented on Wednesday, January 18th at 8:00 pm in Rm. A146.  Trimpin will return in March to install (CanonX+4:33=100) at Open Space, present an artist talk, and perform with the UVic collective, MISTIC.  Until the close of the installation on April 28th, the UVic team will lead demonstrations and workshops at Open Space as well as have the opportunity to develop unique methodologies for activating and "performing" the installation as an enormous musical instrument.

One of the most stimulating and inventive forces in music today, Trimpin's installation will skew your everyday assumptions about sound and technology and engage your senses of perception, surprise, and joy, in an extraordinary and intricate audio-visual experience unlike any other.
November, 2011
Honourary Doctor of Laws awarded to internationally renowned music education advocate
Internationally renowned music education advocate, Dennis Tupman, was awarded an honourary Doctor of Laws at the UVic Fall convocation on November 9th, 2011.
In his convocation address, Dr. Tupman used the children's song "Row, row, row your boat" as a metaphor for the well-lived life and had the convocation audience singing in 3-part harmony! He stressed putting children first in educational matters and paid tribute to the large community of colleagues, family, and friends who were present to honour him. As one colleague remarked at the luncheon following the ceremony, "There hasn't been a convocation address like that for some time!" Moving, authentic, and passionate, Dr. Tupman highlighted the importance of music and the arts as key to children's and society's health.
Tupman, born on May 19, 1936 in Victoria, BC, received a Bachelor of Education from UBC in 1964 and a Master of Education from the same institution in 1969. He taught music, English and math in Kitimat from 1957-1971 when he became District Principal for the Performing Arts at the Vancouver School Board, a position he held until 1992. In 1992, he became a Faculty Advisor at UBC. Mr. Tupman has been president of the British Columbia Music Educators Association, the Canadian Music Educators Association, and the British Columbia Choral Federation and has been involved with many other music organizations, notably the International Society for Music Education. He has adjudicated numerous music festivals throughout BC and beyond and has won prestigious awards, including the Governor General Award for Lifetime Arts Leadership (1995) and the Coalition for Music Education in Canada Award (2010). Mr. Tupman has a regular column in the Canadian Music Educator and has been a lifelong advocate for arts education, in particular, music education. He has touched and influenced the lives of many as the support letters demonstrate.
Faculty honoured for service
This year marks a significant milestone in the careers of four School of Music faculty members. At a reception on October 4 at the University Club, long service employees from all areas of campus were honoured.  Among those celebrated were our very own Alexandra Pohran Dawkins (Head of Woodwinds) and Harald Krebs (Head of Theory) for 25 years, Eva Solar-Kinderman (piano performance) for 30 years and Eugene Dowling (tuba, euphonium, and trombone performance), for 35 years with the School of Music.
Dr. Gerald King, the School of Music's Director, is grateful for their commitment to the School of Music. "We are so honored to have such talented and dedicated faculty who have given so much to the School of Music and the University.  Four faculty members who have served the University for 25, 30 and 35 years—this is a remarkable milestone. Such longtime service is an indicator of the quality of our School. We thank Alexandra Pohran-Dawkins, Harald Krebs, Eva Solar-Kinderman, and Eugene Dowling for their outstanding contribution to the UVic School of Music."
Student voices fly on Dutchman stage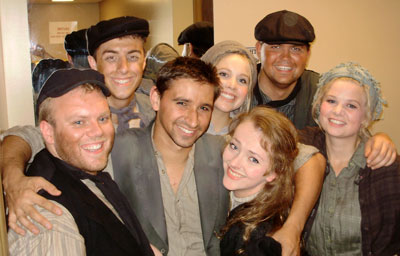 This October, eight School of Music students took to the Royal Theatre stage for Pacific Opera Victoria's production of Wagner's The Flying Dutchman. As members of the massive 50 plus-person chorus, Andrew Buckley, Josh Lovell, Mary-Ellen Raynor, Jeremy Roszmann, Anna Shill, Cedric Spry, Claire Stewart, and Marlee Wetter brought their dynamic voices to the stage with verve. 
Having the opportunity to work with the Opera Company has given these students a valuable glimpse into the world as a professional musician. "POV has shown me what the real world is like. The ability to study professionals in their element without feeling like an intruder is invaluable experience and education," says fourth year student, Jeremy Roszmann.  First year Master's student, Anna Shill, felt honoured to be a part of the production: "What can't you learn from your peers and those ahead of you? Sharing space with people that spend their lives living the career you hope for puts everything that we learn at school into perspective."
POV will stage the world premiere of the new opera, Mary's Wedding, this November, and we can look forward to hearing Andrew Buckley, Anna Shill and Cedric Spry, in this chorus as well.  In addition, the lead female role will be performed by School of Music alumna, Betty Wayne Allison (B.Ed & B.Mus '05).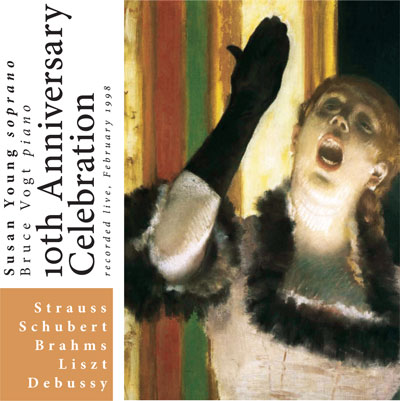 Bruce Vogt has had a productive year in the recording studio. In addition to his latest CD release of the piano music of Franz Liszt (Volume 1), Vogt has further released two CDs this year, both recorded in the Phillip T. Young Recital Hall with soprano, Susan Young (chorus director and voice instructor at UVic).
Paul Hindemith's Das Marienleben (The Life of the Virgin Mary) is a rarely heard masterpiece.  Although a more practical, revised version exists of this song cycle for soprano and piano, Vogt and Young recorded Hindemith's original, more powerful and demanding 1922-23 version.  "The later version is more singable," says Vogt, "but not nearly as fresh or beautiful. Susan is that rare singer who can handle the difficulties."
 
The 10th Anniversary Celebration CD, a live recording commemorating the period of Young and Vogt's collaboration, includes works by Strauss, Schubert, Brahms, Liszt, and Debussy.  The recording "beautifully captures Susan's voice in four languages and many musical styles," describes Vogt.
Credits to the production of the CDs include School of Music faculty Alexandra Pohran Dawkins (producer), Kirk McNally (mastering), and alumni Andrea Young (B.Mus '01) (sound editor, graphic design and producer). 
These CDs and others are available for purchase on Vogt's website.
September, 2011
With 25 years under their belt, the Lafayette String Quartet uniquely holds the title as the only all-female ensemble in the world to still feature its original members. If that wasn't enough of an accomplishment, since forming in 1986, the Quartet has performed across Canada, the US, and internationally, won major prizes, received awards for their recordings, and have been the subject of a book. As artists-in-residence at the School of Music for the past two decades, they still manage to maintain a rigorous touring schedule in addition to their teaching duties.   
"UVic has shown a strong commitment to us," says LSQ violinist Sharon Stanis. "I feel very fortunate to be here. Not all universities have a resident string quartet, and there's a real mentoring by having all of the string teachers in one ensemble."
For their silver anniversary concert season, the Quartet has invited some exceptional friends to join them on stage. On Saturday, September 17th, pianist Flavio Varani will join the Quartet in performing Dvorak's Piano Quintet in A major Op. 81. And on Saturday, February 4th, violinist James Dunham and cellist Paul Katz will help form the sextet in Brahms' Sextet in G major, Op. 36. Both concerts will take place in the Phillip T. Young Recital Hall. Tickets are $25 and are available from the University Centre Box Office.
Lafayette Health Awareness Forum
On Thursday, September 22 at 7 pm, the Lafayette String Quartet will host its annual Health Awareness Forum, Shades of Grey: Understanding the Mental Health Continuum, at UVic.  The forum will approach subjects about mental health that aren't often publicly discussed, covering a wide spectrum of topics by a top-notch panel of five physicians.  The evening will address some of the main concerns common in various stages of our lives and how we might better discern what would be considered a health issue and what is expected as part of our life experience.  Aptly subtitled, Everything you wanted to know about mental health, but were afraid to ask, the forum will include presentations by each panelist as well as a moderated Q & A.  As has become the tradition, the Quartet will begin the evening with a short musical presentation.
Leading British composer visits UVic
Composer Michael Finnissy, a major voice in British music, will visit the University of Victoria School of Music as an Orion Lecturer this fall. Renowned for his broad aesthetic range, he is equally at home with complex and simple musics. Well-known as a pianist, he will give a recital of his work on Monday September 12th at 8 p.m. in the Phillip T. Young Recital Hall. On Wednesday September 14th at 4:30 p.m. he will present a lecture entitled 'Writing anything and everything'. This event will take place in room B016 in the MacLaurin Building. Both events are free and open to the public. 
In addition, Finnissy will be joining Victoria's Aventa ensemble for their annual Composer Workshop. Participants in this year's workshop include UVic Alumni Anna Höstman (MMus '05), Mason Koenig (BMus '10), and Christopher Reiche (MMus '08), whose works can be heard in a reading session on Saturday September 10th at 2 pm. As well, alumnus Chedo Barone (MMus '04) and current student Alex Jang will have works performed by Aventa in a concert that includes music by Finnissy on Sunday, September 11th at 8 pm. Both events will take place in the Phillip T. Young Recital Hall. Please visit Aventa's website for further details.
Andrew Schloss is the latest UVic faculty member presented on the BC government's Year of Science website as a featured scientist.  Renowned for his innovative work with sound technology, Schloss is one of the pioneers of the Radiodrum, an instrument developed in the 1980s at Bell Labs.  The Radiodrum is played in three-dimensional space using two drumsticks to control MIDI signals.  Schloss' work with electronic musical instruments is described on the Year of Science website in words, photos and a video.
John Celona received the award for Best in Category in the 2010 California Film Awards for his thriller screenplay, Nightfreight, as well as an invitation to the awards ceremony in San Diego. This is the second win for the yet-to-be-made film, which follows his 22-minute 2009 HD film, The Strange Case of DJ Cosmic; the first was an award for his self-made minute-and-a-half trailer, which picked up Best Art Direction in the 2010 International Movie Trailers Festival in August 2010. As for the future prospects of Nightfreight, Celona says, "I am in the long process of raising a budget for the feature-length. You know how that goes."
Dániel Péter Biró won the 2010 Giga-Hertz-Award for electronic music—one of the most prestigious composition awards in Europe. Bestowed by the Centre for Arts and Music in Karlsruhe, Germany, and the Experimental Studio in Freiburg, the award honours composers working in the areas of electronic and acousmatic music for a particular composition. "Ancient Jewish and Christian chant traditions were an inspiration for this piece, as was the Qur'an recitation of Indonesian reciter Hajjah Maria Ulfah," says Biró.
Harald Krebs received the University of Victoria Distinguished Professor award in 2010 - the highest academic honour that the university can bestow on a faculty member.  The title is awarded to individuals who have achieved great distinction in teaching and research, and who have made a substantial contribution to the university and the wider community.  Krebs is the university's 11th Distinguished Professor and the first from the School of Music.  Read the feature article about Krebs in UVic's publication, The Ring.


Learn about...